Turbosmart Flying 500 Entrant: John Di Mauro's Farm Ute
---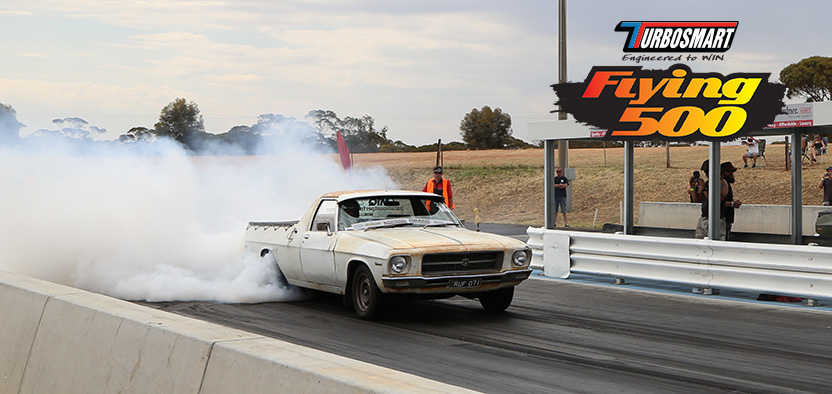 A few weeks ago, we introduced Kristian Goleby's sleeper Corolla as an entrant in the Turbosmart Flying 500, and you guys loved it, thanks to its certified sleeper status. Well, guess what – it's not the only vehicle in the Flying 500 with deceptive bodywork hiding a fierce turbocharged heart. John Di Mauro's Holden HQ Belmont ute looks just as it did when it was dragged off the farm – everywhere except under the bonnet.
The Turbosmart Flying 500 is a competition of Australia's fastest street cars, to see who can set the highest top speed over 500 metres on the straight of Sydney Motorsport Park, during World Time Attack Challenge. This year, Flying 500 is back – bigger and faster than ever.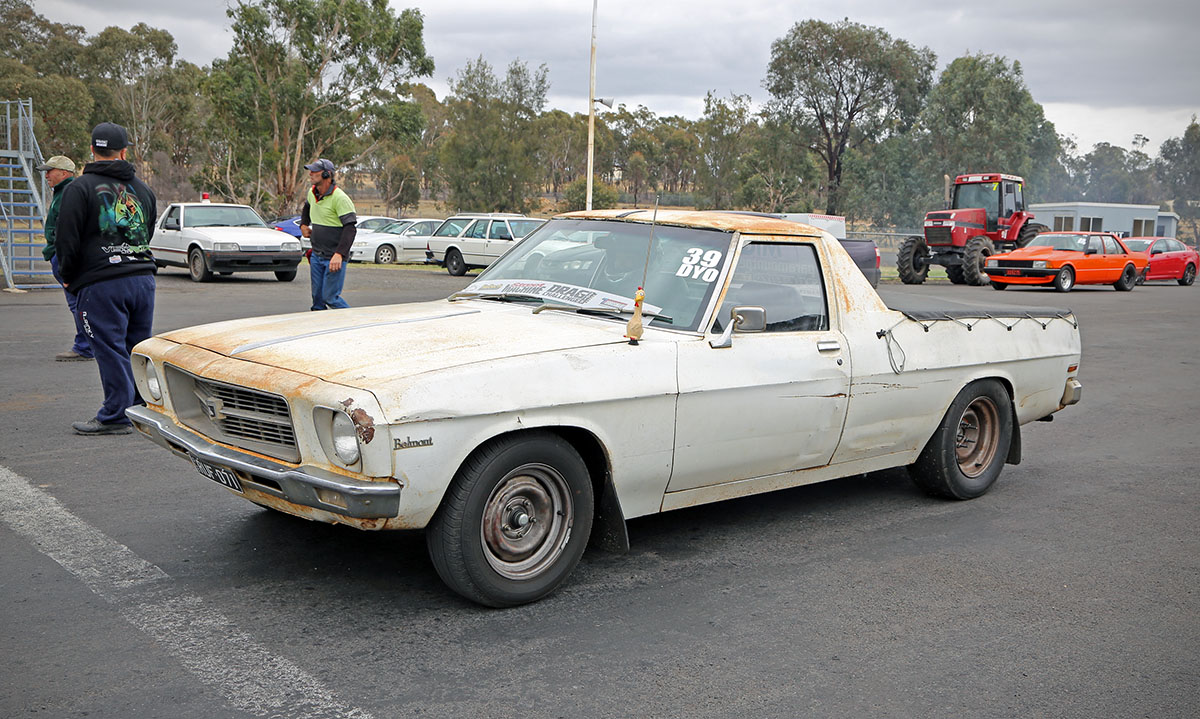 Going up against some of Australia's fastest and best-known tuner cars, the Aussie-as Belmont might look like bringing a spoon to a gun fight. However, the Belmont's straight six has been replaced with a turbocharged 6.0-litre LQ9 V8 – a larger, iron block version of the trusty LS1 found in US-market trucks and SUVs, like the Cadillac Escalade. That engine has been modified with an LS3 top end and a homemade single turbo set up, running a Turbosmart ProGate-50 wastegate. With the iron block, lots of boost isn't a problem, meaning this ute can move – and move house for your mates on the weekends, too.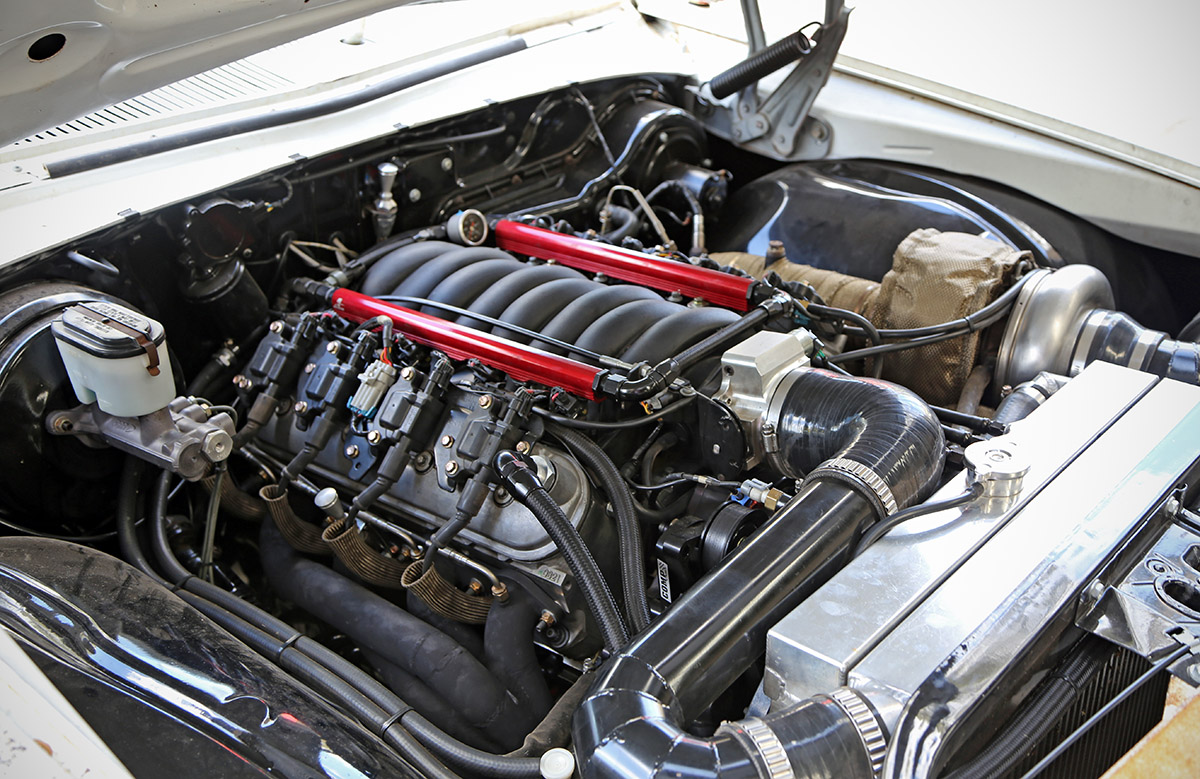 A Big Bubba plumb back blow-off valve is hidden out of view, visible only from the passenger side wheel arch.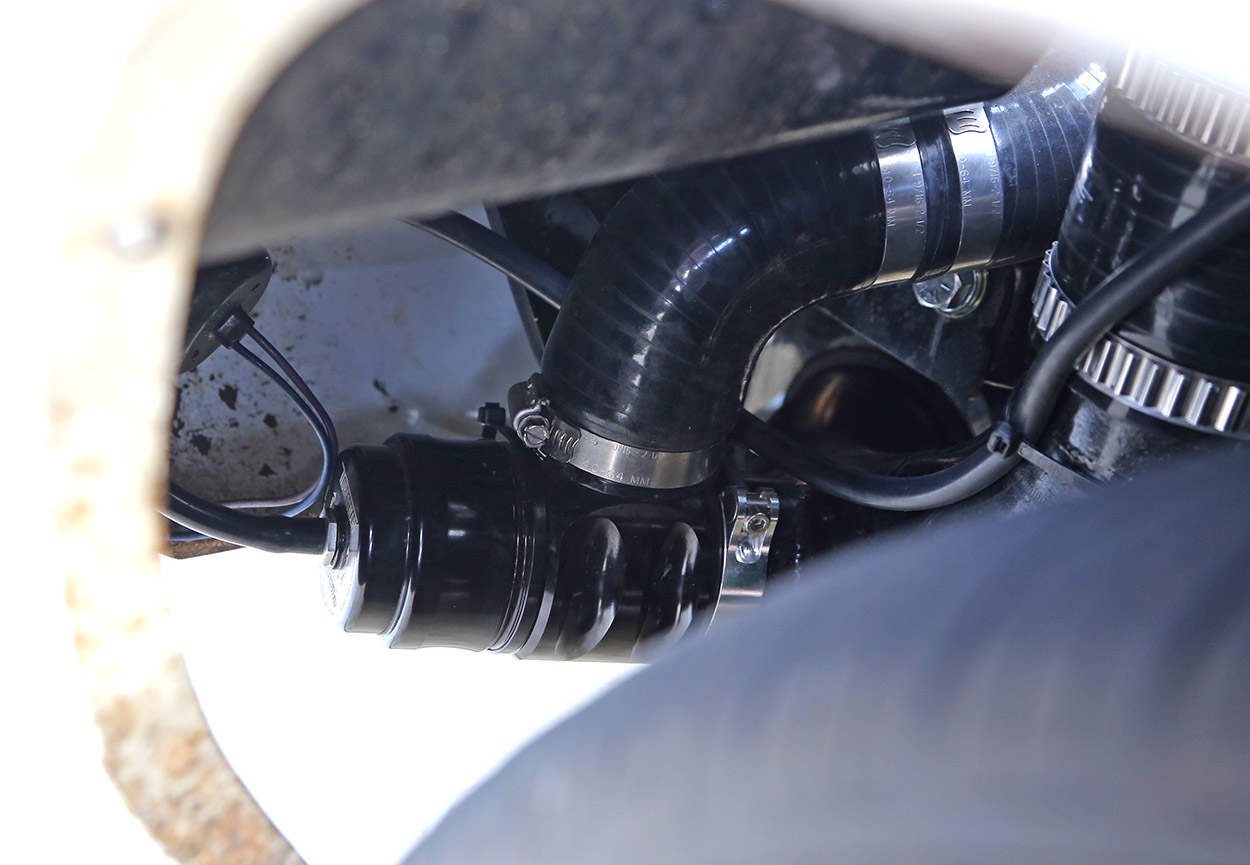 A few months back, John brought the farm ute to Turbosmart HQ in Sydney, as a stopover on the long trek home to Queensland after Drag Challenge in Victoria. On the way, he stopped past Sydney Dragway, where he made a 9.8-second pass on his first run, before being kicked out – the ute lacked a roll cage, which a sub-11 second car requires at Sydney Dragway.
Check out the Farm Ute at Drag Challenge in this video by Street Machine.
Fitting the purpose of the Flying 500, the Farm Ute is road registered and is driven on the road – although the fact that it's road legal might be more surprising due to its neglected appearance, rather than because of what's powering it.
Inside, the standard bench seat remains, while a Turbosmart eBoost Street sits under the dash, controlling all that boost. A floor-mounted shifter and four gauges are the only real performance-based concessions in this otherwise standard interior.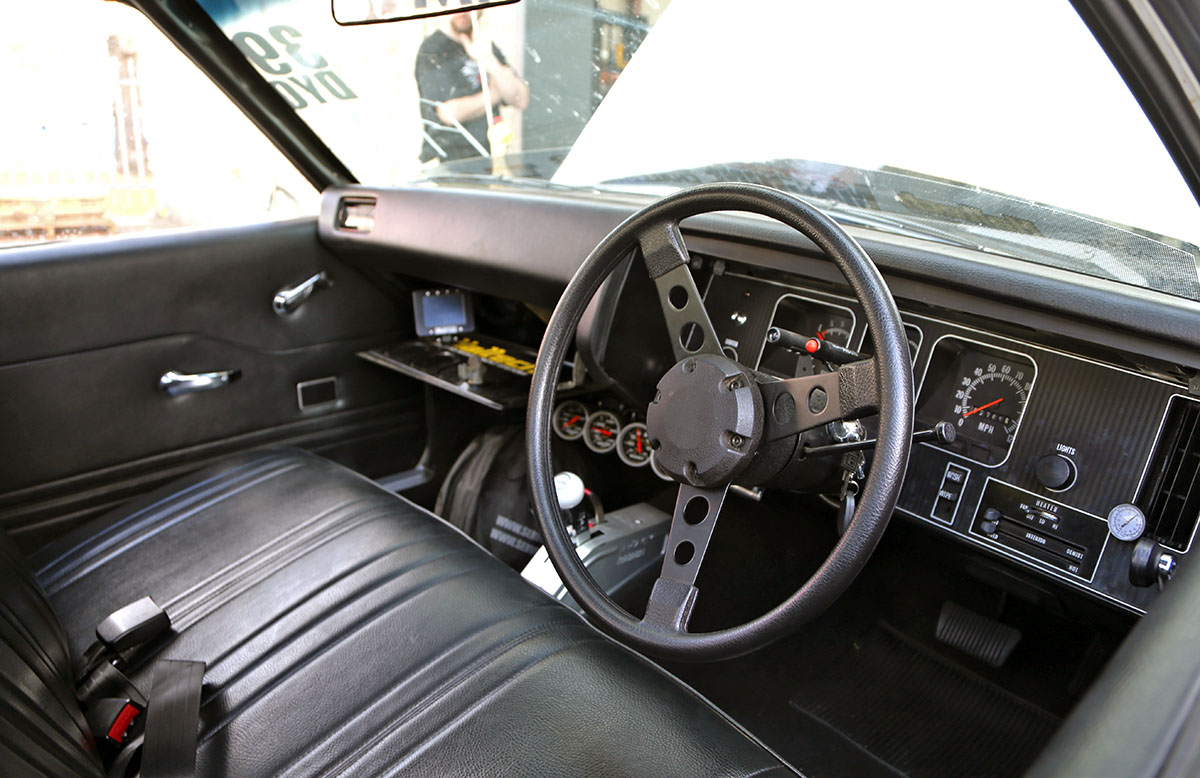 By keeping the ute's appearance just as it was when it was pulled out of the farm shed, John has created something very, very cool. Only the fat rear tyres hint to this ute's power. Literally the only thing John changed of the body work, was pulling some dents out of the front of the car so the standard headlight bezels would fit, and a dent on the roof where a tree branch had fallen on the car.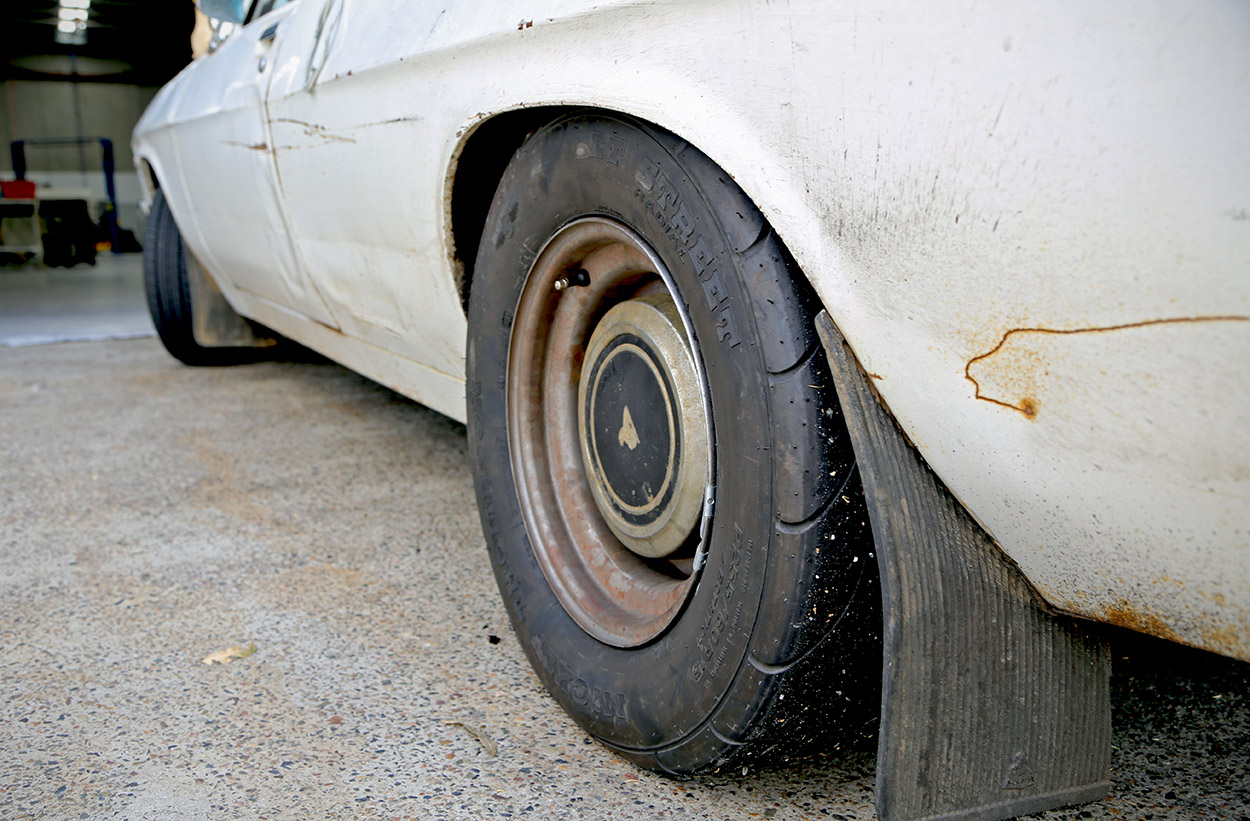 "We haven't deliberately added any dents, but we haven't exactly avoided any either," John said.
"It's funny, I still use a guard cover when I work on it. It's a bit out of habit but also because if I get any fingerprints on there, it gets too shiny when I wipe them off!"
The ute even retains the standard pea-shooter exhaust hanging off the back of the car. The real exhaust is hidden underneath, dumped at the rear diff.
"I think that's what people like about it, it's something different," John said.
Maybe it's also because watching this thing accelerate at full noise is like watching a frail 80-year-old suddenly pull off an olympic-grade sprint.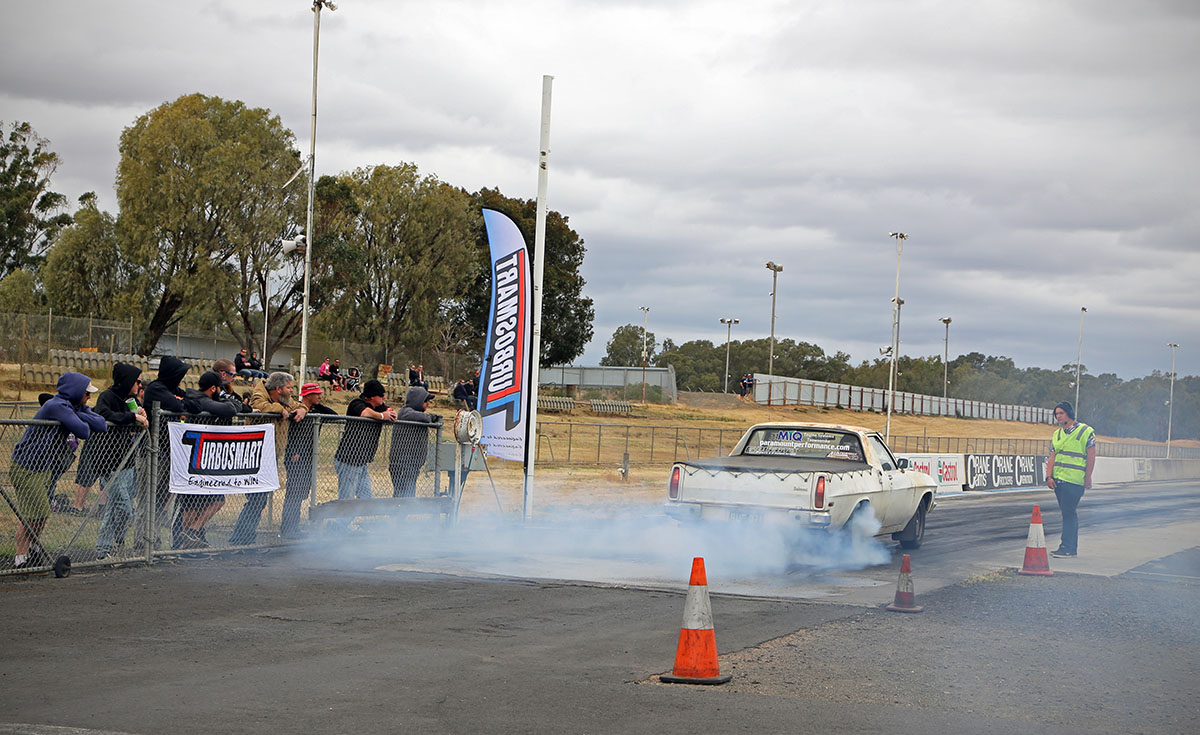 Do you want to see what this slice of rural Australiana is capable of? Make sure you're at World Time Attack Challenge on 14-15 October to see it in action at the Turbosmart Flying 500!
Have you missed our previous Flying 500 entrant profiles? Check out Mercury Motorsport's Nitto R34 GTR, PJ's all wheel drive S13, Charles Warland's Datsun 260Z, Goleby's sleeper Corolla van, Nemanja's 1150rwhp street FPV, and Birrong Automotive's clean R34 GTR.
---