2MENTAL – Chad Douglas' Twin-Turbo VG Commodore Ute
---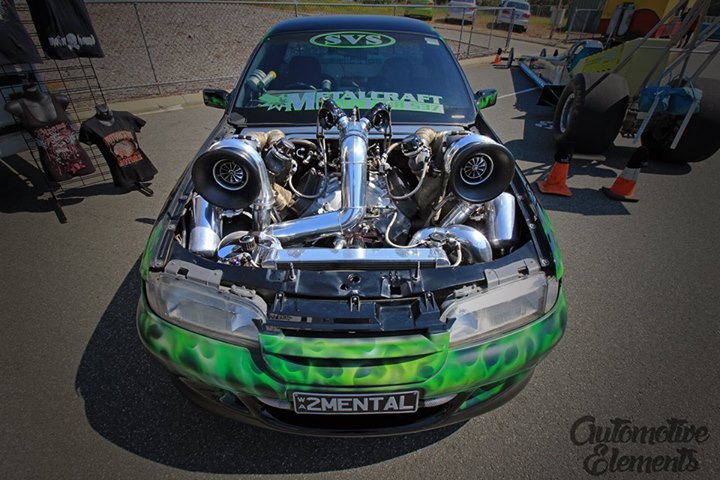 Some people prefer to fly under the radar, to hide their light under a bushel. Sleepers are popular in the automotive world, as there is a part of us all that likes the element of surprise. Sleepers catch people out with serious performance in a relatively normal looking car.
This VG Holden Ute is the complete opposite. This is the car equivalent of a bodybuilder wearing one of those stringy singlets. '2MENTAL' is the fitting name for this crazy twin-turbo LSX-engined Commodore, which lets everything hang out – its two turbos are so massive they cannot be contained within the Holden's bodywork.
It's the work of owner-builder Chad Douglas, who just brought the car to Cruise For Charity in WA. Turbosmart have sponsored C4C for 2 years now.
With its 416ci (6.8-litre) LSX engine, two 80mm billet turbos, two Turbosmart Power-Gate 60mm wastegates and two Big Bubba Sonic blow-off valves, 2MENTAL is a lecture in how bigger is sometimes better.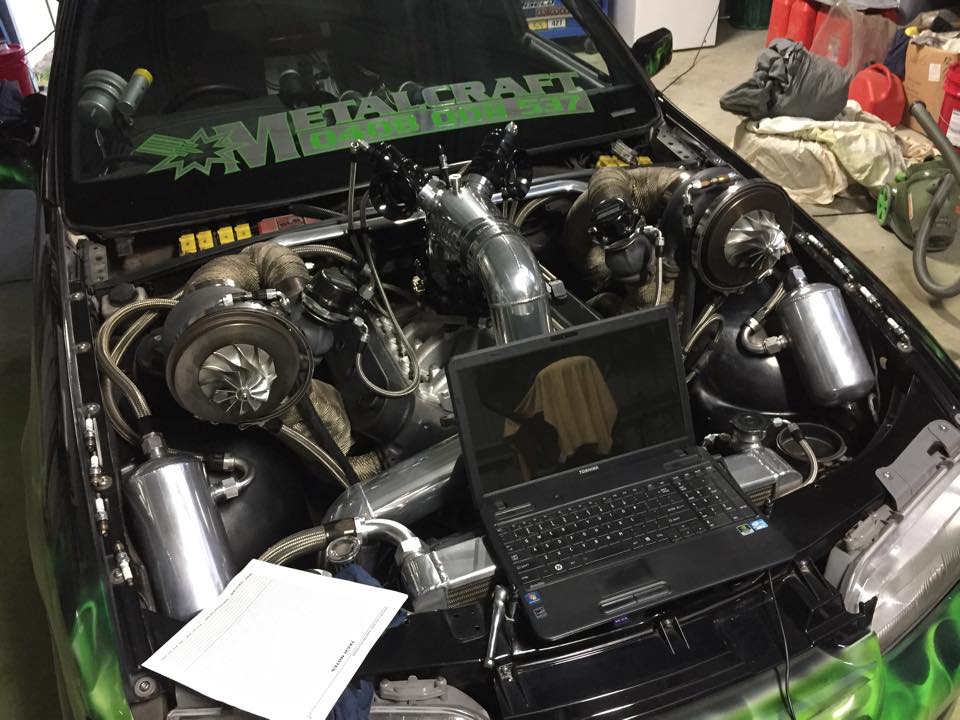 Speaking of his Turbosmart goodies, Chad decided he wanted nothing but the best for the Commodore. "I've had no problems with them, they've always worked perfectly," he told Turbosmart about his Bubba Sonics and Power-Gate 60 wastegates.
With turbos pushing 17 psi of boost, with the ability to turn up the wick to a massive 30psi, and running on E85, Chad reckon's that while it's never been on a dyno, 2MENTAL would put out around 1100 hp (820 kW) to the rear wheels.
Chad's attention to detail is impressive. 2MENTAL obviously turns a lot of heads. It's hard not to command attention, with two turbos each the size of a child and all that spotless chrome bulging out of the engine bay. Even the wastegate bodies were specially coated to suit the engine bay. And that's not even mentioning the car's striking exterior, with a unmistakeable custom green flame on black paint job.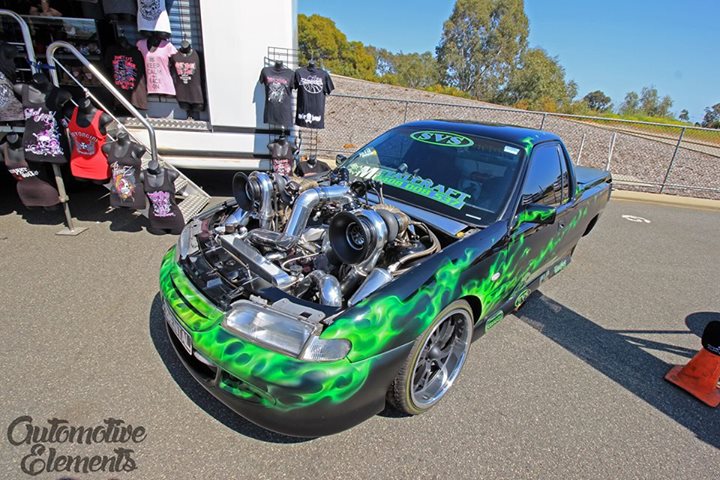 It's not just all show either. All the ingredients in this mad recipe are the best they possibly could be, for a very good reason. This car gets used, and used hard.
2MENTAL is well known in the competition burnout scene in Western Australia and across the country. And Chad knows how to put on a good smoke show. This is the Commodore melting tyres at Motorvation in Perth last year.
 And making everyone see red at Summernats, too.
Not long after Cruise For Charity, Chad and 2MENTAL headed to Kukerin, 300km south-east of Perth, for the 400-person town's annual burnout competition. Unfortunately, Chad broke a timing chain during the competition and the engine was toast. These things happen in the world of competitve burnouts, so there's no tears and just determination to get the car back running, stronger and better than ever.
Check out 2MENTAL on Facebook here.
Pictures by Automotive Elements – https://www.facebook.com/AutomotiveElements
---