---

What are "fakes" or "copies"?
Fakes are counterfeit products made to look deceptively close to original, Turbosmart items. Some even include the Turbosmart logo on their outer shells. As with all counterfeits, it is against the law to manufacture, import, advertise and sell these products.
Why are they so cheap?
Those unscrupulous individuals involved in making counterfeits are in it for a quick buck, that's why most of the today's counterfeit traffic comes from China or Taiwan where labour costs are cheap. They also cut costs by using inferior materials and by sacrificing quality control.
Why is it bad for genuine manufacturers like Turbosmart?
Cheap copies not only decrease the perceived value of the genuine items, forcing them to compete against an inferior product, but with an extremely high failure rate they also tarnish a good reputation companies like Turbosmart have worked hard to earn over the years.
Why is it bad for you – the consumer?
Firstly – you're buying an inferior product. Don't kid yourself, it might look like the real thing but it will not perform like one. Secondly – individuals involved in manufacturing counterfeits do not spend any money on research and development (they simply steal other people's designs), they do not invest in the customer service or technical support, nor do they contribute to the racing/lifestyle industry that sustains them. When was the last time you saw a race car sponsored by one of those companies? By purchasing a counterfeit product you are effectively taking money away from a number of programs companies like Turbosmart support – i.e. sponsorship for up and coming racers, events and contingency programs, technical support hotlines, product training and research and development of new products. Counterfeits are not just bad for us, they are bad for you, and for the whole industry.
How to avoid buying a "fake"?
Most counterfeits are being sold by less-than-reputable operators using internet outlets or via auction sites like eBay. The simplest and most effective way of making sure you get a genuine item is to buy it from an authorized dealer. Turbosmart goes to great lengths to make sure its Authorized Dealer Network is trustworthy and up-to-date with all the latest technology. Use the Dealer Locator on our website to find your local dealer or buy from a reputable internet/retail outlet or workshop. All Turbosmart products are backed by a full warranty and technical support but we will not honour any warranty claims on counterfeit products.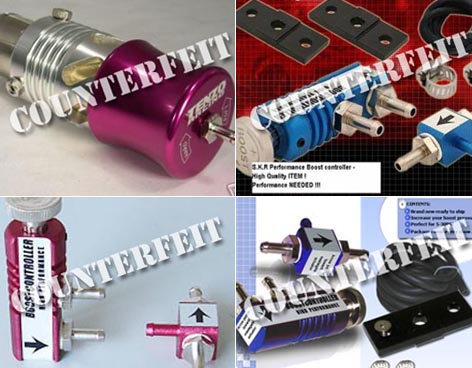 If you are unsure if the product you are considering is a genuine item contact us directly
---