---
When we changed turbos on the Sierra Sierra EVO to the BorgWarner EFR, we took the opportunity to test out some Turbosmart Comp-Gate40 wastegates. It wasn't too much work to make the change from the TiAL MV-S since the Comp-Gate40 is a direct retrofit with the MV-S. There are some minor differences as far as fitting threads go, but if you are using rubber hose for your pressure connections, the Comp-Gate40 is a 100% retrofit to the MV-S.
The decision was made to switch over to Turbosmart components at Sierra Sierra because 1) Turbosmart offered a high quality product that performed well in testing, 2) Turbosmart offered a better support program for the EVO and 3) a valve guide material issue with the early MV-S wastegates caused Sierra Sierra to be slightly concerned. TiAL did fix the problem immediately for SSE and we never had a failure again, but the Turbosmart Comp-Gate40 did offer some additional useable features.
I should mention here that I currently use both TiAL and Turbosmart wastegates just like I use both Garrett and BorgWarner EFR turbochargers. By writing praise about the BW EFR turbos and Turbosmart Comp-Gate40 wastegates, I'm not saying that I dislike Garrett turbos and TiAL wastegates. In fact, I just used a TiAL MV-S wastegate and Garrett GT30 turbo combination without a hitch on the BMC Tool Racing Panoz DP-02 at theNASA 25 Hours of Thunderhill race. There's plenty of space in the marketplace for multiple brands of quality products. I think the competition needs to stick together. The enemies are the legions of factories cranking out poor quality copies in China.
Aside from some of the trick features of the Comp-Gate40 I discuss below, it has all of the good features you would expect from a quality wastegate: cast stainless body, anodized hat and base, stainless heat shield to protect the diaphragm, a ultra high lift diaphragm, cast stainless body clamps, stainless weld flanges, stainless hardware, etc.
Turbosmart is big on Rotary engines in Australia and turbo rotaries can produce exhaust gas temperatures near 1900 degrees F in some instances. How's that for product testing? Anyhow, here are some of the trick features…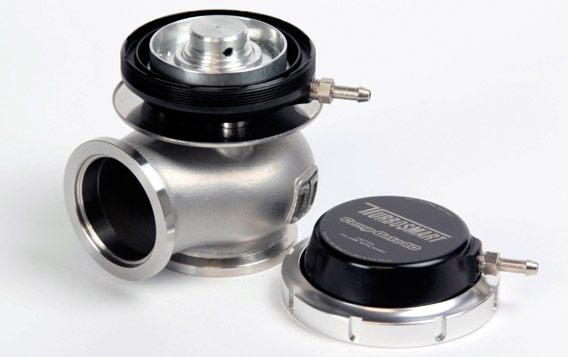 Locking Ring The Comp-Gate40 does not use allen screws around the perimeter of the spring hat. It uses a trick "locking ring". The benefits of the locking ring are no more stripped allen screws, no more stripped hat bases, much easier spring changes, spring changes in less than a minute (if you got your shit together), and an overall reduced height wastegate which allows greater flexibility of wastegate placement.
The notches in the locking rings are for the toothed spanner wrench.
The oversized stainless heat shield under the aluminum base reminds me of the old school Porsche wastegates.
Reduced Package Size with no Sacrifice in Gas Flow The Comp-Gate40 is only 99mm (3.89") tall, but still has .582" of valve lift. It also only measures 74mm (2.91") at its largest diameter making the Comp-Gate40 probably the smallest wastegate on the market. I am told that a lot of time was spent on a flowbench to optimize the valve head shape and valve seat profile to ensure gas flow was not sacrificed for a small package wastegate.
The Comp-Gate40's truly small size allows it to be placed in extremely tight engine bays (e.g. Lexus SC430/GS430, BMW E46 M3, BMW E39 M5, Nissan Z33 350Z etc.).
Unique Rotating Cap The spring hat can be indexed in 12 different positions allowing for greater installation flexibility. The rotation can also be done in less than a minute by only loosening the locking ring. This really does make things go quicker during the setup of a new custom installation. Nearly infinite hose and fitting positioning means no more burnt hoses and cleaner looking installations.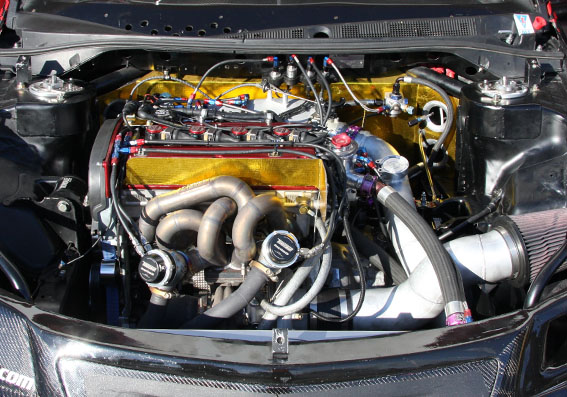 Once installed on the SSE EVO, there were no changes required to the closed loop boost control PIDs in the Pectel SQ6 ECU. Closed loop boost control was flawless.
---