Fredric Aasbo at Formula Drift
---
Los Angeles, California: Fredric Aasbo (Team Japan Auto FSR) takes out Championship Leader Vaughn Gittin Jr. at Formula Drift Round 4: Throwdown, Seattle and gets nicknamed "Champ Killer" in the process!
After taking out reigning Champion Chris Forsberg and placing fourth at Formula Drift Round 1 2010, Fredric Aasbo and Team Japan Auto FSR just got back to the US for Formula Drift Round 4 at Evergreen Raceway, WA on the weekend of July 8th-10th. Fresh off a new engine build courtesy of Comp Turbo, KRB Trading,KSR, SWR and FSR Motorsport Creations, Team Japan Auto was ready for the tense battles to come.
"This is our second event in our Rookie season, and we are out here to learn from the best. Still, in honor of our sponsors, friends and fans, I am proud to say I think we left our mark!"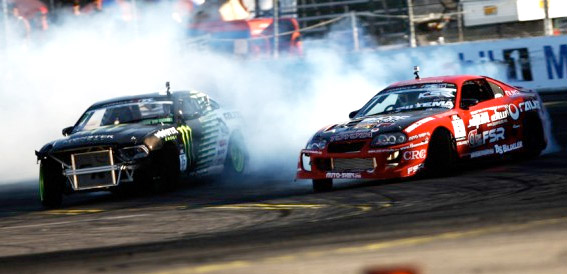 Team Japan Auto qualified in the upper half of the 43 participating teams, and took on a fight with young and aspiring competitor Pat Mordaunt to advance to Top 16. Top 8 saw Fredric and his Toyota Supra meet Vaughn Gittin Jr. in the Monster Energy Drink Falken Tire Ford Mustang, who currently sits as #1 in Formula Drift points standings. Jr. has been the driver and car combination to beat all season, being further testament by his #1 qualifying spot at Round 4.
"We are both running Falken Tires, and the new Azenis RT615-K tires made sure it was an even but in every aspect insanely smokey and fast battle! First runs had judges call a one more time. Reruns were even closer, and when Jr. spun in front of me a crash was unavoidable. Judges declared us as the winner – our privateer team had taken out the top contender in the Formula Drift circuit!! I am so proud of our team, Tom Ole Svendsen and Steffen Moy!"
Fredric and Team Japan Auto went on to finish in 7th place after two close battles with Tanner Foust in The Rockstar Energy Drink Scion tC, who later moved on to win the event. Team Japan Auto FSR and Fredric Aasbo currently sits second in Rookie of the Year points standings, having only taken part in two of a total of four rounds. The team is currently looking to establish a program to get the funding needed to take part at the remaining three Formula Drift rounds.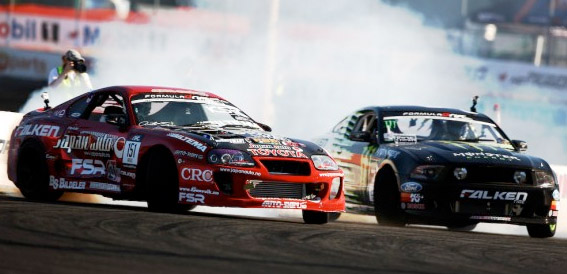 "Literally he has impressed myself, the judges and the fans! Aasbo has created a Norwegian wave through Formula Drift!" said Jarod DeAnda, official host and voice of Formula Drift.
"We are still a rookie in Formula Drift, but we are quickly gaining knowledge as we move on. I know we have strong potential for further consistency, but we need certain upgrades for the car and more seat time in the series. One thing remains assured – we will be giving it a 110% to be able to leave it all at the walls of Las Vegas Motor Speedway!"
Turbosmart is a proud sponsor of Fredric Aasbo and Team Japan Auto.
For more on Fredric visit www.fredricaasbo
Pictures courtesy of Larry Chen
---