FXMD beats HKS lap record
---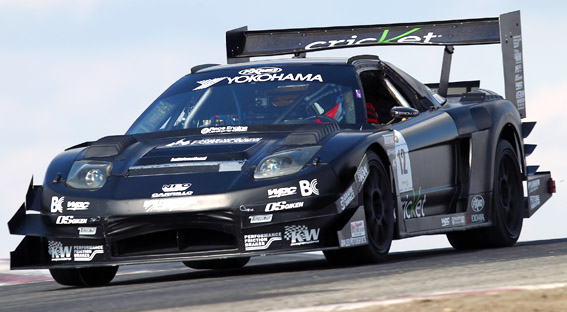 Report by Ken Namimatsu – FX Motorsports Development LLC
Buttonwillow, CA (Wednesday, November 10th, 2010) FX Motorsports Development, Billy Johnson, and the Cricket/Yokohama Tire Unlimited NSX crush the HKS C230 EVO record at Super Lap Battle in Buttonwillow, CA.
The goal for this year was simple and clear for the FXMD team. Crush the Buttonwillow Super Lap Battle record held by the HKS EVO. At the end of the day the goal was accomplished with a lap time of 1:41.949, besting the HKS EVO record 143.523. This time was good enough to set a new Unlimited RWD record and second overall for Super Lap Battle.
Crew chief Radomir Banda (FES) said: "I had a great deal of concern going into the race as we made some significant changes to our platform. During testing we ended up losing a head gasket, so we worked all through the night to rebuild the engine. On race day we struggled with set-up and on the last session we ended up having an engine failure cutting our time short and possibly costing us the overall victory. I am disappointed, proud, and excited at the same time. Congrats to Sierra Sierra on the victory but, that time will not hold up for long."
Team principle Ken Namimatsu said: "I am really proud of the team, we had to overcome countless hurdles to even get to this race. More than any other track we run, Buttonwillow seems to punish us on a consistent basis. This race was no different. In the end we are happy that we smashed the previous record that has been held by HKS for the past three years but, we are absolutely not satisfied! Many more advancements on the horizon and I am looking forward to 2011."
We would like to thank all of our sponsors for their superior track proven products and unwavering support throughout the season and we hope to continue to build on our relationships into 2011.
Sponsors: TurbosmartUSA, Cricket Wireless, Yokohama Tire, Performance, Friction Brakes, KW Automotive, Forge-Web.com, NEO Synthetics, AFI Turbo, OS Geiken, CP Pistons, Carrillo Rods, Brian Crower, WPC Metal Treatment Co. RC Fuel Injectors, Race Engine Development, Applied Motorsports, Back in Balance Chiropractic, Daliracing, Autovation, Darton International, Findly Acura, RPS Clutches, Grafikimpact, millennium motorsports, Brown and Miller,
Acura of Reno, STMPO.
---