Get a better boost curve with Turbosmart's e-Boost-2
---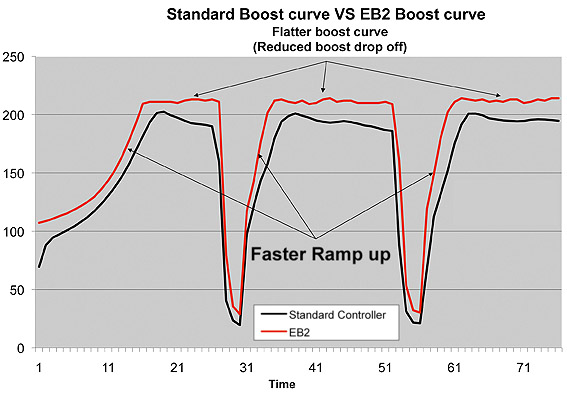 Standard Boost Curve VS e-Boost2 Boost Curve
The above image shows a log graph from our R&D Mitsubishi Lancer Evolution 8 GSR during a practice day at a race track. It compares the standard boost curve which is controlled by the standard ECU to a boost curve controlled by the e-Boost2.
As shown in the graph, there are performance gains in using the E-Boost 2 boost controller even at similar boost levels on your standard vehicle. There were no other modifications done to the vehicle during the comparison.
The standard curve has a slower ramp up compared to the e-Boost2 curve. This is due to the gate pressure adjustment in the e-Boost2. The gate pressure is the pressure at which the e-Boost2 begins to allow boost pressure to act on the wastegate actuator. Keeping the wastegate closed longer maximises response by keeping 100% of the exhaust gas passing through the turbine rather than bypassing it. This feature can increase the midrange power of the engine and reduce lag.
There is some noticeable boost drop off as the engine RPM increases when boost is controlled by the standard solenoid. Boost drop off can occur due to high exhaust gas back pressure pushing the wastegate open. The e-Boost2 can reduce or eliminate boost drop off by a variety of methods. If boost is dropping off at a linear rate between a certain RPM, the boost correction function can be used to alter the pressure signal to the wastegate between the prescribed RPM to effectively reduce or eliminate the drop off. Another method of completely controlling the boost curve is the RPM mapping function which allows the user to input a solenoid duty cycle at RPM increments to tailor there boost curve to their needs.
See the full range of Turbosmart Electronic Boost Controllers here.
---