HyperGate impresses Muscle Mustangs
---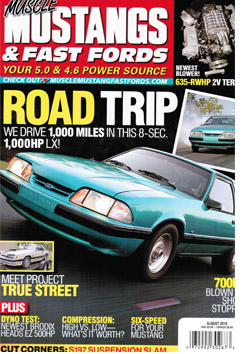 Turbosmart's HyperGate45 has been featured in the latest issue of the Muscle Mustangs and Fast Fords magazine. The technical article covered a single turbo (76mm and then switched to an 80mm) stroker Ford build.
The existing 44mm wastegate could not control the boost, and the editorial staff needed to find a better product that could still be fitted onto the existing 44mm flange. TurbosmartUSA came to the rescue with the HyperGate45 which offers class-leading performance AND fits onto a popular 44mm flange. Needless to say, it worked perfectly.
Here is what the Muscle Mustangs and Fast Fords magazine had to say:
"The 44mm wastegate supplied with the kit was unable to control the boost, so we swapped it to a 45mm HyperGate from Turbosmart. Boost creep was no longer an issue".
"Apparently, the previously fitted 44mm wastegate was too small to properly control the boost – boost creep was the result. Coming to our rescue were the guys from Turbosmart in the form of their HyperGate 45mm wastegate. Installation of the HyperGate cured the boost creep and provided complete boost control."
The motor ended up making 1037hp at 6,000 RPM with peak torque of 957# at 5100 RPM. Boost was 12.8PSI.
---
Muscle Mustangs and Fast Fords has also reviewed Turbosmart's e-Boost2. Read the review here.
---