Introducing our Turbosmart Head Office General Manager – Stewart Mahony
---
Stewart Mahony, centre, accepting an award on behalf of Turbosmart at the Australian Auto Aftermarket Awards 2015.
Making the products you know and love doesn't just happen – it takes a team of dedicated people to design and manufacture them to the standards you expect. Turbosmart is proud to introduce its new General Manager at its Australian Head Office, Stewart Mahony. Stewart joins a strong management team which includes CEO and Founder Nicholas Cooper, Turbosmart USA Vice President and General Manager, Marty Staggs, and Turbosmart UK General Manager, Chris Milne. He has long been a member of the Turbosmart team, working as Production Manager in Australia since 2001, so he truly lives and breathes Turbosmart. But, surprisingly, there is a real person behind the title. So who is the man, the myth – Stewart Mahony?
What are your hobbies and interests?
Circuit racing is a big one. I've been racing dad's Mk4 Bolwell sports car since I was 16. I started racing go karts in the mid 2000s, and in 2007 our team won the TEKA Endurance Karting Championship. I competed in the World Time Attack Championship in 2009, 2010 and 2011, driving the Turbosmart RX7. My best result was 12th in Open Class in 2011. My best lap was a 1:38.572, which was 12th out of 57 drivers. Of course, I enjoy spending time with family and friends, and sometimes I just like taking my mind off work and watching sports and comedy. But really anything mechanical and motorsport related is where my heart is.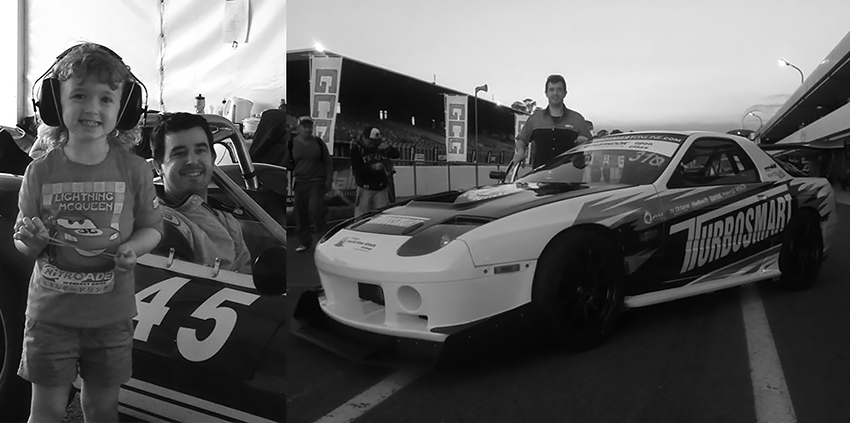 Left: Stewart in his dad's Bolwell with his daughter, Hannah. Right: Stewart with the Turbosmart RX7 at WTAC.
How did you get into cars?
My dad was a huge influence – I was working on cars with him since I could walk.
What do you enjoy about modifying cars?
Improving performance and testing the outcomes, it satisfies the motorsport fanatic in me.
What did you do before you came to Turbosmart?
I worked at a metal fabrication business for 11 years. While I was working there, I got my Advanced Diploma in Mechanical Engineering. After that, I began working at Turbosmart. Soon, I became Production Manager, and I was here for 13 years before I became General Manager.
What experience do you bring to the role?
I bring practical and technical experience with racing and building cars, plus a healthy dose of lunacy!
What brought you to Turbosmart?
An ad in the paper! I always wanted to be in automotive manufacturing, so I jumped at the opportunity and I haven't looked back.
What were the early days at Turbosmart like?
When I started in 2001, we were a fraction of the size we are today. There were three of us in total, and I used to do everything from taking sales calls to assembling all the products to organising the shipping. I was here when we bought our first CNC machine, and have spent a lot of years working on the machines, writing the programs for them and helping design our products. Now we have a whole factory full of CNC machines, so I've seen Turbosmart come a long way.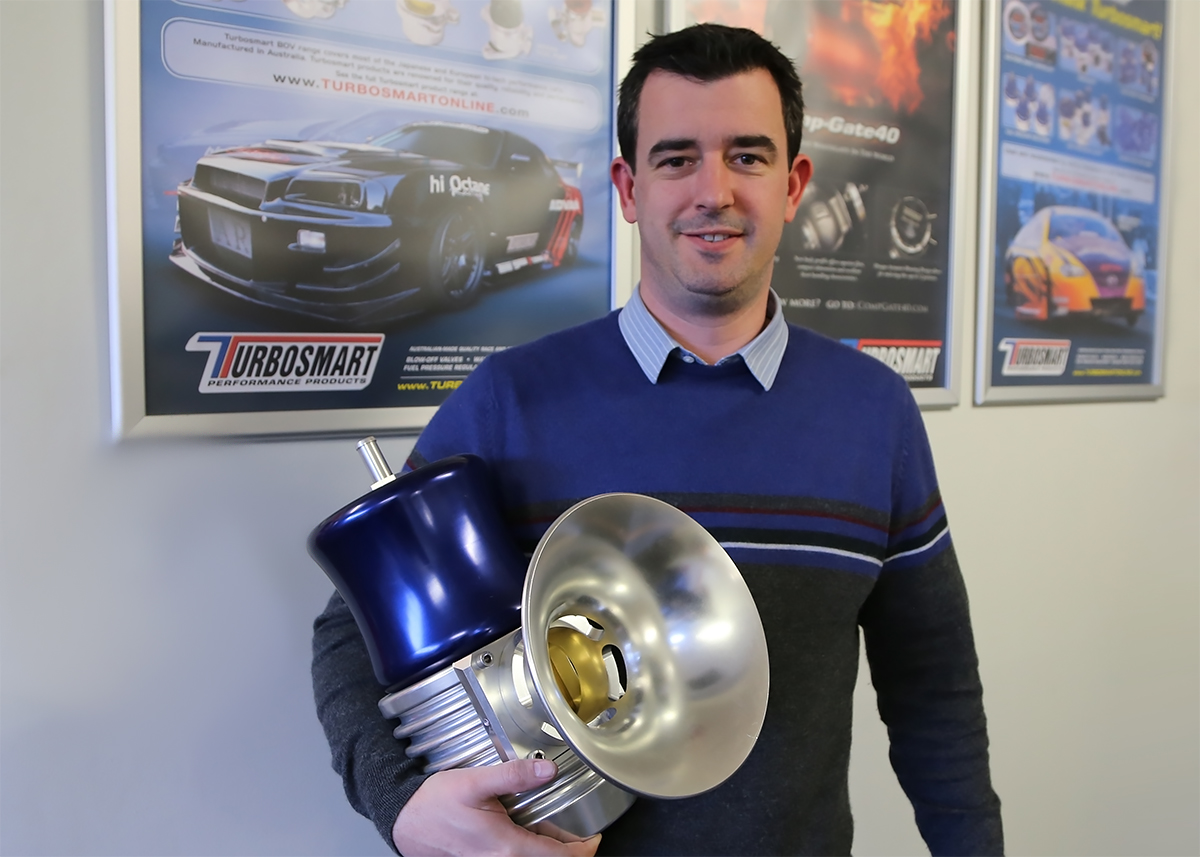 Stewart with a one off giant blow-off valve he custom machined
What is your favourite thing about Turbosmart?
My interests align with my job. I get to work with what I love, cars and motorsport. We get to design, test, manufacture, assemble and ship our products from our own facility to the whole world, which I think is fantastic for an Australian company – it's hard work but we are bloody proud of what we do.
How do you think Turbosmart fits into the automotive aftermarket industry?
We look to offer solutions to the market that improve performance and reliability – the products MUST provide a benefit. We also understand our responsibility to our industry worldwide, in that to be a part of that community we have to work with the members of that community – we want to give the people what they need and want.
What do you think makes Turbosmart so respected?
Our aim is to offer the best products and support available. As enthusiasts, our customers are our peers, so we work hard to impress them and help out. Offering a superior product is one thing, but going above and beyond in after sales support is what I think makes us really stand out.
Where do you see Turbosmart headed over the coming years?
We are about to move our Head Office into a larger facility in Sydney that will give us the ability to strengthen our manufacturing and engineering capabilities. We already have offices in the USA and UK and we are looking to expand their reach while looking for new opportunities.
Do you have any ambitions of your own for Turbosmart?
Short of world domination, I really just want to continue to be proud to work in this awesome company with such an amazing group of people. It's a dream come true!
---