---
Project RX-7 Build Diary – 9th January 2012
2011 Recap
With the announcement of the 2012 World Time Attack Challenge dates, we started planning our plan of attack, but before putting the car back on the hoist we took it down to a scenic location to take a few pictures.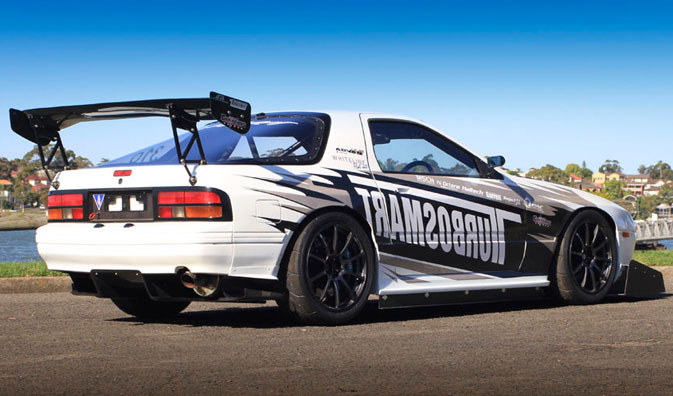 The aim of this project was two-fold; to be a test bed for our new products as well as a showcase/promotional vehicle that can hold its own on a race track. We can happily report that the RX-7 succeeded on both fronts!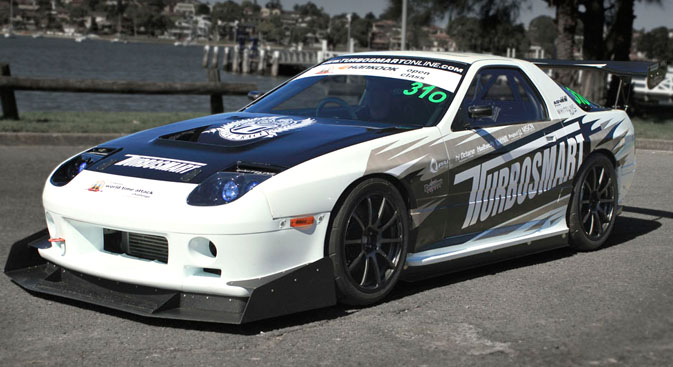 Shaving 6 seconds off our last year's fastest lap time was more than we've anticipated. The amount of publicity the car has generated has been beyond our expectations – it seems the venerable FC still has legions of faithful fans around the world.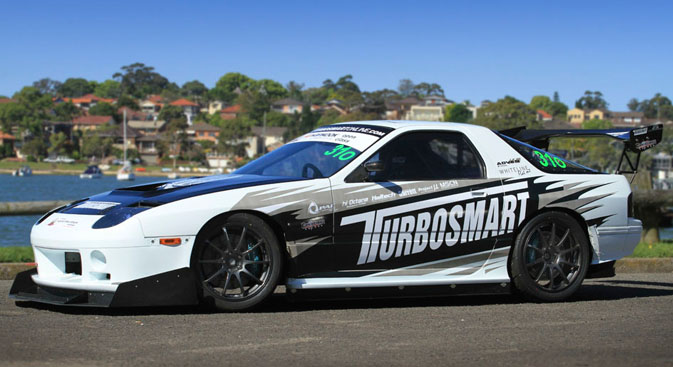 So what's next for the car? Well, we've got a bunch of new products to test and our engineering department has already submitted plans for a major revamp of the engine, gearbox and suspension, all with the aim of improving our lap times even further. One thing is certain – the Turbosmart RX-7 will be back, stronger and faster than ever! Stay tuned.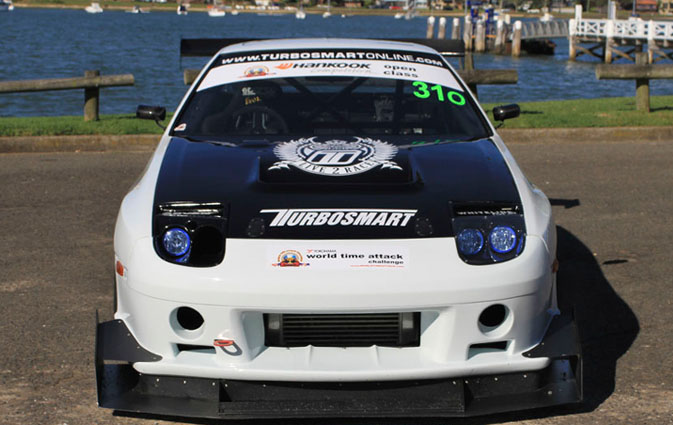 We would like to thank all the companies that generously helped us with the project:
Whiteline, Haltech, Yokohama, Garrett, MSCN and PAC Performance.
---
Project RX-7 Build Diary – 6th August 2011
The Moment of Truth.
This is it – over 10 months of hard work and planning is over and now it's up to the car, the driver and the pit crew to take over. As the car draws admiring looks and nods from the spectators, our Production Manager and part-time racing driver, Stewart, pulls on his helmets and climbs into the the cabin.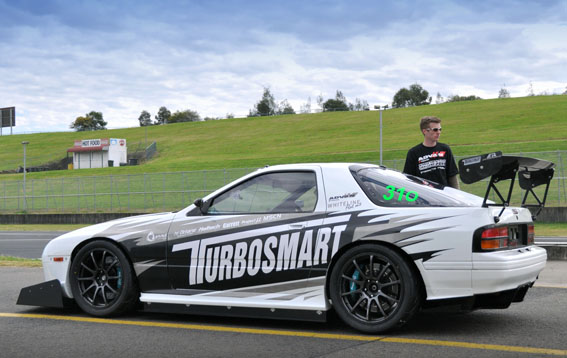 For the team Turbosmart the race has started even before the gates at the Eastern Creek Raceway opened for the practice day. We have rushed the car straight from Westfield Parramatta (where it was on display at the WTAC Launch) back into the workshop. We only had three days to complete, fit and test the new aero. Oh, and let's not forget a gearbox change…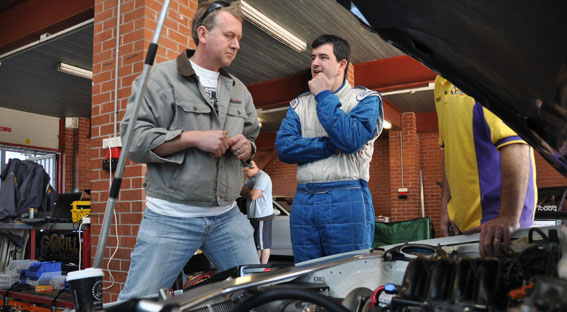 How fast do you think you can go? Oh, about 1:38.5720 or so… Nic and Stew discuss tactics.
With the crew working tirelessly around the clock, we've managed to get the car ready for Thursday morning practice. A quick stroll down the pit lane confirmed what we've been suspecting for a while. The Australian performance industry has really upped the ante this year. There were some serious-looking machines parked in those garages.
The car performed well in practice, we were getting consistent times and Stewart was happy with the handling. With the help of Whiteline we were able to fine tune the suspension and get the aero working to our advantage. This was a real eye-opener for us – a well set up aero makes a whole lot of difference!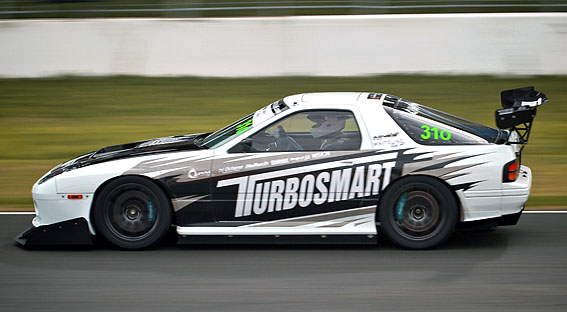 Project Racer in full flight down the main straight. We've managed to get over 240kph.
On Friday we realised just what we're up against in the Open Class. A 57-car field with some of them running times that would have seen them in the top 10 of Pro Class last year! With such a strong opposition, we knew we had a lot of work ahead of us.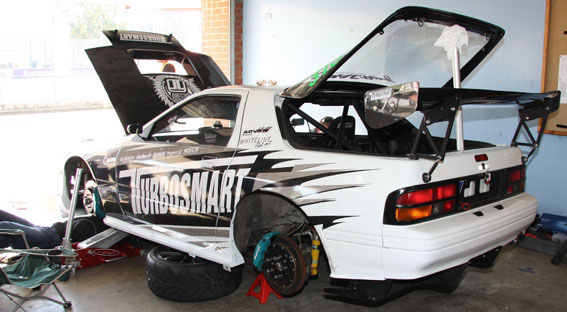 The breaks between sessions were used up to the last minute with parts being checked, changed and re-fitted.
Apart from a few issues here and there and a problem with a fuel surge tank, we were pretty much on top of things. Richard had his hands full inthe pits while Stewart was putting one quick lap after another. Finally, on Saturday morning he posted what was to be our fastest lap of the day: 1:38.5720 with a top speed of well over 240kph down the main straight.

Sure he looks happy now, but when Stew puts his helmet on and gets strapped in, he's all business!
We were absolutely stoked, considering we were aiming at getting the car below 1:40, to get it down to 1:38 was fantastic. To put it in perspective, this was a 6 second improvement over our last year's lap time. This time would have put us in a 2nd spot last year, but with the Open Class so much more competitive this year, it was enough to secure us a 12th space in the class. We were the 2nd fastest rotary, behind a series 6 RX7 (FD) of S2 Performance.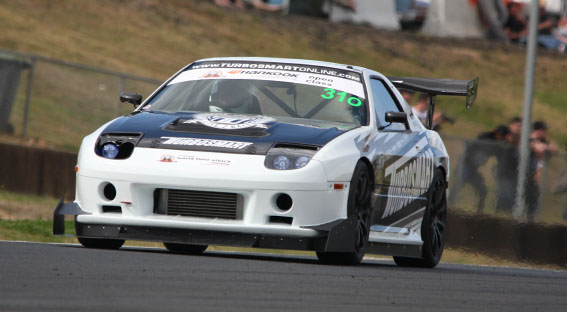 Six seconds faster than last year, the RX-7 also drew plenty of admiring looks and comments.
The whole team put in a tremendous effort to make this happen, especially considering we were also exhibiting and doing tech support for other teams. Top effort from everyone in sales, engineering, even dispatch, accounts and reception. Bring on WTAC 2012, we can't wait!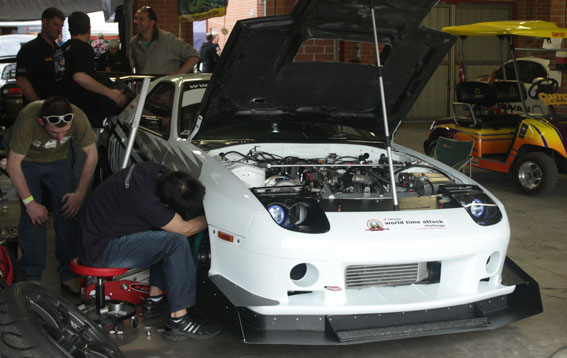 The man with his hands deep within the wheel cavity is Richard, our head engineer and part time crew chief – instrumental in getting the car ready and keeping it running during the event.

The RX-7 posing for picture in the pit lane, ready to go on the track.
---
Project RX-7 Build Diary – 29th July 2011
Time To Shine.
Things have really moved fast last week. With all the body work in place it was time for a fresh coat of paint and sticker job. Then we got invited by Yokohama to display our car at the World Time Attack stand at one of Sydney's biggest shopping centres – the Parramatta Westfield. Stewart and Richard worked tirelessly to get the car ready and for the first time in many months could stand back and just take it all in.
The car looks great. Okay, we're biased, but just look at it!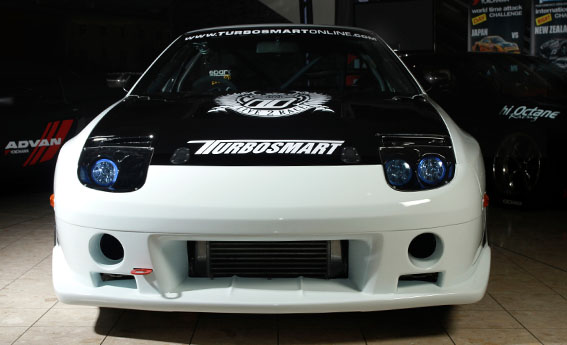 Ready for the crowds at Westfield.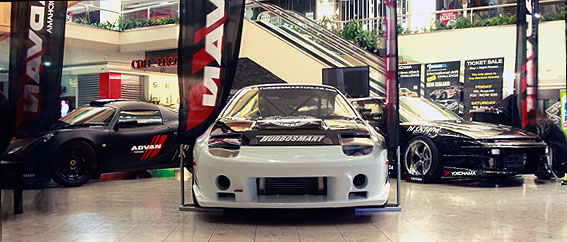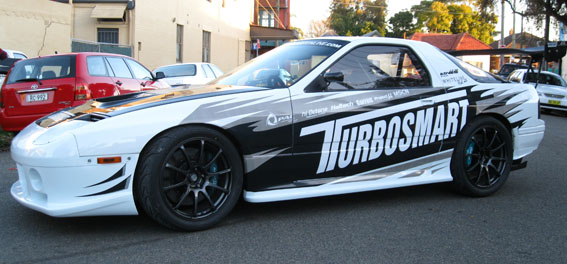 Time to wheel it out of the workshop and have a good look…
---
Project RX-7 Build Diary – 25th July 2011
Final Tweaks.
Our outing at Wakefield Park provided us with a lot of valuable data. While there was still plenty of work to be done, we knew we were heading in the right direction. Stew managed to shave valuable seconds off last year's lap time and the car was performing better in every key area. The next testing was at Eastern Creek.
Despite pouring rain we managed to squeeze in a semi-dry lap in the afternoon which again provided us with invaluable information on the car's behaviour on a much faster and longer circuit. With the World Time Attacking drawing closer, our next outing will be at the official "WTAC Practice Day" next Thursday. The car is now getting painted and stickered, so it looks like despite a few setbacks we're actually on schedule.

Back on the hoist after Wakefield Park.

Out of the box and straight onto the car – the wing worked its wonders improving the airflow around the top of the car.
Rear diffuser fitted perfectly under the RX-7's rear quarters.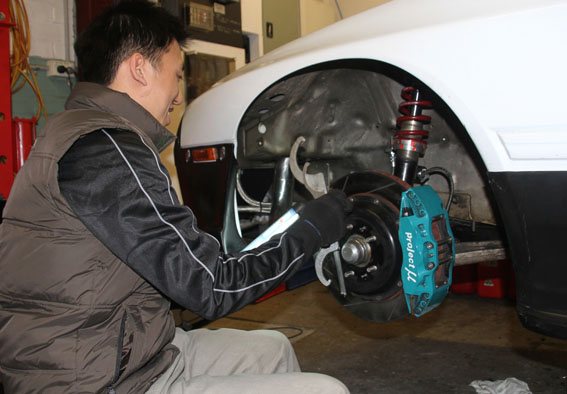 Brakes and suspension tweaks were on the agenda, as was a new gearbox, better suited to Eastern Creek and Time Attack style racing.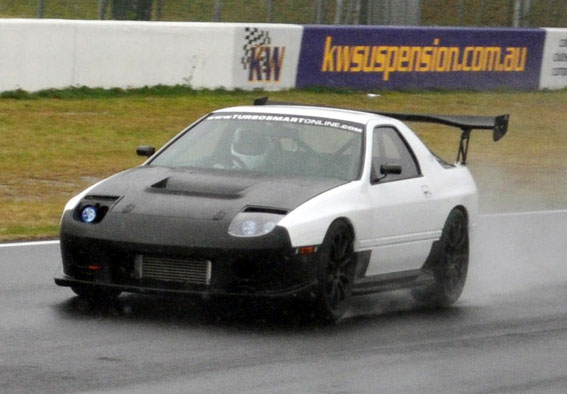 Yep, it was a rainy day at Eastern Creek, but every lap, even a wet one, counts, so we didn't waste any time.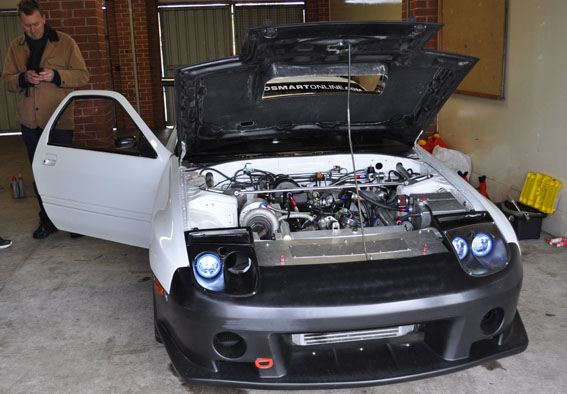 ---
---
Project RX-7 Build Diary – 14th July 2011
Shakedown Time.
With the engine all sorted and body kit in place, we're off to Wakefield Park raceway to see whether all that work has made any difference. The short answer is YES, but more on that later…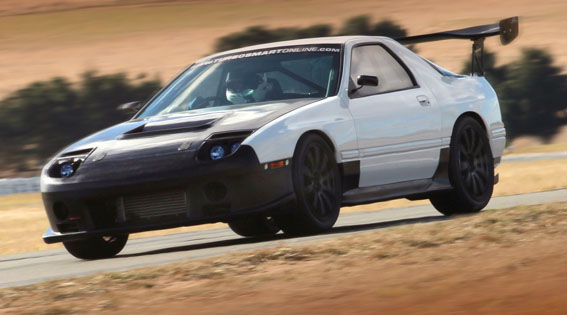 The Rx-7 is flying around the track. Our driver is quite impressed with the power and handling and we're impressed with the lap times. Now it's back to the workshop for some more tweaks.
---
Project RX-7 Build Diary – 22nd June 2011
Black is back baby!
The interior gets a coat (or three) of matte black paint transforming it from the "in-progress" look to an "almost finished" look. The front bar fits perfectly and will help with the car's aerodynamics. The engine is 99% complete and ready for the rest of the car to catch up.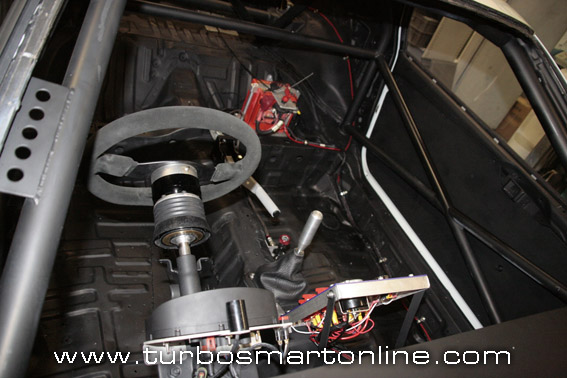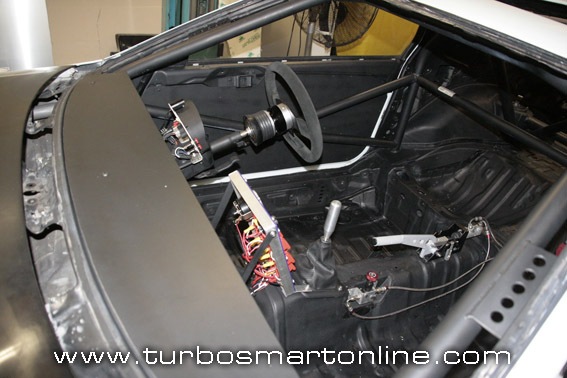 Matte black interior looks purposefully subdued.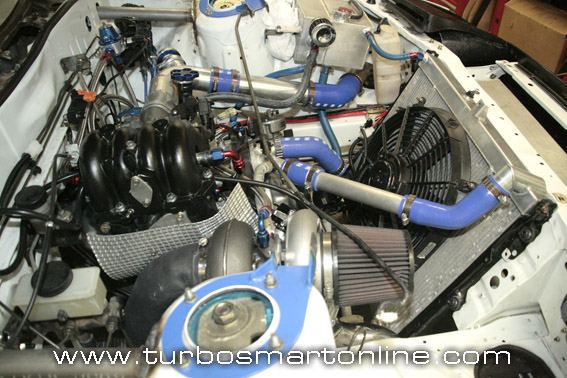 The engine is ready for the rest of the car to catch up.

Front bar fits perfectly and totally changes the car's appearance.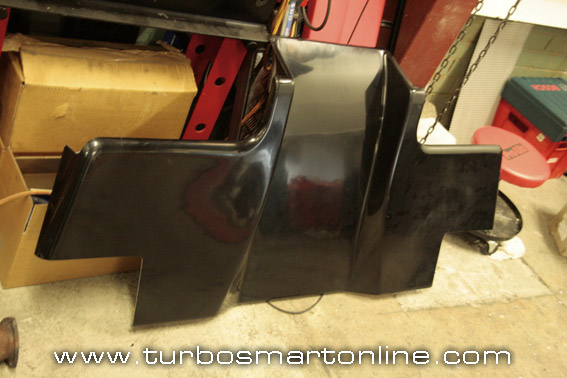 Rear diffuser waiting patiently for its turn.
---
Project RX-7 Build Diary – 12th June 2011
Inner workings…
The dashboard received some needed attention this week. With the factory dash long gone, the front panel has been custom made from aluminium. It's wide and flat and provides plenty of space to fit instruments. Form and function in a perfect balance. Well, we think so anyway.
---
Project RX-7 Build Diary – 6th June 2011
Go with the flow, grasshopper…
The long-awaited body kit has finally arrived and we opened the boxes with grins normally seen on the faces of children opening their Christmas presents. The body kit will not only be lighter than the factory parts it replaces, it will also improve the air flow around and under the car. The hood will also help cool the engine with its massive vent.
Inside, the dash panel is beginning to take shape providing a nice flat surface on which we'll mount all the switches and instruments.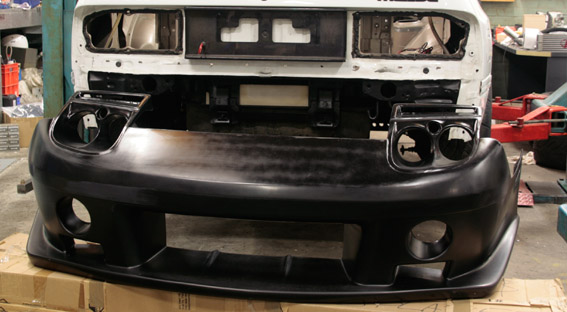 Front bar will greatly improve the aerodynamics of the car.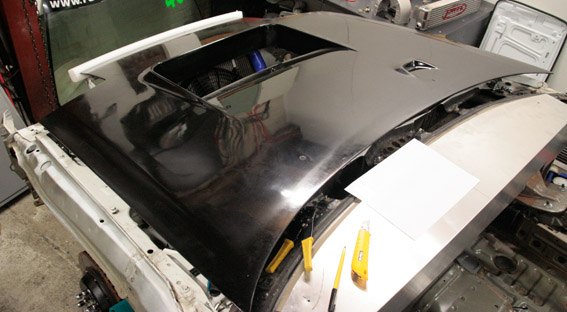 The new hood is considerably lighter than the factory item. It will also help in keeping the engine cool.
---
Project RX-7 Build Diary – 28th May 2011
Leaner and Stronger.
Following a simple philosophy of "if it ain't gonna make it go faster, it ain't need to be there" we've managed to take out quite a few kilos from the old girl. She's now a lot leaner and, thanks to an improved roll-cage, a lot stiffer too! The new, more powerful engine has arrived too and it looks the business with the Garrett turbocharger grabbing all the attention! The body kit is scheduled to arrive tomorrow and we're all itching to see it. We'll keep you posted.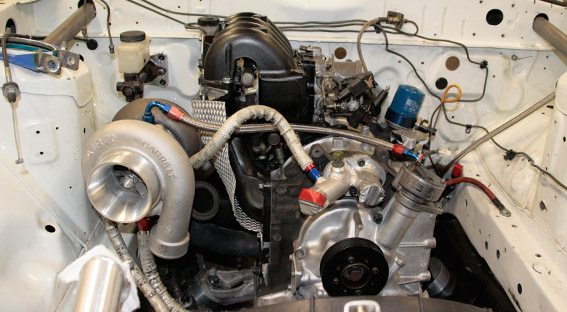 The new engine gets the thumbs up from all involved.
---
Project RX-7 Build Diary – 15th May 2011
Stripped and Gutted.
It's not a pretty sight, the car is back to almost a bare shell, but it's a necessary step towards our goal: less weight – more power. With all the interior components taken out, the RX-7 is ready for a trip down to PACPerformance for an engine upgrade. Meanwhile, a new aero body kit is on its way from our US office. More on that soon:)
---
Project RX-7 Build Diary – 18th April 2011
Well it's started again!
We have entered the World Time Attack Challenge for a third straight year (the first year it was just called "Superlap") and this year is looking very exciting for all involved. Congratulations to Ian Baker and the team at Superlap Australia, they have created a hell of a lot of demand for this event with the entries filling up in half a day! The refresh button on my computer is a bit worse for wear waiting for the entry form to be loaded onto their website last week.
After last year's event we were able to sit back and analyse what needed to be improved to make it a better track car, and this is where we got stuck…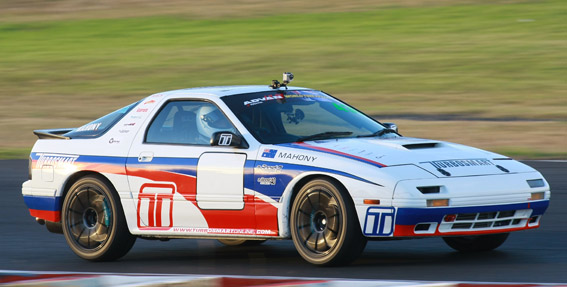 Project Racer at the 2010 World Time Attack Challenge. We've managed a respectable 1:44.4 – not bad for what was originally built as a tarmac rally car in less than 8 weeks!
The car was originally constructed to be a tarmac rally car and also as an R&D car for our products and we had 8 weeks from its first road rally event to the World Time Attack event.
In that short space of time we made as many changes to the car as possible while respecting the fact that it was the bosses new street registered road rally car! We ended up coming 23rd out of 45 cars in the open class with a 1:44.4 lap time which we were happy with.
So what to do now? Well we had to decide what was to become of the car and competitive instinct took over, and we made the call to get it set up for the track. The goal is to get into the on minute thirties, it's a tough call for this car but never hurts to aim high!
The Mazda RX7 FC3S is getting a bit old now – ours was built in 1988! – but it does still have a few things going for it. Good weight distribution, low centre of gravity, low weight, good power and a slippery shape make it a basis for a decent track car.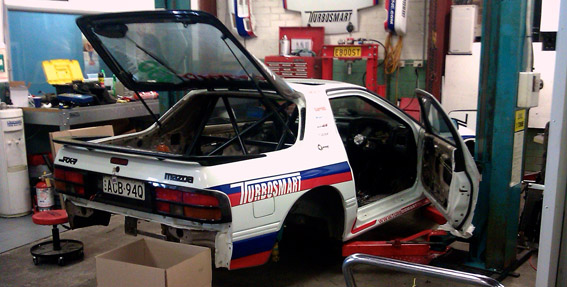 What we are working on now is to improve as many areas on the car as possible – starting with the weight. When the RX7 is on the track you can feel the weight is a problem for the times we want to achieve, especially you can feel the weight up in the sunroof and the rear hatch making it pitch into corners. As you can see from the photo's – now gone.
The engine is out and at Pac Performance for a freshen up and a switch to E85 fuel which will see us up over the 500rwhp region. Meanwhile while we have been stripping out the interior of anything not required to race with, in the hope of a sub 1100kg dry weight.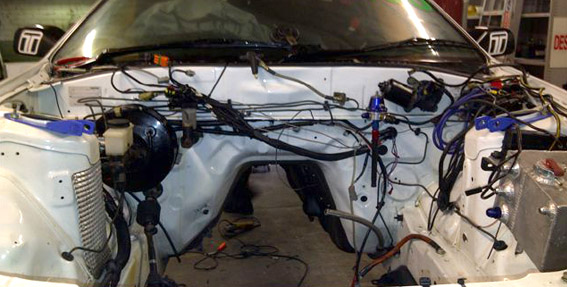 The RX-7 goes on a strict diet in search of a better power-to-weight ratio
Next will be the fuel tank that has a second pump added and larger fuel lines. As yet we have not had any fuel surge so we are just using the standard tank with a few mods but we are looking closely at the data to see how it goes.
Then we will fit up the engine and gearbox and get the car over to Pac Performance to get the roll cage stitched into the pillars and some extra bars added to tie it all together.
---