---
For those who are unfamiliar with the Red Victor, here is a quick history lesson. The Red Victor 2 started its life as a 104hp, 4 cylinder 2L Vauxhall Victor – a family sedan, with a rather pedestrian performance.
After Andy's remarkable make-over, the Red Victor 2 was widely regarded as the fastest street car in the world. Powered by a 572ci Twin Turbo Chevrolet V8, the beast put out in excess of 2000hp and has a top speed of 223mph.
It could reach 0-60mph in just 1 sec, and proved its drag strip credentials by winning the King of Europe speed and ET record with a 7.81 @ 188mph ET. It has since bettered that time.
The car and its owner was featured on UK's Fifth Gear:

So, what do you do when you have one of the fastest street cars in the world and a multiple record holder in your garage? You go out and build another one of course!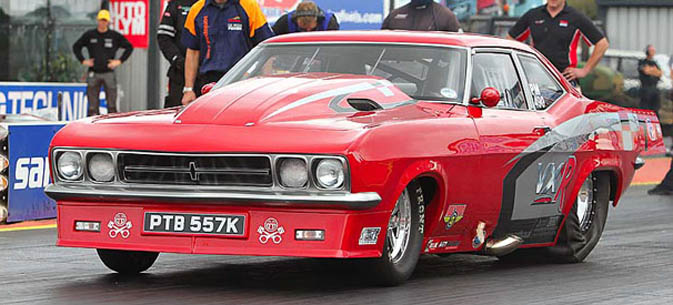 And this is exactly what Andy Frost has done. The new Red Victor 3 is better, faster and meaner than its predecessor. It is also now powered by a turbocharged  539ci (8.8litre) GM Chevrolet V8. Look closely and you'll find Turbosmart BOV and wastegates lurking underneath the bonnet.
For more updates on the build-up go to the official Red Victor website
---