Setting the Dual Port flange
---
The Turbosmart Mazda/Subaru Dual Port fits a range of vehicles; Mazda MPS 3, 6, CX7, Subaru WRX MY08 onwards, Liberty GT'03 – current.
The Dual Port owes this versatility to its unique flange design. The aforementioned flange can be rotated to suit different vehicles. There are 2 setting notches; setting notch 1 for the Mazda MPS range and setting notch 2 for the Subaru MY08 WRX/Liberty GT.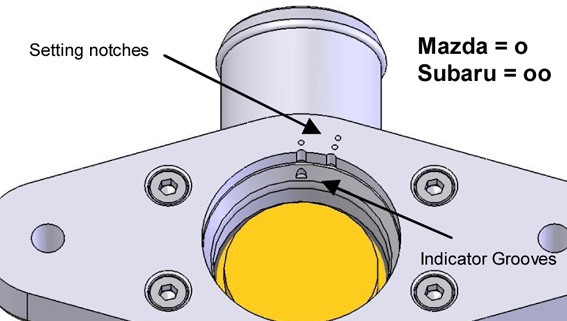 The Mazda/Subaru Dual Port comes preset to setting notch 1. The flange can be rotated by loosening the securing screws at the bottom with a 3mm Allen key. Do not remove the screws, only loosen them. Rotate the flange until it lines up with the desired indicator groove. Re-tighten the screws. Easy!


Before and After. The Dual Port fits nicely within the confines of the engine bay and looks the part with its black cap.
See the full range of Turbosmart model-specific BOVs and BPVs here
---