Sierra Sierra's Aussie connection
---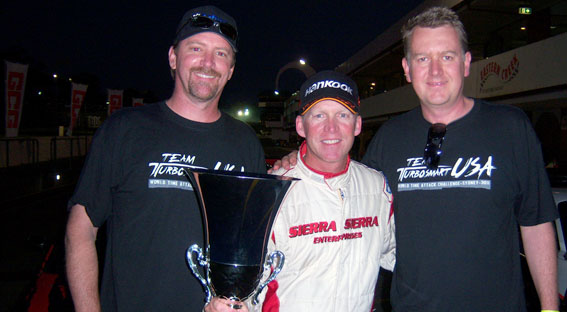 From left to right: Marty Staggs (Turbosmart USA), David Empringham (Sierra Sierra) and Nic Cooper (Turbosmart CEO).
Sierra Sierra Enterprises' Mitsubishi Evo 8 may be one of the World's most recognisable Time Attack cars, but not many people are aware that its engine bay is also home to a number of Turbosmart products.
Look underneath the many layers of carbon fiber and you will find Turbosmart wastegates working in perfect harmony with a Cosworth/Mitsubishi 4G63 2.2L motor and Borg Warner's new EFR turbo.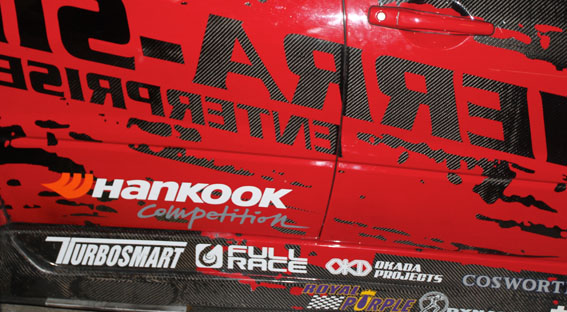 Yep, that's a Turbosmart logo on the side of the SSE Evo.

Turbosmart wastegates take a prominent spot in the engine bay.
"Turbosmart puts a tremendous amount of development and knowledge into their products and the Sierra Sierra Time Attack Team is excited to be a part of this effort" said Richard Raeder – Team Manager of Sierra Sierra Enterprises.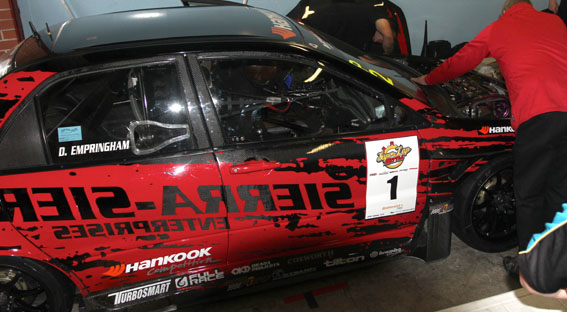 Team Sierra Sierra hard at work.
With a blistering lap time of 1:29.0240 around Eastern Creek, (a mere 2/10ths of a second behind this year's winner – CyberEvo) and the fastest top speed of the event (298.9kph down the main straight), the SSE Evo provides one of the most demanding environments for our products.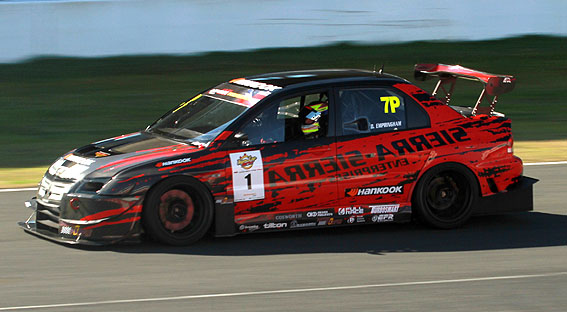 Affectionally known as "Christine", the SSE Evo posted the highest top speed at the 2011 WTAC.
Being widely considered as the most professional and experienced outfits in the industry, the SSE are careful about the brands they associate themselves with. A small number of sponsor stickers on the car shows that they chose quality over quantity. Seen in this light, it's easy to see why the Sierra-Sierra Enterprises and Turbosmart partnership is a mutually beneficial one.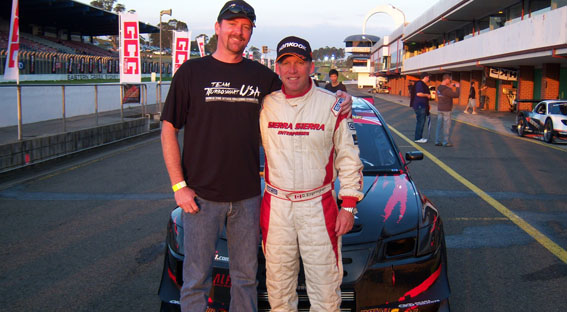 Turbosmart USA's GM, Marty Staggs and Team SSE driver, David Empringham posing in front of Christine at the 2011 WTAC.
Read more:
Sierra Sierra Enterprises
World Time Attack Challenge
Read related articles:
Sierra Sierra chooses Turbosmart
Team Turbosmart rules at Buttonwillow
Eric Hsu on Comp-Gate
---