---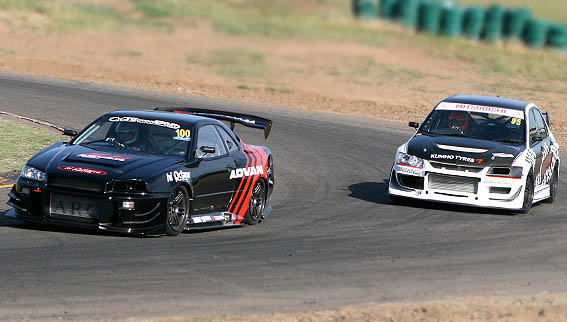 Once again a perfect weather welcomed a full grid of racers, all keen to prove their worth against each other and one common opponent – the time. With the entry list reading like the who's who of Australia circuit and rally racing, the on-track action was always going to be exciting.
Last year's Best of the Best Shootout winner, Garth Walden in a Tilton Interiors Mitsubishi EVO 9 set the pace early on, with a blindigly fast lap time of 1:12.1088. Mark Berry, driving the brand new Hi Octane/Yokohama/Turbosmart R34 GT-R showed the car has plenty of potential, with his lap times improving throughout the day. Going into the finals with a fastest lap time of 1.13.6410 Mark had Garth well within his sights. Third driver into the finals was Martin Notaras in a Notaras Racing EVO 9.
With Walden unable match his morning pace and Berry lapping increasingly faster, it looked like the black GT-R might just sneak into the 1:12 zone and take the winner's trophy. As it often happens in racing however, close enough proved not to be good enough, and Berry's best time of 1:13:6310, as impressive as it was, earned him the runners' up place with a steady Martin Notaras completing the Pro Class podium at 1:14:1470.
Both the winner and the runner-up in the Pro-Class used Turbosmart products on their cars, proving once again, Turbosmart's legendary reputation for performance and reliability.
Turbosmart is a proud sponsor of Superlap Australia and would like to congratulate all the class winners!
See the gallery here
---
Yokohama SUPERLAP 2009 RESULTS
Pro Class
Winner – Tilton Interiors Evo 9
2nd – Advan/Hi Octane Racing R34 GTR
3rd – Notaras Racing Evo 9
Open Class
Winner – Southern Motorworks Toyota-powered Lotus Elise – Driven By John Boston
2nd – Bilstein Racing RX-7 – Driven By Ryan Brown
3rd – Insight Motorsports/Elias Augerinos Honda S2000 – Driven By John Boston
Fastest 4WD – Mark Rayner Evo 9
Fastest RWD – Southern Motorworks Lotus Elise – Driven By John Boston
Fastest FWD – Pro Concept Honda civic – Driven By Jacky Yick
Fastest 4 Cylinder – Southern Motorworks Lotus Elise – Driven By John Boston
Fastest 6 Cylinder – SM Motorsport BMW M3 – Driven By Sam Markov
Fastest 8 Cylinder – Caltex Guildford – Driven By Peter Hennesy
Fastest Rotary – Bilstein Racing RX7 – Driven By Ryan Brown
Fastest Naturally Aspirated – Pro Concept Honda Civic – Driven By Jacky Yick
Fastest Owner Driver – Bilstein Racing RX7 – Driven By Ryan Brown
Clubsprint Class
Winner – Jeramiah Thomas Evo 9
2nd – Jason Naidoo Evo 8
3rd – Marek Tomaszewski Evo 9
Fastest 4WD – Jeramiah Thomas Evo 9
Fastest RWD – Evan McCormack Mazda RX7
Fastest FWD – Tim Ware Honda Integra Type R
Fastest 4 Cylinder – Jeramiah Thomas Evo 9
Fastest 6 Cylinder – Bill Miller Nissan R34 GTR
Fastest 8 Cylinder – Brad Lowe HDT Special Vehicles VE Commodore
Fastest Rotary – Evan McCormack Mazda RX7
Fastest Naturally Aspirated – Tim Ware Honda Integra Type R
---