The Stinga – Entered April 2009
---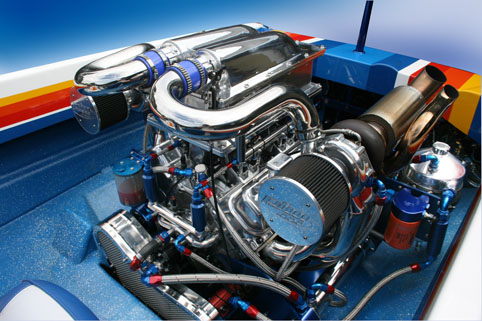 Built by Malcom Priest and driven by Greg Houston, "The Stinga" is a well-known name within the Australian Waterski Racing industry. Little wonder, as with numerous titles under its collective belt, the Stinga is also an Australian and World Champion!
In its current incarnation, with a brand new, custom-built, twin-turbo V8 engine on board, the Stinger is just about take on the world again at the World Waterski Racing Championships held in Belgium in July.
Greg Houston is quietly confident: "It's a very tough event, you get the best drivers and skiers from all around the world, but I know we can do it. We've been there before!"
Turbosmart became involved with Greg and Malcom in 2008, during the build and development of the new engine. The 2000hp monster uses Turbosmart wastegates and fuel pressure regulator.
Turbosmart wishes Greg and Malcom all the best at the World Championships!
World Waterski Championship promo video
---