---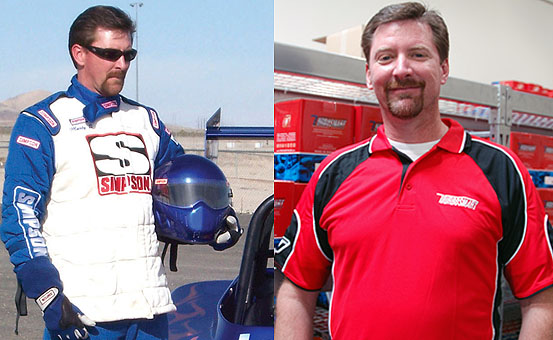 If you live in the US or Canada, chances are you have already spoken to him, and if you're into air-cooled vee-dubs, chances are you've probably heard of him. His name is Marty Staggs and he is Turbosmart USA's General Manager.
With a wealth of business management experience on one hand and a passion for motorsports on the other, Marty has the perfect blend of expertise and technical knowledge for the position.
To find out what makes this astute businessman (and owner/driver of the world's fastest altered VW) tick, we've taken him aside for a quick chat.
3 MINUTES WITH MARTY
What were you doing before joining Turbosmart?
I was a Business Development Manager for a Global energy controls company. I am also the owner of M-Spec Motorsports.
How long have you been involved in motorsport?
I am a third generation Drag Racer. I came out of the womb wearing a helmet.
What are your career highlights?
Business career – Developing my own line of M-Spec Motorsports billet crankshafts. Providing the HP for many top racers around the world.
Racing career – Probably promoting my own racing series this year. Making my way to the final round of the March Meets a few years back is also tops on my list.
What made you join Turbosmart?
I had been a customer of Turbosmart for many years, so I was already a big fan of the company and its products. One evening, the CEO and I were having a discussion about business in the USA and it just sort of all came together.
What do you like most about your job?
The people and the products. It is very rewarding to be part of an organization that places such high importance on quality and integrity.
Where do you think the performance/racing scene is heading?
The last 10 years of motorsports has been very "corporate". I think "grass roots" and sportsman type racing will be getting much more focus over the next few years. It will be a long time until we see these giant conglomerates dominating motorsports again.
What are the most exciting developments in the motorsport/performance market?
The impact that technology and data has had on performance.
What's your favourite food, or what your favourite pastime, apart from building and racing cars?
My favorite food is MEAT. I could have steak for dinner every single night and be quite happy.
Turbosmart USA
Where: 11650 Mission Park Drive, Suite #103
Rancho Cucamonga, CA 91730
Tel: 909-476-2570 or 909-476-2574
Fax: 909-476-2594
Email: sales@www.turbosmart.com
---