Turbosmart at the 2011 WTAC
---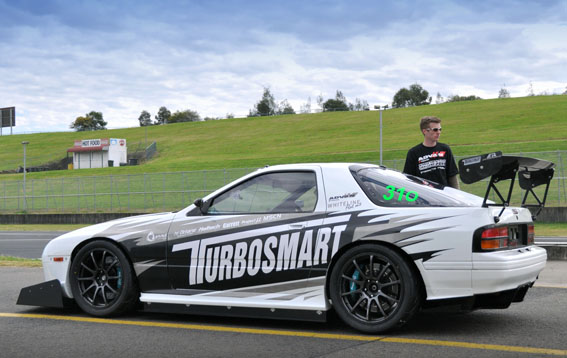 For the team Turbosmart the race has started even before the gates at the Eastern Creek Raceway opened for the practice day. We have rushed the car straight from Westfield Parramatta (where it was on display at the WTAC Launch) back into the workshop. We only had three days to complete, fit and test the new aero. Oh, and let's not forget a gearbox change…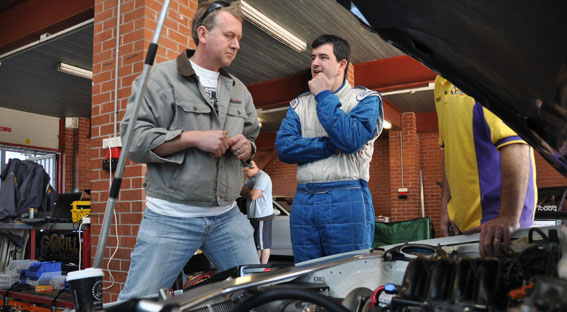 How fast do you think you can go? Oh, about 1:38.5720 or so… Nic and Stew discuss tactics.
With the crew working tirelessly around the clock, we've managed to get the car ready for Thursday morning practice. A quick stroll down the pit lane confirmed what we've been suspecting for a while. The Australian performance industry has really upped the ante this year. There were some serious-looking machines parked in those garages.
The car performed well in practice, we were getting consistent times and Stewart was happy with the handling. With the help of Whiteline we were able to fine tune the suspension and get the aero working to our advantage. This was a real eye-opener for us – a well set up aero makes a whole lot of difference!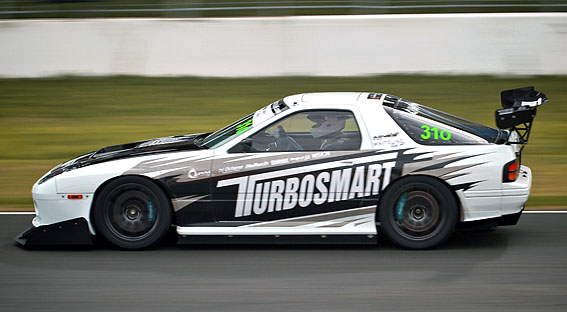 Project Racer in full flight down the main straight. We've managed to get over 240kph.
On Friday we realised just what we're up against in the Open Class. A 57-car field with some of them running times that would have seen them in the top 10 of Pro Class last year! With such a strong opposition, we knew we had a lot of work ahead of us.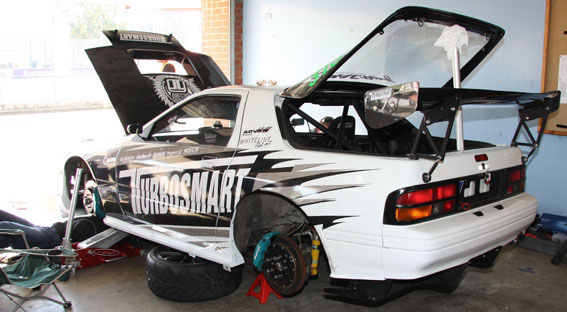 The breaks between sessions were used up to the last minute with parts being checked, changed and re-fitted.
Apart from a few issues here and there and a problem with a fuel surge tank, we were pretty much on top of things. Richard had his hands full inthe pits while Stewart was putting one quick lap after another. Finally, on Saturday morning he posted what was to be our fastest lap of the day: 1:38.5720 with a top speed of well over 240kph down the main straight.

Sure he looks happy now, but when Stew puts his helmet on and gets strapped in, he's all business!
We were absolutely stoked, considering we were aiming at getting the car below 1:40, to get it down to 1:38 was fantastic. To put it in perspective, this was a 6 second improvement over our last year's lap time. This time would have put us in a 2nd spot last year, but with the Open Class so much more competitive this year, it was enough to secure us a 12th space in the class. We were the 2nd fastest rotary, behind series 6 RX7 of S2 Performance.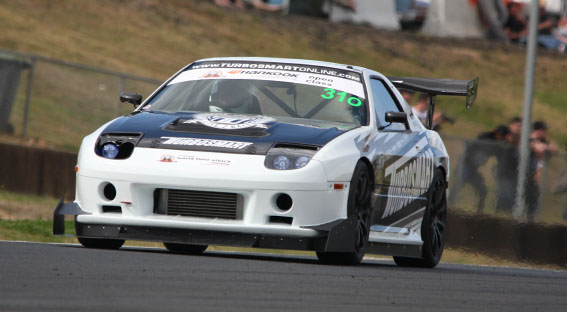 Six seconds faster than last year, the RX-7 also drew plenty of admiring looks and comments.
The whole team put in a tremendous effort to make this happen, especially considering we were also exhibiting and doing tech support for other teams. Top effort from everyone in sales, engineering, even dispatch, accounts and reception. Bring on WTAC 2012, we can't wait!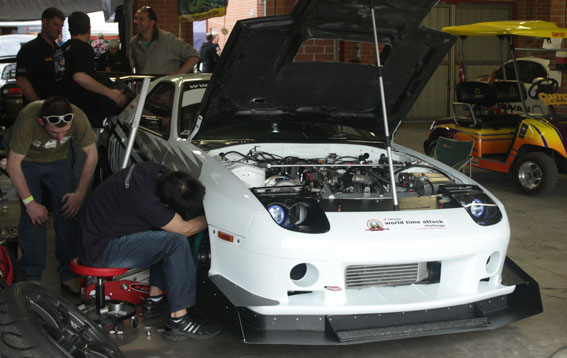 The man with his hands deep within the wheel cavity is Richard, our head engineer and part time crew chief – instrumental in getting the car ready and keeping it running during the event.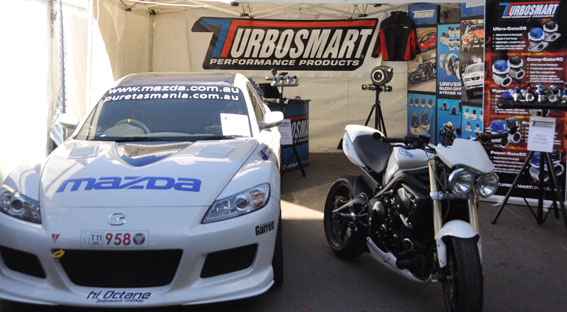 Michael and Johnny were up early to make sure our stand was ready for the crowds.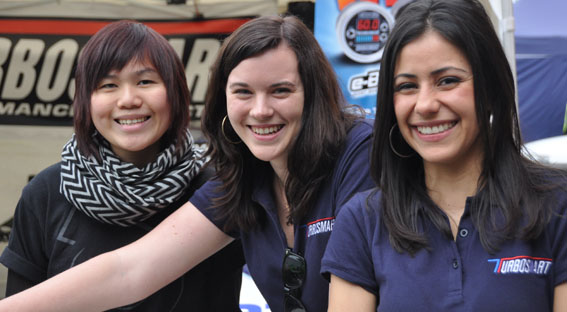 The "pretty" side of Turbosmart from left to right: Anya, Jem and Angela.

The RX-7 posing for picture in the pit lane, ready to go on the track.

---