Turbosmart in this month's PRI magazine
---
The April issue of the Performance Racing Industry (PRI) magazine featured a detailed analysis of the aftermarket turbo industry in North America.
Titled "Turbos and Intercoolers – powerful sales boosters", the article featured comments and views of some of the most prominent movers and shakers in the turbocharging industry, including the managing director of Turbosmart USA – Marty Staggs.
Quoted heavily throughout the article, Marty offered some unique insights into the world of turbocharging, it's rapid growth and it's potential in the future.
Here is the excerpt from the Performance Racing Magazine: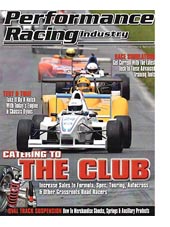 "Being in this business, even I am truly amazed at how quickly the technology is accelerating, " mused Marty Staggs at Turbosmart USA, Rancho Cucamonga, California, which manufactures such ancillary products as boost control units, wastegates, blow-off-and bypass valves and fuel pressure regulators.
"It is not only us; the companies building the turbos are constantly developing and testing, and every year, together, we're making quantum leaps in performance."
"In boost control technology, obviously the advancements in micro-circuitry and computer technology have helped us to develop some state-of-the –art electronic boost controllers to help control the wastegate and the boost at the motor very effectively," said Turbosmart's Staggs. "We can do all kinds of nifty things like increase boost incrementally based on time or rpm. You can have a button on your steering wheel and change your power level as you're going down the track or around a road course."
"Turbosmart is constantly doing a lot of R&D. New materials such as alloys, coatings and diaphragm materials are being utilized to help Turbosmart Products perform," Staggs told us.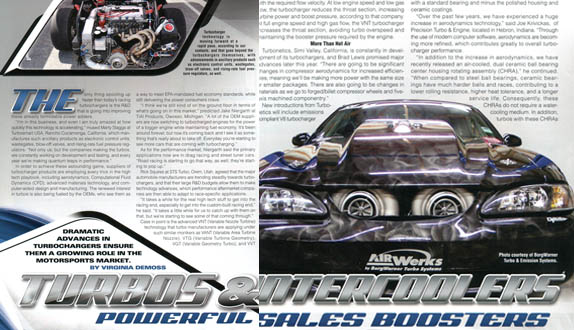 ---