Turbosmarts Range of products made for Borg Warner EFR turbochargers
---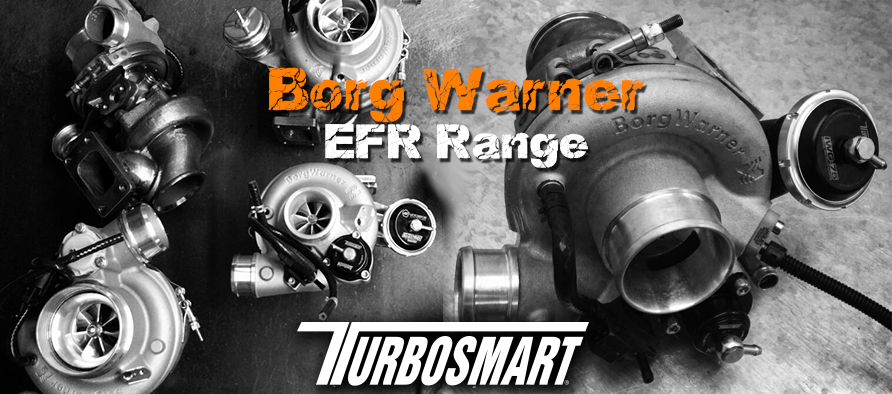 Borg Warner's Engineered For Racing (EFR) turbochargers have cemented a strong reputation in the turbo aftermarket due to their high-tech design and efficiency. Their innovative new bearing design, low-inertia turbines, and unique combination of advanced materials have made the EFR range a go-to product for tuners worldwide.
Turbosmart has produced a number of products specifically for Borg Warner's EFR series to further enhance the performance potential of these high-tech turbochargers.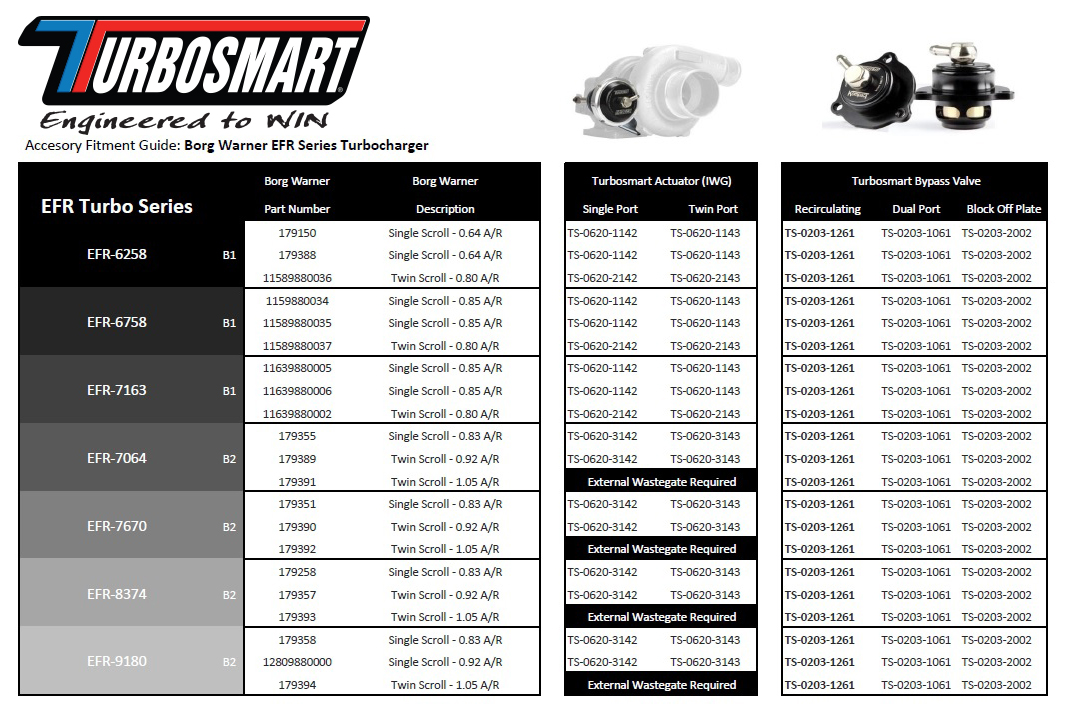 Turbosmart's Borg Warner EFR-specific internal wastegate actuators and blow-off valves require no special tools or fabrication to install. They are direct replacements for the standard items and offer a significant improvement in boost control and performance.
Turbosmart's IWG-75 Internal Wastegate Actuator range is available in both single- and twin-port versions for EFR turbos. Both are more durable and reliable, and offer superior boost control compared to the stock wastegate, enhancing boost response and therefore performance. The Twin Port IWG-75 offers an even greater level of control over actuator pressure with the pressure differential between two sealed chambers creating a dynamic force with more accuracy than conventional single-port actuators, making it ideal for traction-limited applications, such as high powered front-wheel-drive cars.
Turbosmart's Kompact blow-off valves, or bypass valves, are significantly more durable and effective at handling boost compared to the standard plastic valves, which can crack with increased pressure or over time. The Kompact uses billet aluminium construction to offer durability and performance even under heavy boost. The Kompact is available in a full-recirculating plumb back version, which allows quiet operation for those wanting to fly under the radar, and a dual-port version, which is a 50/50 split between recirculation and vent-to-atmosphere, keeping the car's computer happy and still providing the trademark Turbosmart blow-off valve noise.
The above table shows which Turbosmart parts fit which Borg Warner EFR turbo. For a larger printable version, click here.
If it's Engineered For Racing, Turbosmart can make it Engineered to Win!
---