Subaru Dual Port
---
Select your product

BLUE: Subaru Dual Port TS-0205-1015

BLACK: Subaru Dual Port TS-0205-1016

Find dealer

PART NUMBERS:
BLUE: TS-0205-1015
BLACK: TS-0205-1016

DESCRIPTION:
Easy to install and setup, the Subaru Dual Port features sequential ports for quiet operation on mild boost and full performance at full boost.

APPLICATION:
Suits WRX MY01-MY07, STi MY01-08, Forester 05-07.

SUPPLIED WITH:
Blanking Plug, Gasket.
Subaru Dual Port
---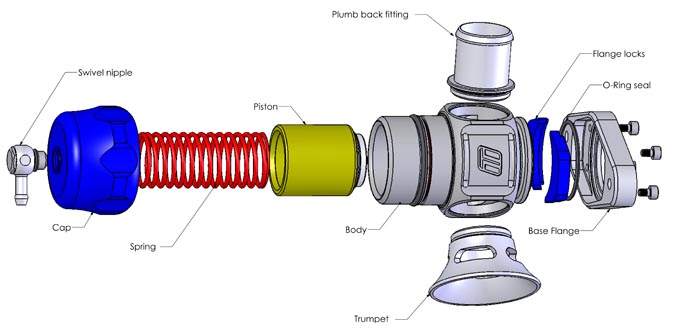 | | |
| --- | --- |
| PART NUMBER | PART DESCRIPTION |
| TS-0205-2002 | BOV 38mm Alloy Profiled Adapter |
| TS-0205-2003 | BOV 38mm Stainless Steel Profiled Adapter |
| TS-0205-2006 | BOV 19mm Hose Adapter |
| TS-0205-2007 | BOV 25mm Hose Adapter |
| TS-0205-2008 | BOV 32mm Hose Adapter |
| TS-0205-2009 | BOV 34mm Hose Adapter |
| TS-0205-2010 | BOV V-Band to 38mm Adapter |
| TS-0205-2011 | BOV V-Band Blanking Plate |
| TS-0205-2012 | BOV 19mm Hose Blanking Plug |
| TS-0205-2013 | BOV 25mm Hose Blanking Plug |
| TS-0205-2014 | BOV 29mm Hose Blanking Plug |
| TS-0205-2015 | BOV 32mm Hose Blanking Plug |
| TS-0205-2016 | BOV 34mm Hose Blanking Plug |
| TS-0205-2017 | BOV 38mm Hose Blanking Plug |
| TS-0205-3008 | BOV 38mm WA/HO Alloy |
| TS-0205-3009 | BOV V-Band Clamp Assembly |
| TS-0205-3010 | BOV O-Ring Kit |
| TS-0205-3011 | BOV Uniglide Lubricant |
| TS-0205-3101 | BOV Spring Yellow DP/SS/VP |
| TS-0205-3102 | BOV Spring Red PB/SC |
| TS-0205-3103 | BOV Port Blanking Plug |
| TS-0205-3104 | BOV 60mm Trumpet Replacement |
| TS-0205-3105 | BOV 50mm Trumpet Replacement |
| TS-0205-3200 | BOV 25mm Plumb Back fitting |
| TS-0205-3201 | BOV 29mm Plumb Back fitting |
| TS-0205-3202 | BOV 32mm Plumb Back fitting |
| TS-0205-3203 | BOV 34mm Plumb Back fitting |
| TS-0205-3204 | BOV 38mm Plumb Back fitting |