Notice:

Due To weather Restrictions BTB has been cancelled! However, the event has been rescheduled for Tuesday 20th of April 2021
What is Beat The Blue?
Beat the Blue (BTB) is run by car enthusiasts raising awareness about vehicle safety and fundraising for New South Wales Police Legacy. While we all enjoy using our cars in different ways, be it hard parking or hitting the track. We all have a part to play to make our roads safer, Beat the Blue was put together to allow people to enjoy their cars in a safe and controlled environment.
Beat the Blue Social Meet
We are finally back, back to where it started for a social meet, bring your friends and kick back in a relaxed and safe environment.
Plenty of details to come, including the return of our raffle and trophies for cars on display. Grab some merch, or just kick back with a coffee and a feed. Like all our previous events the local Highway Patrol will be in attendance to bust all those myths you see on the internet. In 3 years of running events, we have never had an issue at our events due to the mutual respect between attendees and the Police who attend.
Learn More Here: Beat the Blue
NSW Police Legacy
Highway Patrol officers spend a strong portion of their driver training honing their skills on the skidpan. The aim of the event is to pass on some of this knowledge and skill to members of the community in a fun and safe environment all while raising money for the New South Wales Police Legacy.
As always with all proceeds going to NSW Police Legacy.
If you're feeling generous you can make a quick donation to the New South Wales Police Legacy here.
Turbosmart is a Proud Sponsor of Beat the Blue
"Beat the Blue is a not for profit organisation that depends heavily on the support of generous organisations and the public. Being the intermediary between an organisation like the Police and car enthusiasts it's vital that only businesses with similar principles form part of Beat the Blue. Turbosmart has been an integral founding sponsor of Beat the Blue from its very beginning in 2018 and we are proud to have an iconic Australian owned brand so vested in being part of a community initiative helping keep our roads safe." Steven Planinic Beat the Blue President.
Event Details
Date & Time
Tue., 20 April 2021
7:00 pm – 10:00 pm AEDT
Location
Sydney Motorsport Park
Ferrers Road
Eastern Creek, NSW 2766
Show & Shine Entry
Sales end on 23 Mar 2021
Bump in no later then 6:30 pm for show and shine vehicles.
Sales end on 23 Mar 2021
Parking on Hill before tunnel entry.
The event will be conducted on SMP Skid Pan.
The event is open to the whole community with spectator entry free.
Turbosmart Competition
To enter the Turbosmart Competition you MUST attend the event Beat the Blue.
We hope to see you there.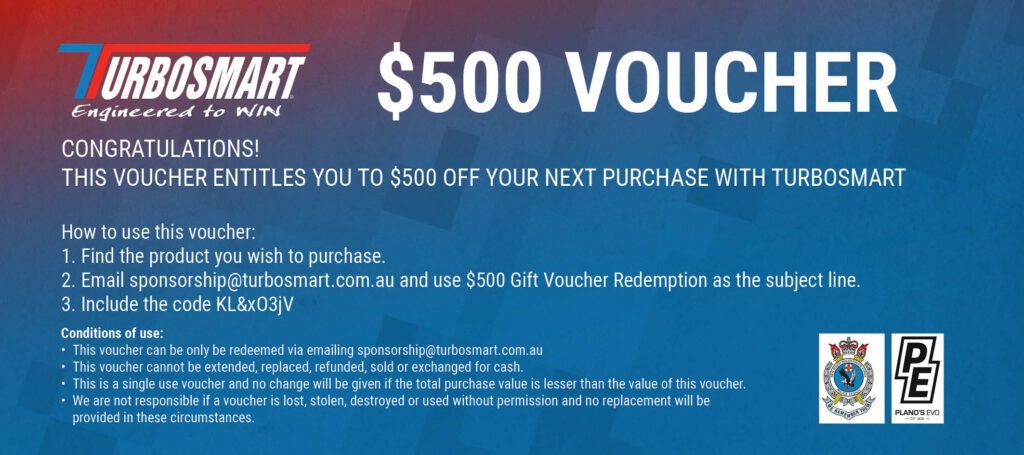 What are you waiting for? Grab Yourself Some Turbosmart Merchandise
If you're looking for merchandise to wear to an event, look no further! Turbosmart has a unique range of products from T-shirts to stickers.
Have More Questions About Turbosmart Products?
Here is a handy self-help guide to helping you with your Turbosmart install and answers to some of the most frequently asked questions we get here. Turbosmart recommends that you get your products fitted and tuned by a qualified technician. If you choose to fit and set the product up yourself, ensure you have all the necessary tools and technical knowledge required to perform this task.
Download Our Latest Catalogue Here
Thank you for picking up the latest Turbosmart catalogue. As we look back on 22 fantastic years of innovation and growth, we continue to look towards the future, as we release some revolutionary new products that will cement our reputation as an innovator and market leader.
Contact Us
Please contact us here and fill out a quick form so that our team can help you in an efficient way!
Get your Free Set of Turbosmart Instructions