Turbosmart has expanded on the GenV external wastegate range by adding the traditional 2 Bolt, 38mm version to the High Pressure (HP) lineup. The GenV UltraGate38 HP is a 38mm 2-bolt style wastegate and offers up 50psi of base spring pressure.
The GenV HP external wastegate lineup now includes the 2 bolt UltraGate38HP, 40mm V-Band CompGate40HP and 45mm HyperGat45HP. Based on the award-winning GenV architecture, you can be assured of class-leading flow, thermal performance, and fatigue resistance & the HP variants provide up to 50psi of base mechanical spring pressure - even more with external boost control or reference signal manipulation.
This new unit is a direct fit replacement from the previous 38mm 2 Bolt Turbosmart and suitable 2 bolt peer products and features our unique locking-collar system, variable actuator cap and base for easy, 360-degree optional routing of reference hoses, optional liquid-cooling provision and 1/8 NPT reference ports the GenV HP range is supplied with 35psi springs pre-fitted & with optional 50psi springs available.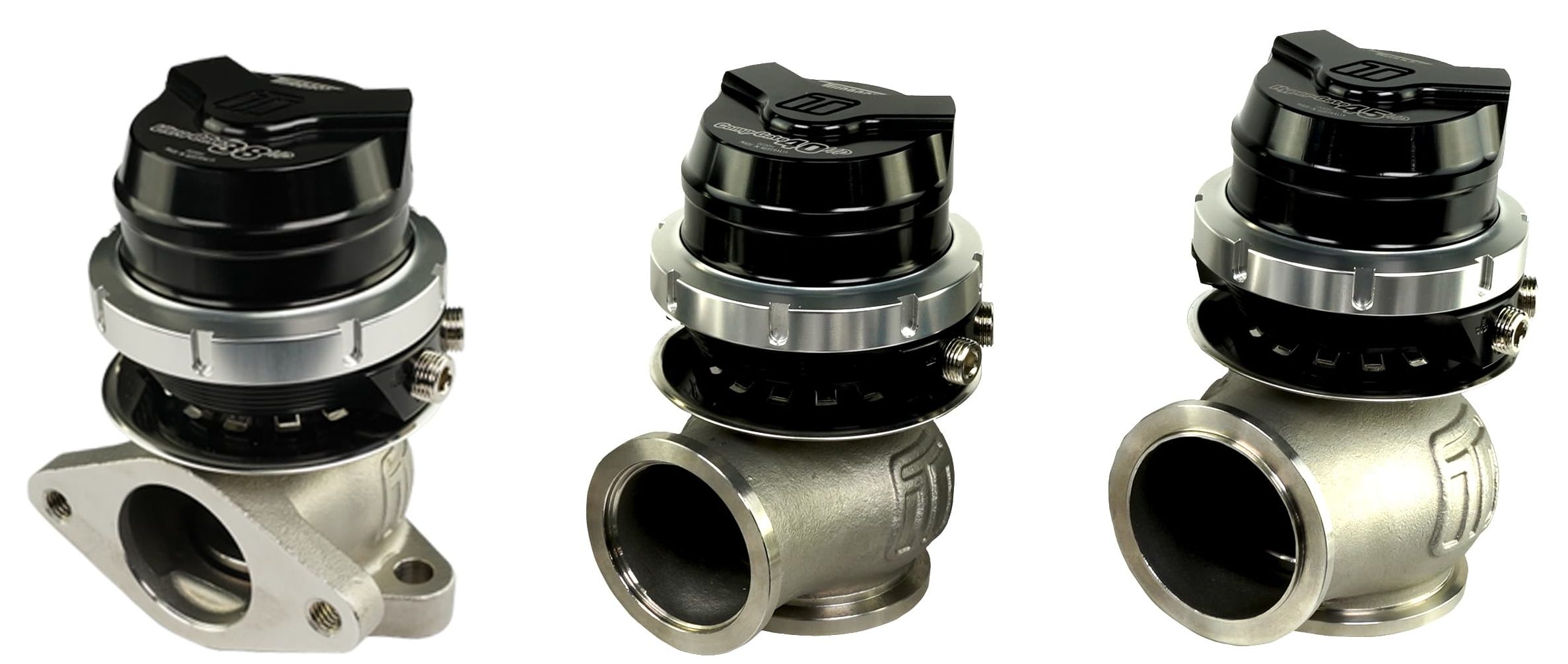 For more information on the GenV award-winning external wastegate range, Click HERE.
For more information on the GenV HP external wastegate range, Click HERE.
CLICK HERE for the full Image Pack
Frequently Asked Questions
What makes this an HP (High Pressure) Gate?
The unique actuator housing is slightly taller than a normal GenV gate, allowing for taller, high-pressure spring options. The normal GenV actuator housings have been made as small and low profile as they can be while still offering base pressure options up to 26psi – High than that, and you'll want an HP version.
Can I upgrade my existing GenV 38, 40 or 45mm Wastegate to HP specification?
Yes. The part number TS-0550-3109 does just that, allowing you to upgrade either a CompGate40 or HyperGate45 to HP spec. The only limitation is we're only making the HP
option in Black, so while it will physically fit on any colour, the top cap will have to be black if you're after HP features.
What spring options does the GenV HP range have?
You effectively have 5 options; 10psi, 25psi, 35psi, 40psi & 50psi with the use and combination of just 3 springs. And remember, this is just base mechanical spring pressure. Much higher levels of boost can be achieved with some boost control or reference manipulation.
How much boost can the GenV HP Gates handle?
How much have you got? All setups are different, and to answer this question, it's best to acknowledge how much exhaust back pressure impacts boost control. On an efficient setup, you should achieve between 2 and 3 times the base mechanical spring pressure. However, if you're really working a turbo, efficiency tends to drop off, and back-pressure rises, making things a lot harder. It really does come down to your combination.
Do I need to use the Water Cooling?
Not necessarily. The Water cooling feature is there simply as an option. The GenV architecture provides class-leading thermal management, so it's our experience most users will never need it. It's there in case you're one of the chosen few finding the limits, though.
What size are the reference fittings?
Both the boost control reference ports and the (Optional) liquid cooling ports are 1/8NPT. We have a range of AN adapters and high temp push-lock fittings available in the Spares and Accessories Tab.
Can I rotate the top housing?
Yes. The modular design of the GenV Range of External Wastegates means you can rotate the actuator housing 360 degrees for virtually unlimited hose routing options.