Turbosmart picks up 6 SEMA Media Awards, celebrating 20 years of innovation.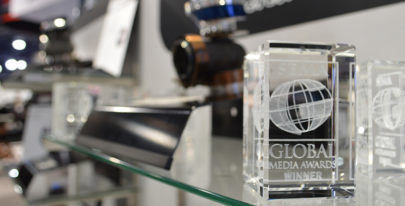 Turbosmart is Engineered to Win with 6 Awards at SEMA 2017
Turbosmart has swept the SEMA Media Awards with 6 wins from several well respected global publications. The new V Series, 40mm 5th generation wastegate range from Turbosmart caught the attention of the media industry amongst the foray of over 3,000 new product entries into SEMA for 2017.
With Turbosmart's latest innovations the new Wastegate range has re-engineered the traditional gated system. Some of the latest features of the range include:
Integrated water cooling ports (if required)
Modular interchangeable actuators
Independently orientated actuator base
New strap type V band clamps
Increased thermal and flow performance, and;
A diaphragm design that offers linear travel; regardless of spring, pressure and valve positioning, while improving response.
"This project is the result of continual development and feedback from customers across various forms such as motorsport, high-performance street and OEM applications. We have performed countless design iterations and manufactured in-house testing systems that have allowed us to refine our design and simulation workflows, over 10,000 hours of design and development working with multiple departments and suppliers to bring our customers a highly optimised product that the whole Company is really proud to bring to market". Chris Doumbos, Head of Engineering at Turbosmart.
Read the complete breakdown in our release article here.
The new wastegate range from Turbosmart, release at SEMA 2017.
These awards see the culmination of 12 months of hard work for the Turbosmart team, bringing to market several technological advancements that increase the already well-respected Wastegate range.
Marty Staggs, GM & Vice President of US Operations, says; "The team have been working non-stop in the lead up to SEMA. They have been working to make sure that we were able to deliver a new product that not only introduced amazing features but was also reliable and durable. We have improved the thermal dynamic capabilities of these products via raising our heat testing temperatures to extreme conditions while cycling these products over one million times to make sure that these are the best in the market. As we continue to invest in innovation and expand our R&D facilities we will continue to deliver the best available in forced induction performance for our customers".
When Staggs was questioned about what motivates the company to keep pushing ahead, he quipped, "Why?! Because we're Engineered to Win!".
Turbosmart would like to thank all of the internationally esteemed judges for their votes. The judges, publications and awarded products are listed as follows:
V Series 40mm Motorsport Wastegate
Race Tech
(William Kimberely)
UK
V Series 40mm Motorsport Wastegate
Motive DVD
(Andrew Hawkins)
Australia
V Series 40mm Motorsport Wastegate
AutoNation
(Dave Pankew)
Canada
V Series 40mm Wastegate
Street Machine
(Simon Telford)
Australia
V Series 40mm Wastegate
Motive DVD
(Andrew Hawkins)
Australia
V Series 40mm Wastegate
NZ Hot Rod Magazine
(Alastair Ritchie)
New Zealand