Turbosmart External Wastegates
The Turbosmart external wastegate range is a multi-award winning product used and trusted by enthusiasts, mechanics and top tier engineers worldwide. For the most part, it has undergone countless hours of R&D, testing and fine-tuning. All in all, Turbosmart External Wastegates are Engineered to Win.
A wastegate is a valve that controls the flow of exhaust gas from an engine to the turbocharger. With this in mind, it controls the flow of exhaust gas to the turbine of the turbocharger. Moreover, the wastegate can control the boost pressure provided by the turbocharger to the engine.
The wastegate needs to be correctly matched for the engine and turbocharger combination, giving the end-user adequate control over boost pressure. There are two types of wastegates: external wastegates and actuator internal wastegates. See all our internal wastegates here.
Turbosmart has solutions for all your wastegate needs.
COLLAR-LOCKING SYSTEM | ROTATABLE ACTUATOR | STRAP-TYPE V-BAND CLAMPS | 1/8" NPT PORTs | OPTIONAL LIQUID-COOLING
Our new GenV wastegates are a direct fit upgrade to all 4th-generation Turbosmart wastegates. All GenV wastegates are provided with a range of springs (3-26psi). In addition, they feature our unique collar-locking system, rotatable actuator, strap-type V-band clamps, 1/8″ NPT ports, and "optional" liquid-cooling. They are also available in Motorsport and Compressed Gas versions.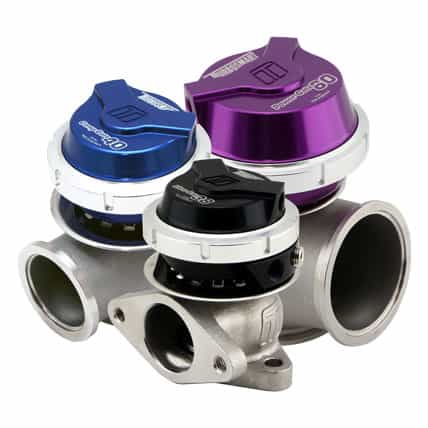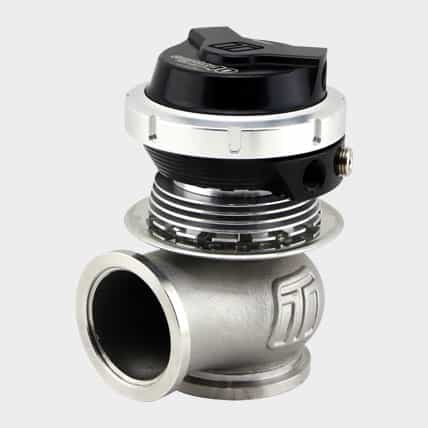 THERMAL DEMAND | MODULAR ARCHITECTURE | USER CONFIGURABILITY | FLOW PERFORMANCE
The GenV WG40 CompGate Motorsport External Wastegate is a cost-effective external wastegate. It is designed with substantial thermal demands in mind. Based on the modular architecture of the GenV range.
The Motorsport version has an extra CFD driven heatsink built-in proven to dissipate more heat and further isolate the actuator housing from thermal stress. Furthermore, the GenV provides extensive User Configurability, world-leading extended thermal performance, fatigue resistance, and best in class flow performance. They are designed for optimum control and longevity.
HIGH PERFORMANCE | HIGH-PRESSURE | BOOST BANDWIDTH | INVERTED DIAPHRAGM
The GenV HyperGate45 Compressed Gas external wastegate is a cost-effective, high performing external wastegate. Uniquely designed for control strategies that actively bias the top chamber with high pressure for large boost bandwidth operation. This includes CO2 drag racing or compressed air WRC applications.
Furthermore, the Compressed Gas range features an inverted diaphragm. Hence, it was designed to maximise diaphragm life from high-pressure CO2 or compressed air systems.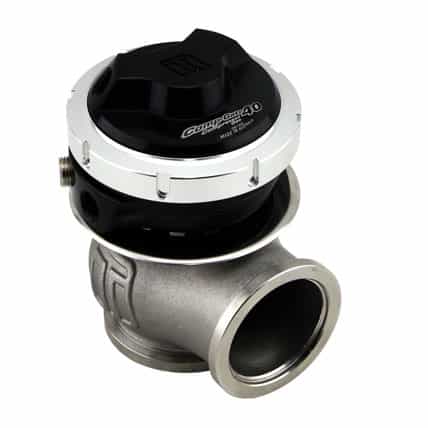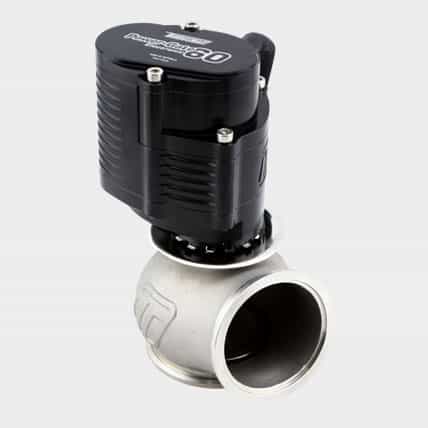 HIGH PERFORMANCE | NO LIMITATIONS | HIGH BOOST CONTROL
Surprisingly, there are no springs, no hoses, and no boost reference signal. Above all, there are no limitations associated with any of them. Gone are 'Minimum' boost levels associated with base spring pressure or the heat-related issues with hoses.
If your manifold priority is good enough, you can set your boost anywhere from zero up. 'All of it' – All from your laptop or tuning interface.
ULTRA-HIGH PERFORMANCE | HIGH BOOST | MODULAR ARCHITECTURE | DIESEL PERFORMANCE
The HP External Wastegate Range takes our modular GenV range & adds more boost! It utilises the GenV modular architecture, class-leading flow, thermal performance & fatigue resistance. We have created an actuator with more room for more spring.
More importantly, the HP Range is ideal for Diesel Applications & Ultra-High-Performance Petrol applications where high pressures & a narrow tuning window are required. The HP range offers options available up to 50psi without any external boost control or reference manipulation & even more!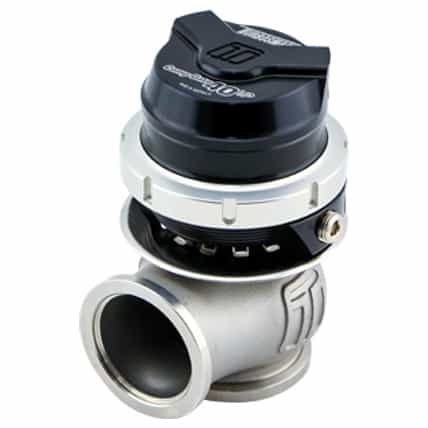 HIGH PERFORMANCE | DIESEL PERFORMANCE | RACE | STREET | SUPERCHARGED
Are you looking for spare's & accessories or serviceable items for your Turbosmart product? Look no further! We carry everything to ensure that your Turbosmart external wastegates are always running at peak performance. We supply tension clamps, springs, valve seats, V-bands, solenoids, weld flanges and many more items. Don't settle for non-genuine parts. Make sure your Turbosmart.