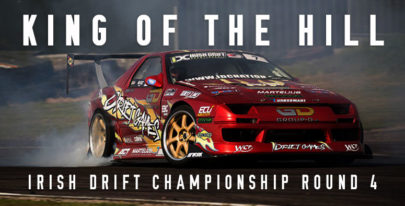 IDC Round 4 was set to be an incredible round at Watergrasshill with it being a large Karting circuit near Cork. The course starts with a long straight into a drop down the first corner then into hairpins slowly rising back up making it a very long and technical track. This round also saw a range of international drivers come back to challenge for the title on Irish soil which was still undefeated.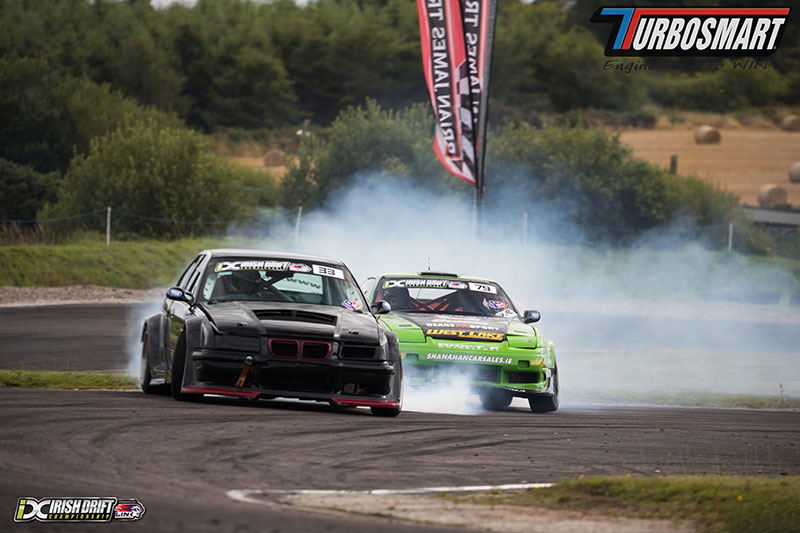 Saturday the sun was shining and the Pro-am drivers got ready to go out for their 1st practice of the weekend. Everybody knew if the track stayed dry it was going to be a very tough and competitive weekend with the circuit being one of the most technical of the season.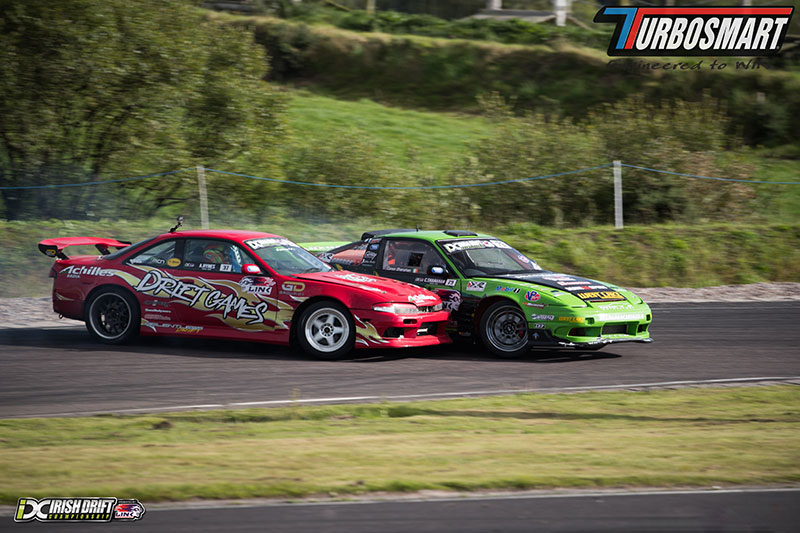 Alan Hynes is the current championship leader and he showed this by coming out and doing some amazing runs and seemed the man to beat from the outset. But then Conor Shanahan showed that he meant business, with it being his local track he was out for some silverware. When it came to qualifying Ian Galvin came out and did 2 storming runs which left him in 4th place and then Conor came out and got the best run of the day with an 89.25 point run leaving him in 1st.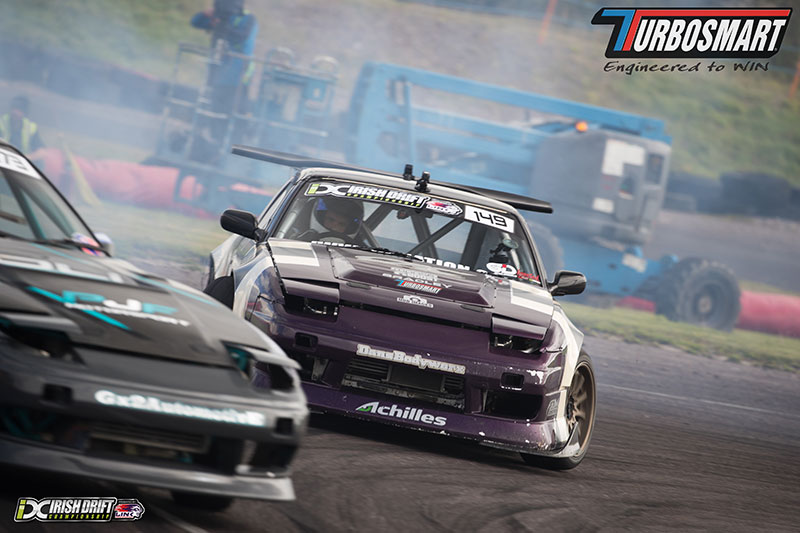 The top 32 battles were then laid out perfectly for loads of action with some tough battles ahead for both Ian and Conor. Ian came into battles with a lot of confidence after getting his highest qualification of the season, his 1st battle was again Danny Waldron where he gave an amazing two runs and came out on top and then carried this with some of the best chase runs of the weekend securing a place in the top 4.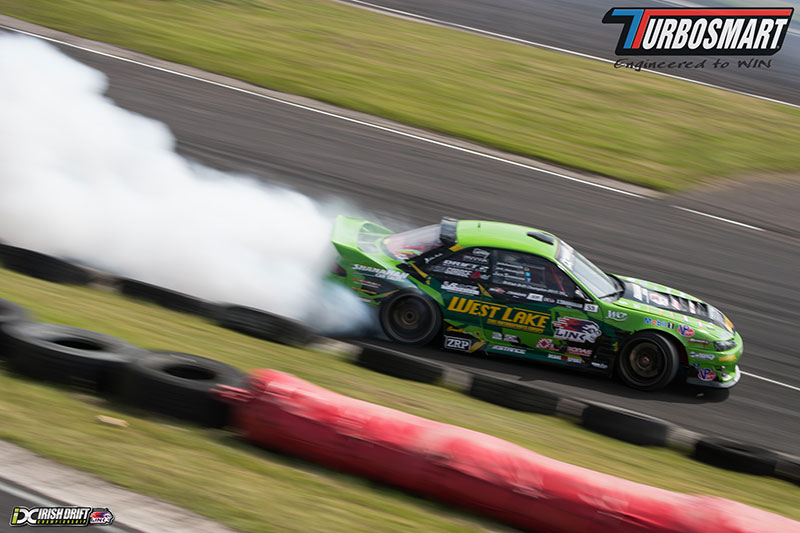 On the other side of the battles, Conor was also on form battling his way through the field and also got up to the top 4. Ian then had the best pro am battle with Alan Hynes with both drivers tapping each other's doors on initiation and then close chase runs both times but Ian unfortunately lost and went on to the 3rd and 4th battle where he had a little fuelling issue which lost him the battle leaving him 4th. Conor however, went on to have 2 amazing battles in where he was able to come out on top and collect 1st place.
Sunday would see the top 4 Pro Am drivers battle it out with the Pro drivers to earn their spot in the higher rank. The competition was tough with all the visiting drivers from all around the world competing for the top 24 places and the ultimate 1st place.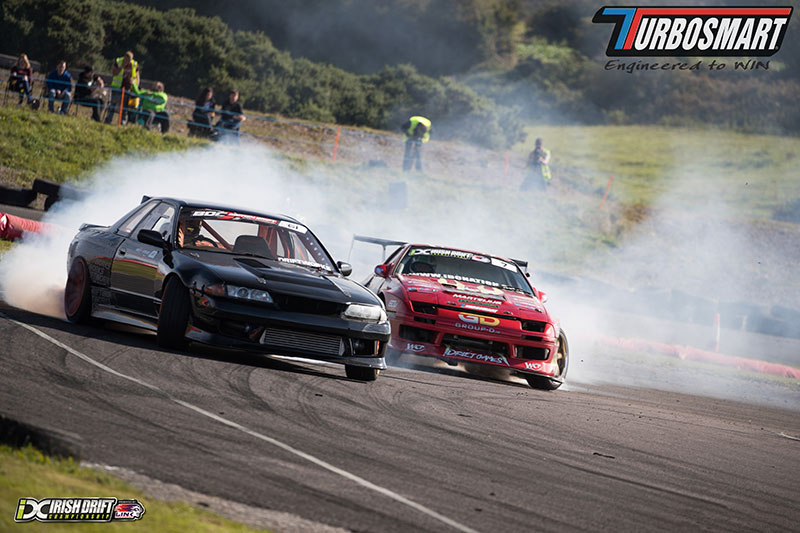 Ian Galvin had spoke to his brother Anthony who was on his honeymoon and they had both agreed that it would be more competitive for him to use Ant's 2jz S13 so they had gone home and worked through the night and got it ready for Sunday's practice.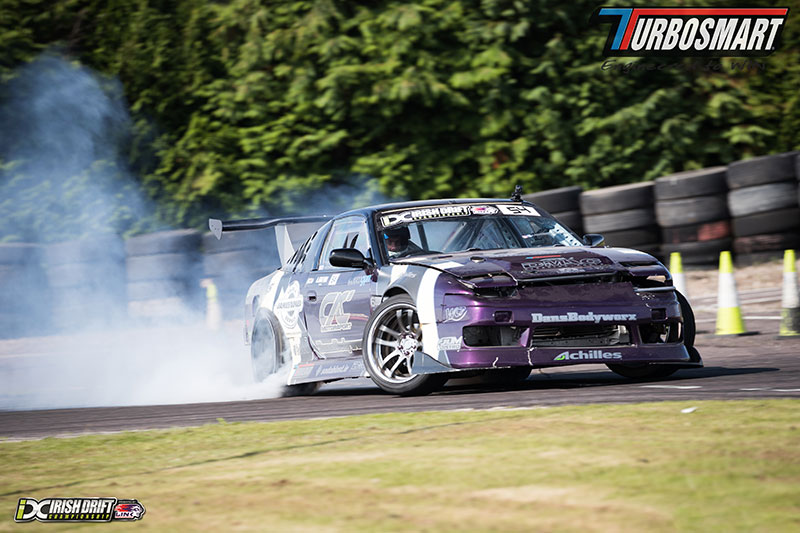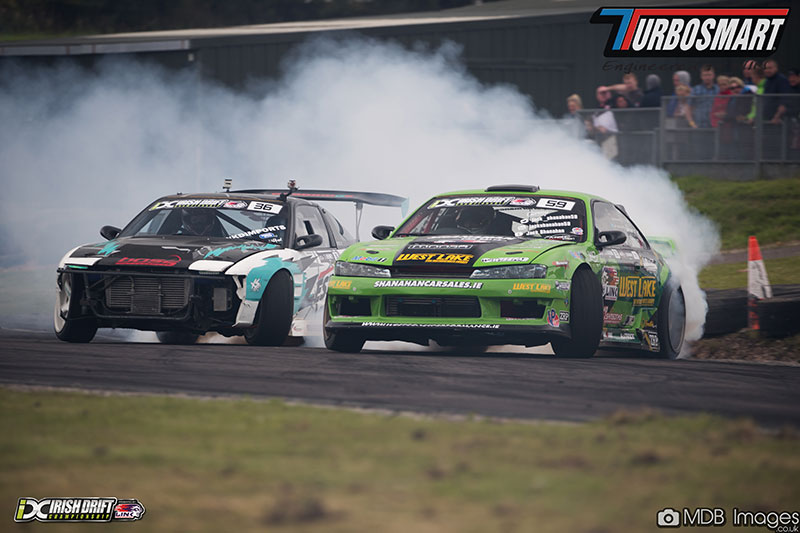 Watergrasshill was the Shanahans local track so you knew Jack was going to come out full throttle but with Conor progressing up from the Pro Am victory you knew it was going to mean war, and war it was with Conor following Jack several times in practice and he was unable to lose his little brother so you knew that battle could be a possibility if they both qualified.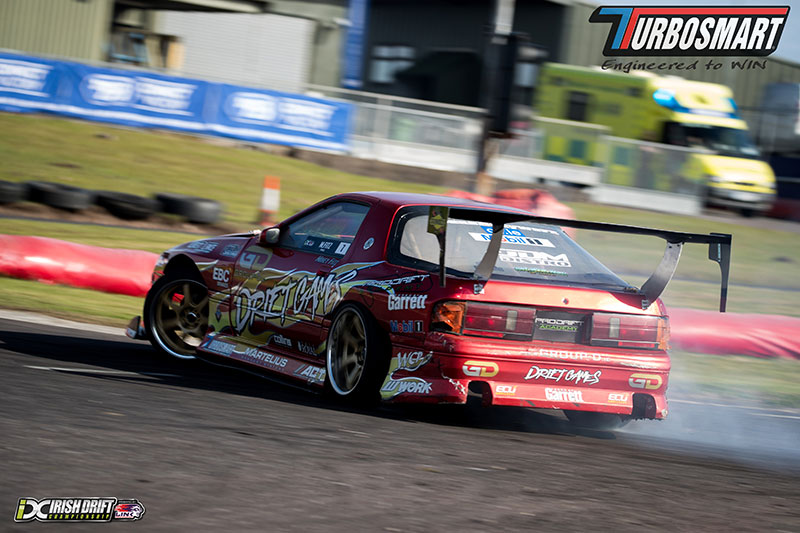 When qualifying came around people didn't know what was going to happen as a lot of drivers had found a good fast line around the track and were feeling very confident. The visiting driver Mitch Larden from Australia was looking like the biggest threat and this was to be shown through the afternoon. Ian had managed to get to grips with Ant's car and managed to keep up with the pro's and got 24th place in the top 24 with Jack coming 8th but Conor narrowly missing out on the top spot by 1 point to Mitch.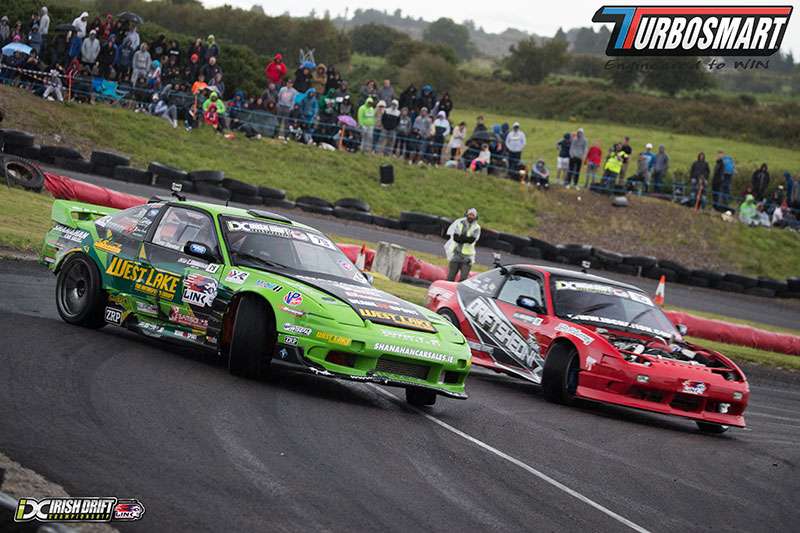 In battle, Ian unfortunately, one of the first to lose as he stalled the car on the chase run and was on the back foot to start with and was unable to come back from it. Jack had got into the top 16 but then had a shock exit against TJ Bearny which left Conor to fight for his 2nd trophy of the weekend. Conor went through to top 8 but by this time the weather had massively turned for the worst which made the track like ice and unpredictable.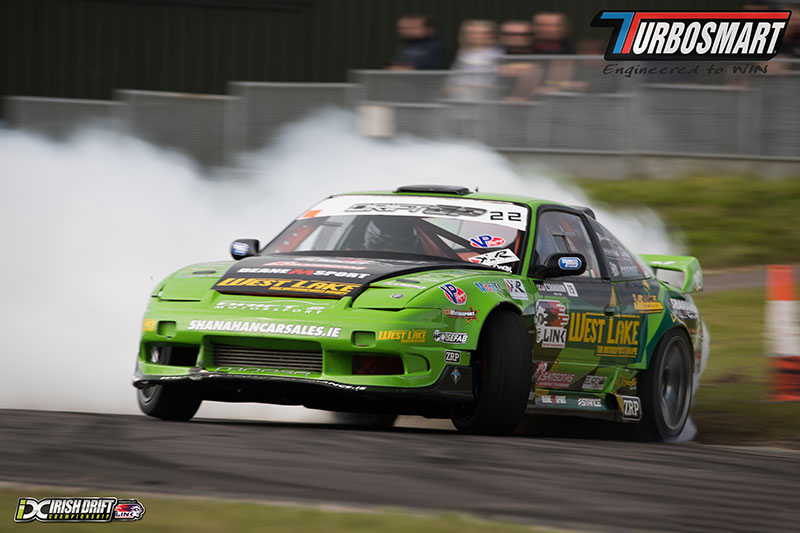 When Conor went into his top 8 battle the track conditions made it hard for both drivers and he was unable to keep a good line and was unable to keep up. Mitch, however, had progressed up and was ready to take the title from the Irish for the 1st time in its history then his car broke and he was unable to fix it and just missed out, finishing in 4th place.