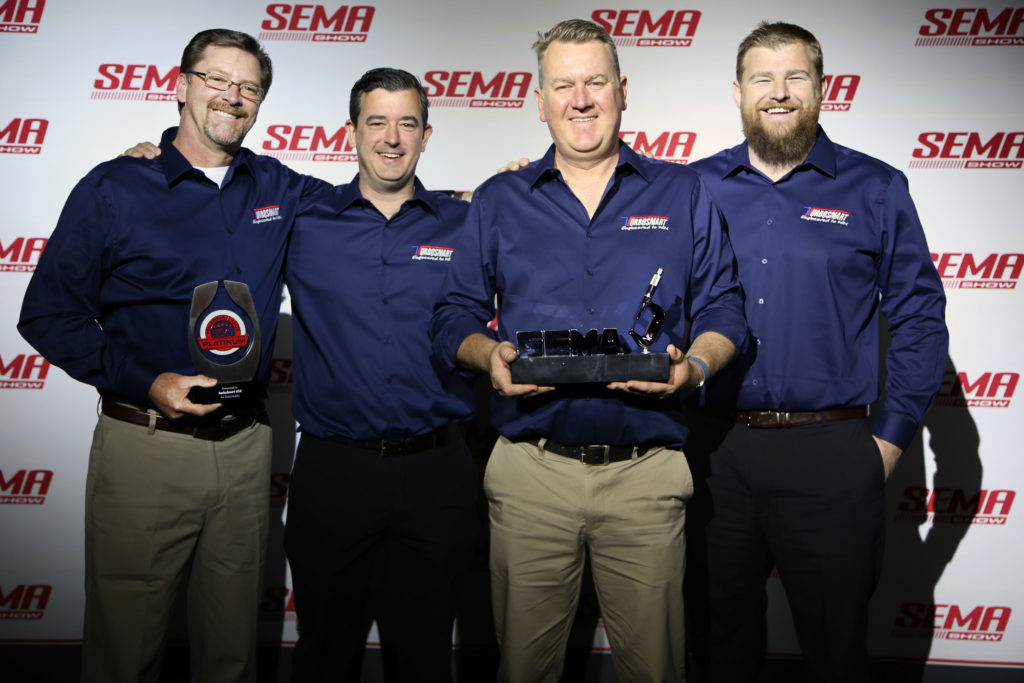 Australian automotive aftermarket manufacturer, Turbosmart, has been awarded the winner for the coveted Performance-Street New Product Award at SEMA 2018
The new Universal Kompact EM (Electro-Mechanical) Diverter Valve (patent-pending) seized the position of Performance-Racing Product, one of the most highly regarded and coveted awards that can be bestowed at the annual international event.
The Turbosmart team went to the awards breakfast to hear the announcement. It was indeed a particular moment in the 21-year history of the company as the Executive General Management Team went up to receive the very last and one of the most esteemed award categories. Marty Staggs, VP & GM of Turbosmart USA, was given the honour of addressing the packed centre as he reflected on the long history of the business and the path the company has taken to reach this milestone. However, the key theme of his message was how a dedicated team with a passion for motorsports and serving the aftermarket industry is the intertwined dynamic of what forms the lifeblood of Turbosmart across the globe.
"We have been doing this for a very long time, and we have received a lot of recognition from the people at SEMA over the years with several different awards, but this is something extraordinary and a huge honour. This is a testament to the time and work that our whole team has put into making this project come to life and shows that we are determined to make the best possible products for our customers. The fact that this is an Australian business with many centres of operation across the entire world is something that we are very proud of. To receive an award like this helps us stamp our ongoing commitment to quality and performance to the entire international community of motoring enthusiasts throughout the world", said Nic Cooper, Turbosmart Founder & CEO.
Among the people present was Stewart Mahony, Group General Manager for Turbosmart.
"Our business is constantly focused on making sure that when we bring out a new product, it is simply the best that you can get", stated Mahony. "We have a great deal of competition out there, but we always keep our eyes and ears focused on the customer's needs. They are the centre of everything that we do. They are why we get out of bed every morning to do what we do. This award shows that. This award sends a statement that Turbosmart manufactures products that are cutting edge in their design and revolutionary in their offering. It is inspiring news".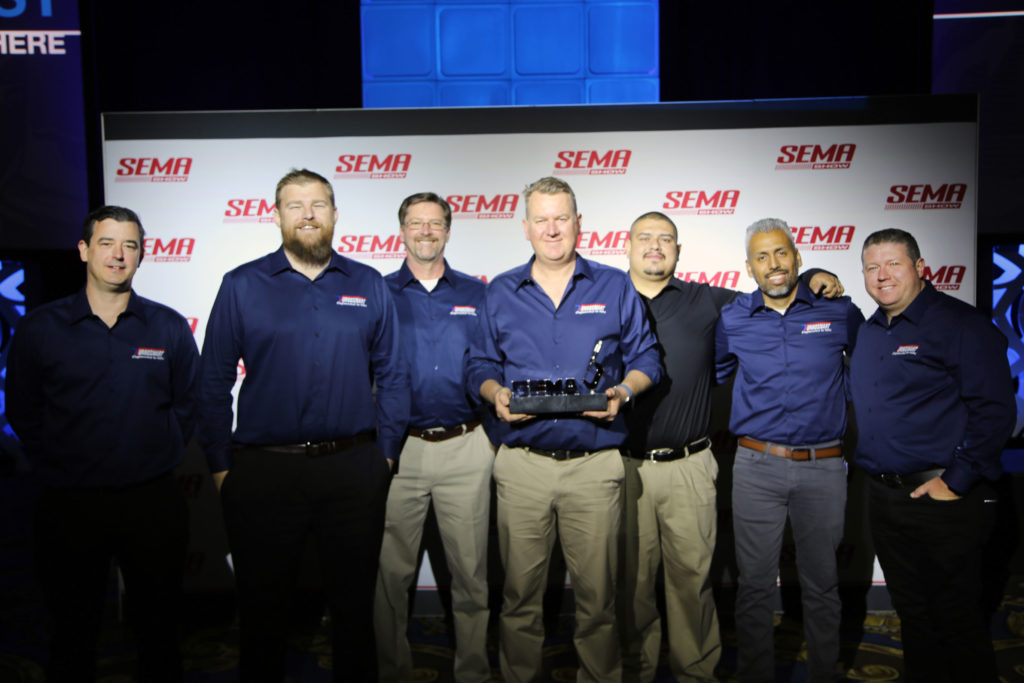 Marty Staggs, Vice President
Turbosmart has taken giant leaps and bounds over the last 12 months by releasing their GenV Wastegate range and the Kompact EM-BOV series, and this marks another step forward in the aftermarket industry for the Turbosmart name.
"This award is something special to all of us. It is a huge testament to the business, but this doesn't mark the end of a long road but the beginning of new roads for us. We will continue to push ahead and continue to bring new products and new solutions for customers. If you look at the last year, you can really see how far the company has jumped ahead in our offerings. So while this award means a lot to us, it won't serve as a distraction, and it won't cause us to take our foot off the pedal. We will keep ramping up, and we will keep steaming ahead", remarked Marty Staggs, Vice-President and General Manager, of Turbosmart USA.
The Turbosmart Universal Kompact EM-BOV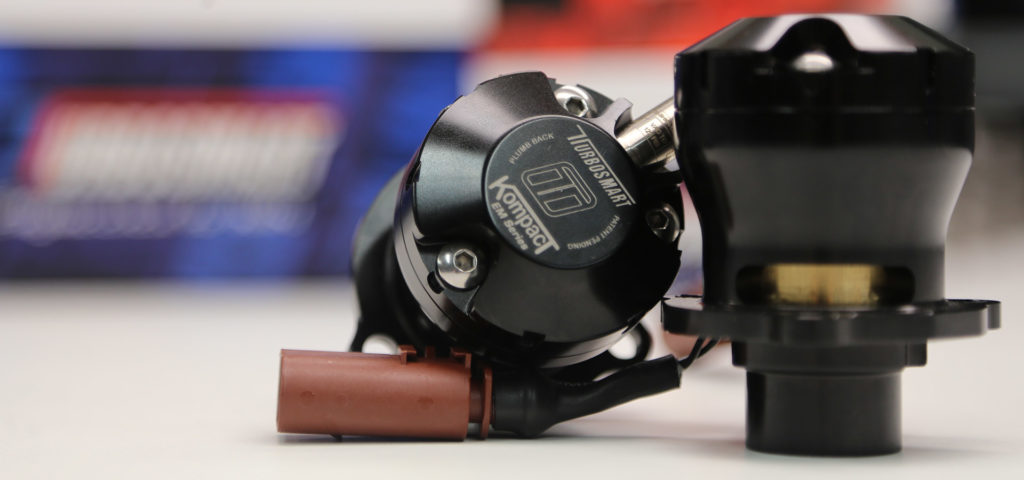 Due to the existing patent-pending electronic actuation technology, the Universal Kompact EM-BOV allows for seamless integration into vehicles that require the actuation of the BOV to be controlled via the engine ECU without compromising flow or performance. The new universal Kompact EM range flows higher than existing compressor cover solutions. It provides an alternate option where hybrid turbochargers demand more flow to prevent the compressor from falling into a surge with rapid load changes.
The all-billet construction and high-temperature seals allow for a leak-proof design that will provide excellent results in all conditions. The body features a modular design where multiple fittings and ports can be swapped to make the unit as expendable as possible. 4 equispaced bolt holes are located at the base of the body to allow for bracketry to be implemented and expanded into different models, for example, the Fiat OE Pierburg replacement.
The units are available in Plumb-back (100% re-circulation), Dual port (50% re-circulation, 50% vent to atmosphere and Supersonic (100% vent to atmosphere)
Here is a handy self-help guide to helping you with your Turbosmart install and answers to some of the most frequently asked questions we get here. Turbosmart recommends that you get your products fitted and tuned by a qualified technician. If you choose to install the product yourself, ensure you have all the necessary tools and technical knowledge to perform this task.
Thank you for picking up the latest Turbosmart catalogue. As we look back on 25 fantastic years of innovation and growth, we continue to look towards the future as we release some revolutionary new products that will cement our reputation as innovators and market leaders.
Please contact us here and fill out a quick form so that our team can efficiently help you!