NEW: KOMPACT EM VR15 VALVE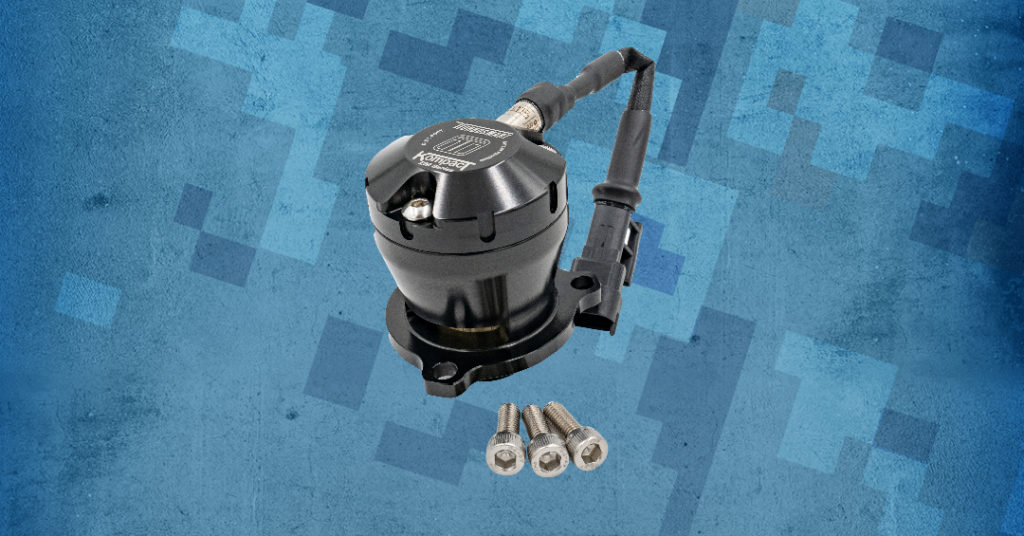 For 2020, Turbosmart expands its award winning Kompact EM valve product line. The EM range utilizes full electronic integration while providing a genuine upgrade in reliability and performance over the factory valve. The Kompact EM valve bolts directly in place of the factory unit and plugs directly into the factory connector. No adapters, hoses, or extra assembly required.
This represents a key differentiator of the Kompact EM line over conventional pneumatic valves. Traditionally, a mechanical valve would require an external vacuum line, which means more hardware & more changes to your car. The EM valve eliminates this need by using an internal pressure reference and a
gated control system which is electrically actuated by a high-speed solenoid. The Kompact EM range is available in both Plumb back & Dual Port, meaning you can enjoy the performance and reliability benefits, no matter your preference for noise.
Kompact EM (VR15): Suitable for select Abarth, Alfa Romeo, Fiat, and Lancia vehicles.
TS-0223-1084 (Dual Port) – Click Here
TS-0223-1284 (Plumb Back) – Click Here
Available Applications: FCA (Fiat Chrysler Automobile)
Abarth 124 Spider – 1.4T
Abarth Grande Punto – 1.4T
Abarth Punto Evo – 1.4T
Alfa Romeo Giulia – 2.0T
Alfa Romeo Giulietta – 1.4T
Alfa Romeo Mito – 0.9T
Alfa Romeo Mito – 1.4T
Fiat 124 Spider – 1.4T
Fiat 500 – 0.9T
Fiat Bravo – 1.4T
Fiat Panda – 0.9T
Lancia Delta III – 0.9T
Lancia Ypsilon – 0.9T
*Please look up the vehicle application list for more details*
Availability: Now Available
Price: Please contact you local authorized Turbosmart dealer or distributor for current pricing