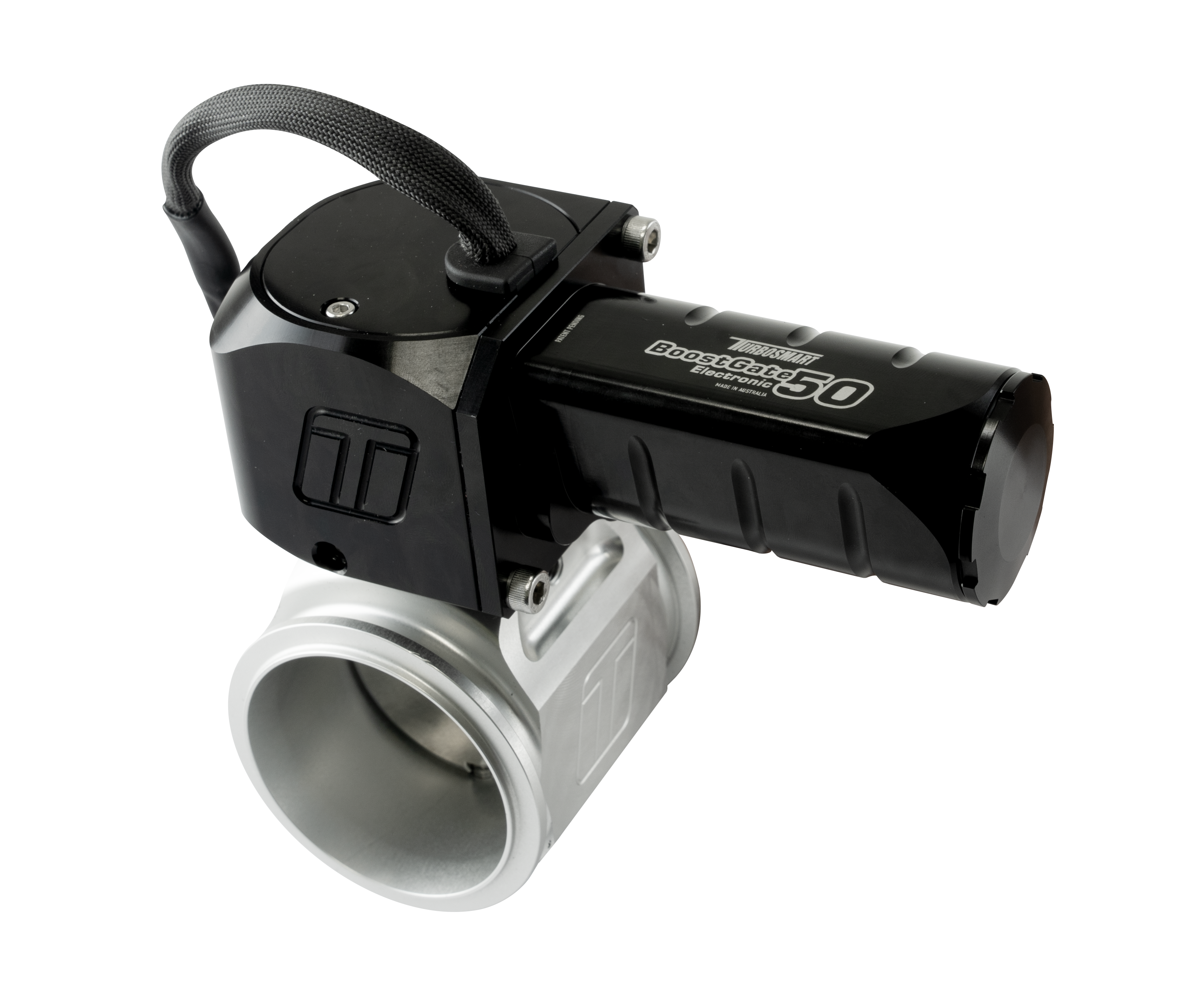 Introducing the Turbosmart BoostGate50
Introducing the Turbosmart BoostGate50, an aluminium charge-air controller! The BoostGate50 is a zero offset butterfly-style valve built within a billet aluminium body to provide a lightweight electronic charge air control solution! Being electronically actuated, the Boostgate50 can support limitless charge-air control strategies and is not limited by base spring pressures or external references such as manifold pressure or C02. It's all electronic and will do exactly what you want!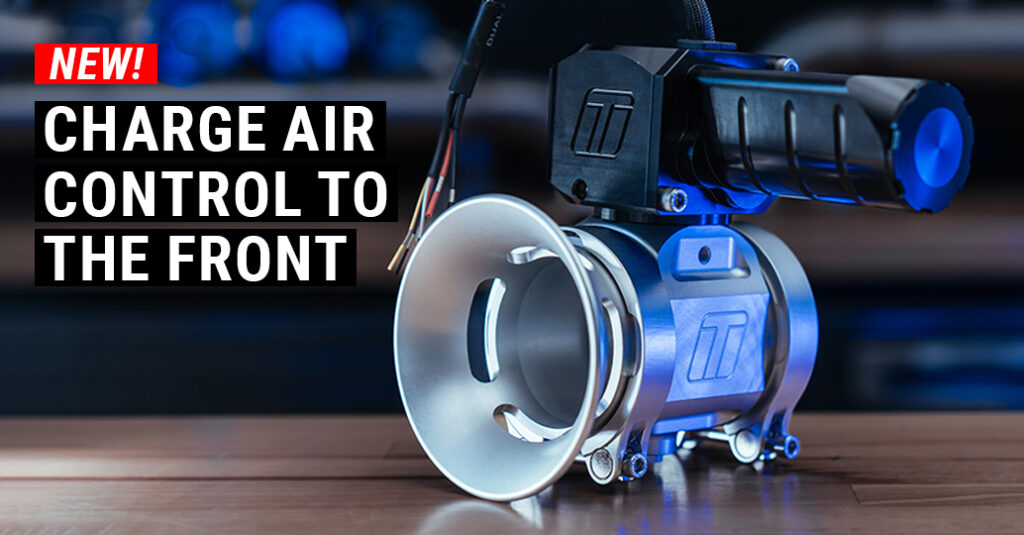 Looks a little like the Turbosmart StraightGate range of external wastegates?
Good spotting! It is built around the same architecture and has the same zero-back drive technology and stainless steel butterfly and shaft assembly while reducing the weight and increasing simplicity! The all-new Billet aluminium body is suited specifically to charge pipe fitment, rather than having to hang the heavier stainless steel StraightGate and we;ve also reduced the profile of the electronic actuator by removing the water cooling galleries, which aren't required for cold side charge air control.
What's Charge Air Control?
This is the technology and strategy being used at the higher ranks of drag racing where big cubes, big turbo and ever bigger boost are the name of the game! There are a couple of major benefits to using charge air control, and we can start with…
Direct control of mass air flow and charge air
Convention external wastegates work by opening and allowing exhaust gas to bypass the turbocharger, reducing shaft speed and boost. This works – Very well, however, it is an indirect control. Charge air however is immediate, direct and it is here to stay! Controlling the charge air itself, rather than 'impacting' it by controlling the exhaust gas is simply more direct and consistent.
In drag racing, the time sitting in staging under load waiting for your ideal boost and RPM to be achieved for launch can seem like an eternity, especially with large turbochargers, stall converters and 3-5000 HP ready to be unleashed. Reaction times can be everything to some people, and unnecessary seconds at full load on any engine, especially at a race engine, aren't great. Charge Air control can halve this time. With turbo manifolds prioritizing your turbochargers and making the most of the exhaust gasses, your target boost can be reached faster and then maintained more accurately with charge air trimming, rather than impacting the exhaust flow to the turbos.
Your turbocharger can be loaded up to the speed you want & maintain the entire run, with the BoostGate50 modulating how much of the charge air is to be consumed. There is no need to wait for your turbo to be up to speed. It's already there – You'll just need to decide how much of that wonderful boost you want to use!
Charge Air Control is NOT for Everyone
This will be suited for those who have a specific need for their engine and turbo combination (such as drag racing), and the turbo selection is already on point & perfected for the application. Whilst we are extremely excited to see how creative our customers, technical partners and #TeamTurbosmart racers get with this new technology, we know it's not likely to end up on your average performance street car. Although… Let's face it, there are some pretty tough street cars out there these days!
More Information: StraightGate Range
You can read a little more about the **Turbosmart  StraightGate Range Here if you're not familiar with where it came from and equally, a little more HERE about charge air control and what can be achieved!
Now: Back to the all new BoostGate50
Turbosmart BoostGate50 is an electronically controlled butterfly-style valve for charge pipe boost control. The BoostGate is manufactured from Billet Aluminum for reduced mass and features the kind of control and flow you expect from the StraightGate series of Turbosmart products.
Unlike a traditional external wastegate which bypasses gas around the turbine housing aiming to reduce turbocharger shaft speed and effectively, boost levels – Charge Air control is a controlled bleed of the compressed air on the cold side of the turbocharger system. Mounted to the charge pipe, the BoostGate can modulate this air flow directly, rather than the indirect method of traditional control.
Charge-Air Control is specifically suited to applications such as drag racing, where turbocharger specifications have already been optimized, and the turbine is not the limiting performance factor. The BoostGate50 is a zero-offset butterfly-styled valve that enables incredible resolution, enormous flow and the kind of boost control required to deliver the perfect pass, every time. Equipped with the Patent Pending Zero-Backdrive gearbox technology to reduce overall power consumption and maximize response, the BoostGate50 is Engineered to Win!
50mm (1.97in) Butterfly style zero-offset valve

383.9 CFM / 10.87m3 per minute flow

Stainless steel (630) Butterfly and shaft

Billet Aluminium Main Body

360-degree mounting options on V-band

Clock-able actuator positions (2 x 120 Deg options)

Full Electronic Actuation (Dual H-bridge input)

Onboard (0-5v) Analogue Actuator Temperature Sensor

Onboard (0-5v) Analog Valve Position Sensor

Onboard (PWM) Digital Valve Position Sensor

7 Wire Unterminated Flying Lead Loom
BoostGate50 - Charge Air Control Valve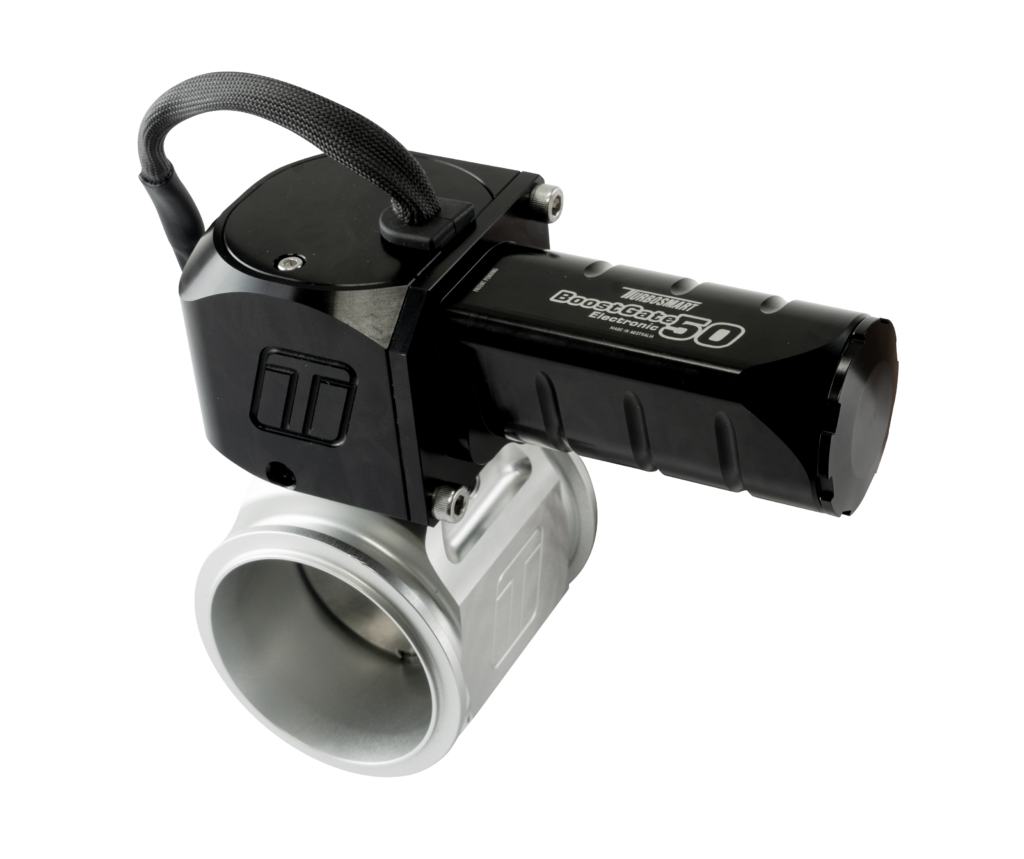 Here is a handy self-help guide to helping you with your Turbosmart install and answers to some of the most frequently asked questions we get here. Turbosmart recommends that you get your products fitted and tuned by a qualified technician. If you choose to install the product yourself, ensure you have all the necessary tools and technical knowledge to perform this task.
Thank you for picking up the latest Turbosmart catalogue. As we look back on 25 fantastic years of innovation and growth, we continue to look towards the future as we release some revolutionary new products that will cement our reputation as innovators and market leaders.
Please contact us here and fill out a quick form so that our team can efficiently help you!
Find products to suit your car
Contact Turbosmart to see if we have products to suit your car on the way or other solutions to help! If you have a new car we don't cover, you can also request a new product.
Custom setup and need advice?
Try our Product Advisor! This tool is designed to help you choose the right product for your project & help you choose the right Wastegate, Blow off Valve and fuel Pressure Regulator.
Nearly 30 years ago, I embarked on this incredible journey of founding Turbosmart, and as we step into 2024, I've never been more proud of the Turbosmart team. We are on the verge of our most exciting chapter yet, as we unveil a monumental achievement—our new line of cutting-edge Turbochargers. Turbosmart is more than just a business; it's a community of enthusiasts dedicated to constant innovation in our products, support, and service. Thank you for being so supportive, and here's to another year of innovation and achievement with Turbosmart! #Engineered to Win!
Building Boost Since 1997
Subscribe to Our Newsletter