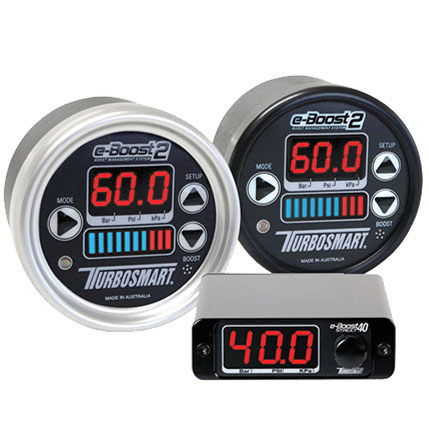 How does a boost controller work? This is a question Turbosmart gets asked all the time, and this article provides you with all the information you need to know about boost controllers for your turbo setup.
The Primary Function of a Boost Controller
A boost controller controls the amount of manifold pressure by changing the pressure going to the wastegate. For example, suppose you wish to increase your boost pressure above your normal wastegate actuator pressure (typically 7psi). In that case, the boost controller must accurately modify the pressure signal the wastegate actuator receives by venting an adjustable amount of pressure, forcing the turbo to produce the new, increased boost level.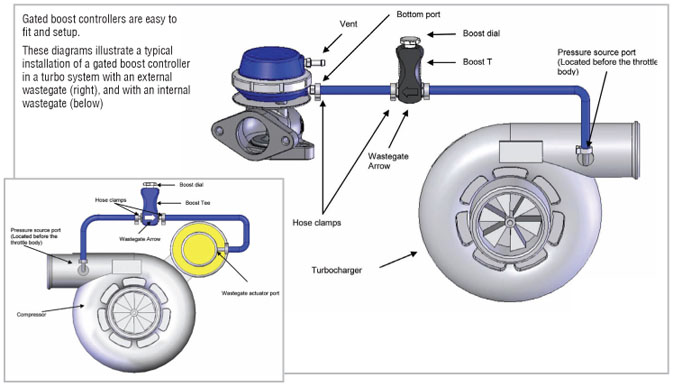 There Are Two Type of Boost Controllers
Offering up to two boost settings, the mechanical (gated) boost controllers can easily be set and adjusted by the driver and controlled via a switch. They are easy to fit, simple in operation and require little maintenance.
1. Mechanical (Gated) Boost Controllers
The Turbosmart Gated Boost Control Valve range is one of the best value for money horsepower upgrades that you can make to your turbocharged petrol or diesel engine vehicle—designed to offer the option of up to two boost settings, set by the driver and controlled via a switch. They are easy to fit, simple in operation and require little maintenance resulting in an excellent dollar for horsepower solution!
The range includes our exclusive Gate feature, which improves turbo response by up to 800 rpm earlier in the rev range – this means that you can increase the performance and response from your engine without even raising the maximum boost level.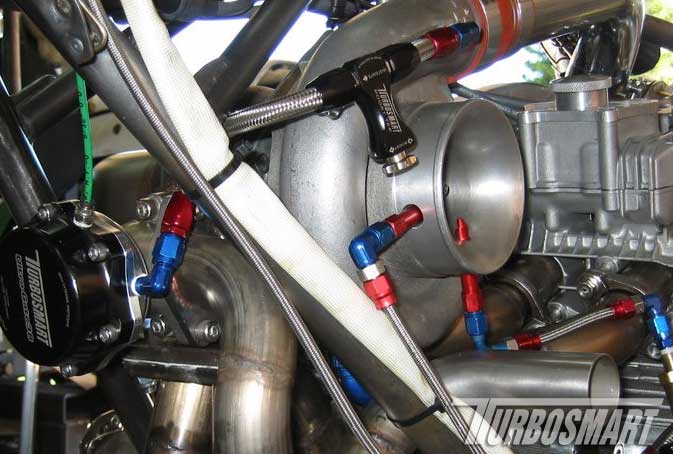 2. Electronic Boost Controller
The solutions that the electronic boost controllers offer are a far more sophisticated host of boost settings mapped against different triggers such as:
Gear change
Time
RPM or a manual switch
Furthermore, they require a higher level of technical knowledge to be fitted but offer greater flexibility and countless features.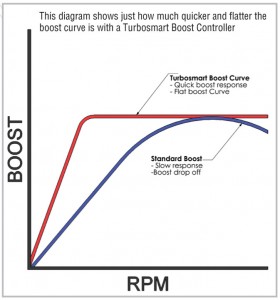 Choosing the Right Boost Controller for Your Application
The table below lists all the functions available with each Turbosmart Boost Controller. It will help you decide which Boost Controller is suitable for you.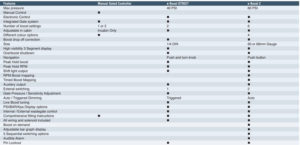 The Turbosmart eBoost range of electronic boost management systems is one of the most popular, powerful, and user-friendly ranges of electronic boost controllers on the market.
Engineered to win, the eBoost controllers give you the ultimate control over the boost curve with innovative features designed for one thing – performance. All Turbosmart e-Boost controllers feature our exclusive adjustable gate pressure feature, which improves turbo response by up to 1000 rpm earlier in the rev range.
More importantly, this means that you can increase the performance and response of your engine without even raising the maximum boost level. Turbosmart e-boost controllers also allow the user to control three different aspects of the boost curve;
The maximum boost pressure (set point),
The spool-up rate of the turbocharger (gate pressure)
The reaction time of the controller (sensitivity).
Each unit is housed in an aluminium case for durability and strength, while a simple three-segment display is used for easy viewing and navigation in all extreme driving conditions.
Here is a handy self-help guide to helping you with your Turbosmart install and answers to some of the most frequently asked questions we get here. Turbosmart recommends that you get your products fitted and tuned by a qualified technician. If you choose to install the product yourself, ensure you have all the necessary tools and technical knowledge required to perform this task.
Thank you for picking up the latest Turbosmart catalogue. As we look back on 22 fantastic years of innovation and growth, we continue to look towards the future as we release some revolutionary new products that will cement our reputation as innovators and market leaders.
Please contact us here and fill out a quick form so that our team can efficiently help you!
The last few years have been a little crazy for everyone, and we're not immune - but we have managed to expand our product range as well as our manufacturing and distribution footprint. We've continued to innovate and keep our team and their families safe in uncertain times.

Turbosmart products are all manufactured in-house in our Sydney, Australia Head Office. We've been able to support our customers throughout these challenging times seamlessly. Despite the challenges of distance, we always continued to keep the demands and expectations of our customers our top priority, making sure our solutions are in stock & well supported where & when our customers need them!
Turbosmart Boost Control Range
Turbosmart prides itself in providing customers with the absolute pinnacle in boost control management. Whether it be for your street or race application, Turbosmart has a range of boost controllers to help you service your needs.
Turbosmart Boost Tee Installation Tutorial
This installation tutorial is performed on a Mitsubishi Evolution 8 but will apply to most popular vehicle's.
eBoost 2 Basic Setup & tech Tips
E-Boost2 is a fully featured programmable electronic device.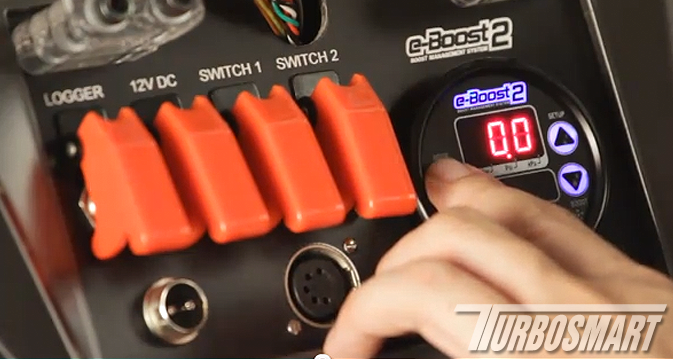 Please, Share Post Here!!!