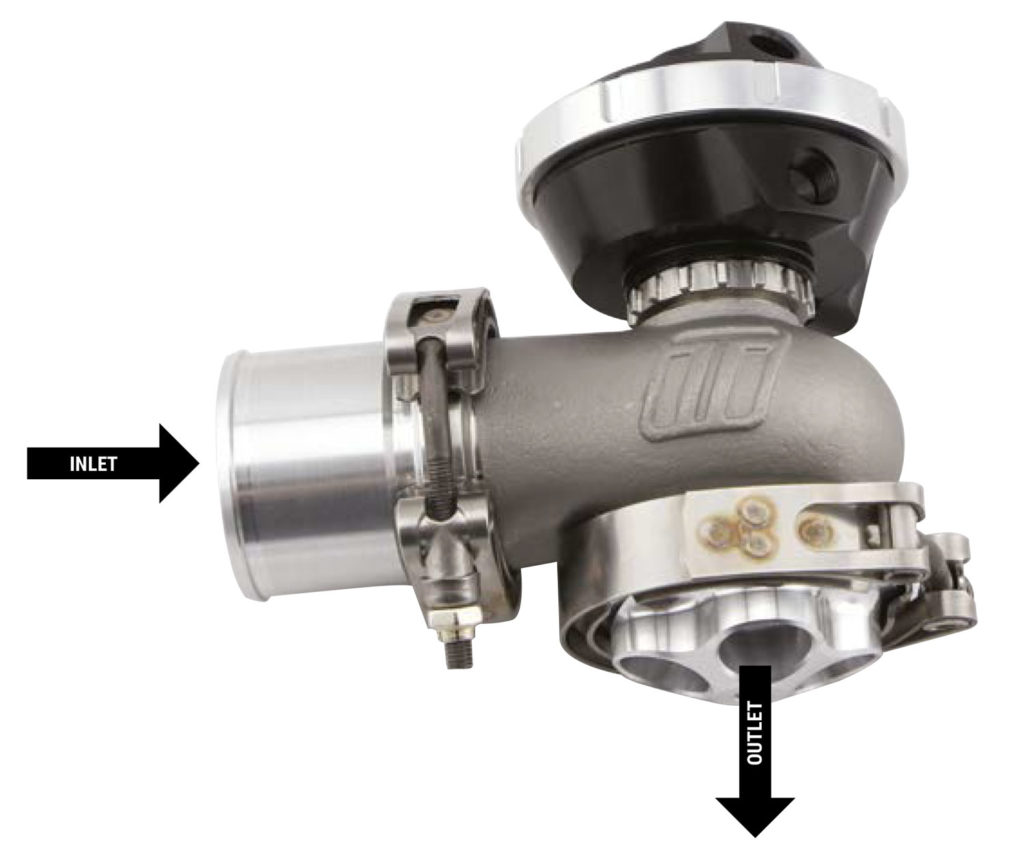 The all-new addition to the Turbosmart line-up is the fresh air ALV40 (Anti-Lag Valve). They are designed to create a broader market for motorsport applications.
The anti-lag valve provides a means to maintain turbine speed, eliminate lag on gear changes & deceleration. This is achieved by allowing incoming charged fresh air from the turbo to be diverted safely into the exhaust manifold pre-turbo with the throttle at low opening angles to allow for safer spooling of the turbocharger, without the potentially damaging throttle based late combustion event style anti-lag that can induce high engine stresses and break connecting rods. 
When the ALV valve is active, boost pressure is diverted around the engine (instead of going through it) into the exhaust manifold. Combined with fuel and ignition strategies (from the ECU), the turbo speed is maintained, and more importantly, a useable boost is ready for when the throttle is opened again.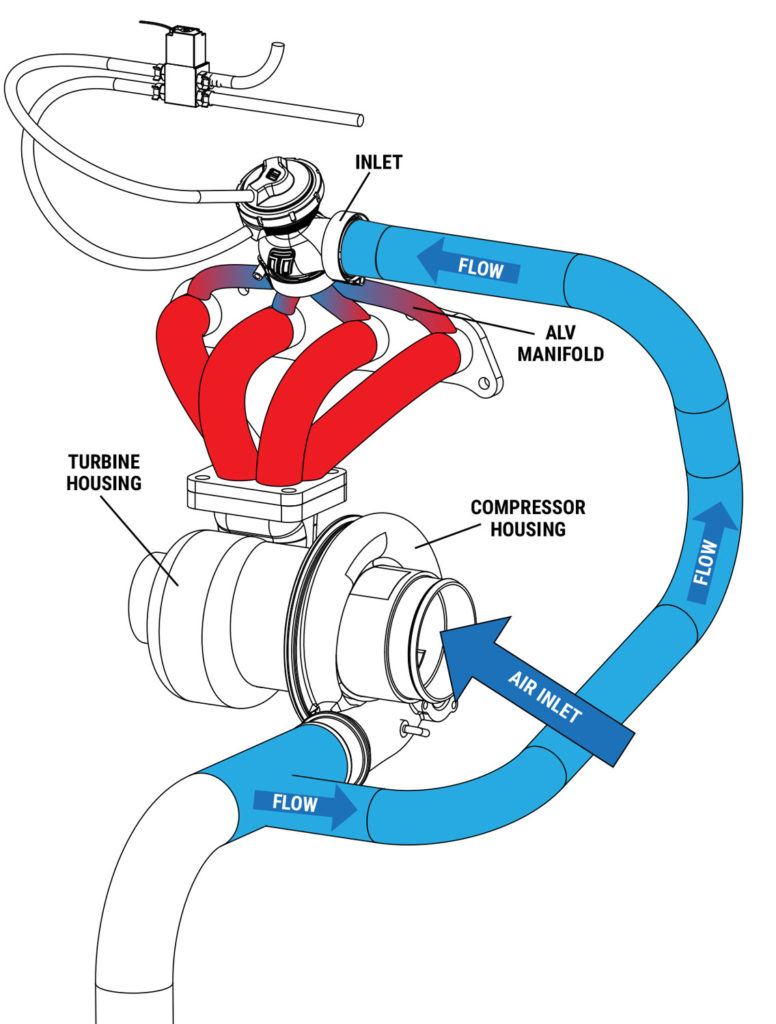 The ALV40 features a 40mm valve diameter, a purpose-designed actuator housing with a sealed twin-chamber design and the top port being the primary control port. The spring is designed to open under vacuum conditions to allow the air to bypass the exhaust manifold. The lower chamber is utilised for twin-port control methods to control the valve irrespective of manifold pressure. The shaft seal allows for leakproof operation. Also, multiple fittings are supplied for ease of fitment and fabrication.
Developed for a variety of engine configurations; an outlet weld flange is required to be purchased separately to the correct application:
For custom outlet plenums, use Single Outlet to allow for the fabrication of your own solution: TS-0550-3101 ALV 1-1 Weld Flange (1 outlet)
Turbosmart GenV ALV
Valve Seat
Inlet VBand Clamp
Inlet Hose Adapter 1-1/2″ OD
Outlet VBand Clamp
Inlet Weld Flange 1-1/2″ OD
Collar Tool
Fitting Kit
Inlet O-ring
Turbosmart Sticker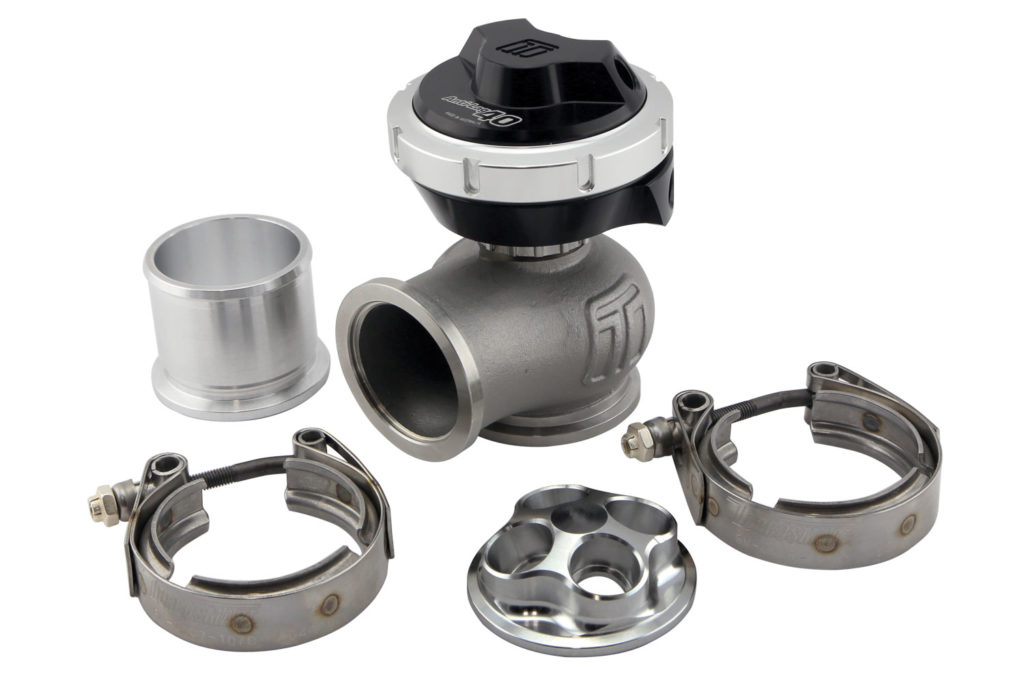 Here is a handy self-help guide to helping you with your Turbosmart install and answers to some of the most frequently asked questions we get here. Turbosmart recommends that you get your products fitted and tuned by a qualified technician. If you choose to install the product yourself, ensure you have all the necessary tools and technical knowledge required to perform this task.
Thank you for picking up the latest Turbosmart catalogue. As we look back on 25 fantastic years of innovation and growth, we continue to look towards the future as we release some revolutionary new products that will cement our reputation as innovators and market leaders.
Please contact us here and fill out a quick form so that our team can efficiently help you!
Custom setup and need advice?
Try our Product Advisor! This tool is designed to help you choose the right product for your project & help you choose the right Wastegate, Blow off Valve and fuel Pressure Regulator.
Find products to suit your car
Contact Turbosmart to see if we have products to suit your car on the way or other solutions to help! If you have a new car we don't cover, you can also request a new product.
The last few years have been a little wild for everyone, and we're not immune - but we have managed to expand our product range and manufacturing and distribution footprint. We've continued to innovate and keep our team and their families safe in uncertain times. Turbosmart products are all manufactured in-house in our Sydney, Australia, Head Office. We've been able to support our customers throughout these challenging times seamlessly. Despite the challenges of distance, we always continued to keep the demands and expectations of our customers our top priority, making sure our solutions are in stock and well supported where and when our customers need them!
Turbosmart Anti-lag Valve Range
The Turbosmart Anti-Lag Valves Range provides a cost-effective fresh-air Anti-Lag system for internal combustion engines.
Anti-lag | Do you have the best boost Response?
Anti-lag is already a well-proven option to improve boost response on turbocharged engines, but Turbosmart has a new way to implement it via their Anti-lag valve. Traditionally anti-lag is operated via the throttle body, whereas Turbosmarts ALS valve does things a little differently, as explained by Andre at the 2018 Performance Racing Industry trade show.
eBoost 2 Basic Setup & Tech Tips
eBoost2 is a fully featured programmable electronic device.