Gen4 CompGate40 and HyperGate45 External Wastegates
Turbosmart is proud to announce the product continuation, re-introduction and price drop on their Gen4 CompGate40 and HyperGate45 External Wastegates. This re-introduction with reduced pricing has been done to help those of you who are in need of a lower-spec solution but still want that Australian Made, Hand Tested Quality you get from a manufacturer with over 25 years of experience!
We feel you. We understand. And we've taken action.
Prices seem to be going up on just about everything… Except these. Not every single customer needs the full spec sheet that comes with the GenV Range of External wastegates and that's where we've decided to re-introduce the Gen4 CompGate40 and HyperGate45 External Wastegates! This means there is high quality 40mm and 45mm External Wastegates available with full ongoing support by means of spares, accessories and technical support available for the foreseeable future! We're in this for the long haul! We've done this by streamlining the range so will strictly be producing just the Black CompGate40 and HyperGate45 and are leveraging 25 years of experience in the game!
Turbosmart has found economies of scale through years of building wastegates and has long-term supply sorted as we make everything in-house! The Gen4 range now only comes in Black but is available in both 7psi (0.5 Bar) and 14psi (1.0 Bar), and we will continue to service these with all the usual long-term commitment to spares, accessories and tech support! Our GenV Award Winning Range will continue to run alongside the Gen4, so you always have these for the advanced thermal stability, additional flow, extra colours, sensor caps, or options are what you need… But you're after a rock solid, reliable and essential external wastegate, the Gen4 Range of CompGate40 and and HyperGate45 are back in business and on shelves now!
What Does this Mean for You?
This means you can buy a high-quality, durable and reliable product without worrying about the price! You can also be sure that your product is Australian-made and built to last. So, whether you are an automotive enthusiast or workshop owner looking to provide a solution to your customer that will never let them down, Turbosmart has the right product for you at the right price. Head to our website and check out our full range of external wastegates today!
These are available now Online, or Call your favourite Turbosmart Dealer!
Gen4 CompGate40 (40mm) - 7psi / 0.5 Bar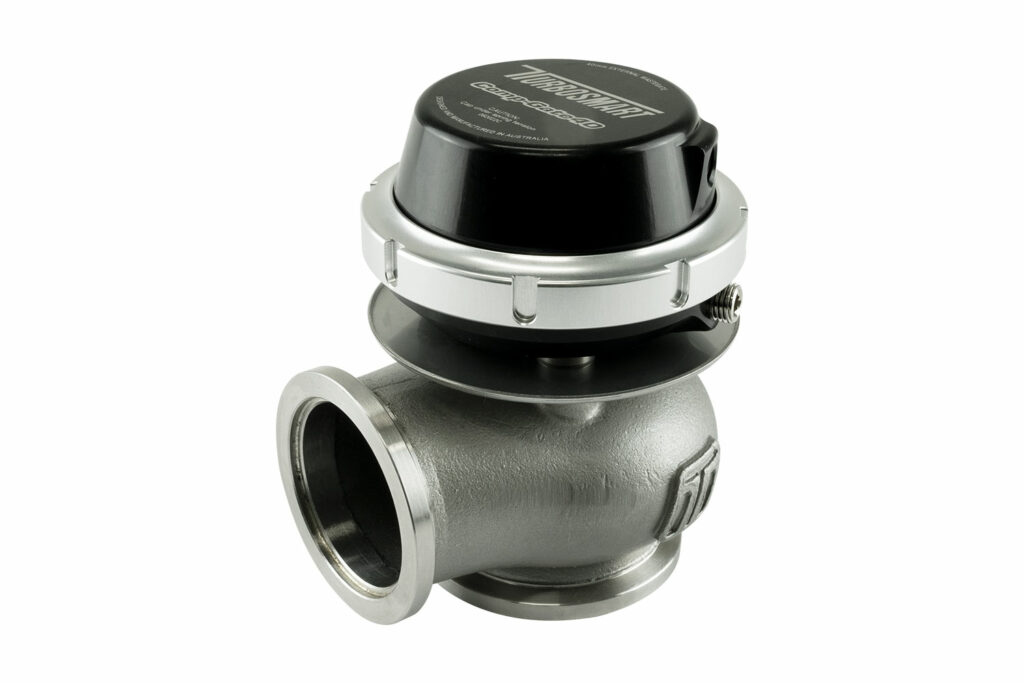 Gen4 HyperGate45 (45mm) - 7psi / 0.5 Bar
Gen4 CompGate40 (40mm) - 14psi / 1.0 Bar
Gen4 HyperGate45 (45mm) - 14psi / 1.0 Bar
For many applications, you may not need all the fanfare – At Turbosmart, we aim to ensure that Motorsport Quality components are available to virtually anyone! The Gen4 Range has been a global staple in rock-solid external wastegate performance for over a decade and continues to provide greater performance than most on the market with much higher quality, reliability and now an even better price! There is just one spring included which is pre-installed and ready to use, as per the part number and description, giving you a simple, reliable wastegate to get on with the job!
What is a Gen4 External Wastegate?
The Gen4 is the Turbosmart 4th Generation External Wastegate built on feedback obtained and manufacturing from the previous 3 before it. At Turbosmart, we always aim to improve because winning means pushing the boundaries and not just sitting around. With this, we have developed the GenV Range, our 5th Generation External wastegate, where we introduced advanced features and benefits; however, not everyone needs this! And it was this realization we had that is why we revisited the Gen4 Range! And it's back, as good as ever, with a sharp new price!
The Gen4 External Wastegates have always featured a Stainless Steel Wastegate Body, Billet Aluminum Actuator Housing and Turbosmart Locking Collar Design. The V-Band Inlet & Outlet suits our existing and peer flanges but also includes clamps and Weld-on Flanges in the kit so you have everything you need. The Solid 1 Piece, High Flowing Valve has undergone years of development, testing and cycling to be bulletproof. You still have base spring options from 3 to 26 psi – and these are available separately. Built around a Hi-Temp Silicone Nomex Diaphragm which can control boost with basic hookup (single port) or with more advanced strategies (Twin-Port) via 1/16 NPT reference ports, and the actuator can be clocked via 3 x 120-degree options to assist with reference hose routing! The CompGate40 is a 40mm V-Band External Wastegate, while the HyperGate45 is a 45mm V-Band Wastegate.
Here is a handy self-help guide to helping you with your Turbosmart install and answers to some of the most frequently asked questions we get here. Turbosmart recommends that you get your products fitted and tuned by a qualified technician. If you choose to install the product yourself, ensure you have all the necessary tools and technical knowledge to perform this task.
Thank you for picking up the latest Turbosmart catalogue. As we look back on 25 fantastic years of innovation and growth, we continue to look towards the future as we release some revolutionary new products that will cement our reputation as innovators and market leaders.
Please contact us here and fill out a quick form so that our team can efficiently help you!
Find products to suit your car
Contact Turbosmart to see if we have products to suit your car on the way or other solutions to help! If you have a new car we don't cover, you can also request a new product.
Custom setup and need advice?
Try our Product Advisor! This tool is designed to help you choose the right product for your project & help you choose the right Wastegate, Blow off Valve and fuel Pressure Regulator.
Nearly 30 years ago, I embarked on this incredible journey of founding Turbosmart, and as we step into 2024, I've never been more proud of the Turbosmart team. We are on the verge of our most exciting chapter yet, as we unveil a monumental achievement—our new line of cutting-edge Turbochargers. Turbosmart is more than just a business; it's a community of enthusiasts dedicated to constant innovation in our products, support, and service. Thank you for being so supportive, and here's to another year of innovation and achievement with Turbosmart! #Engineered to Win!