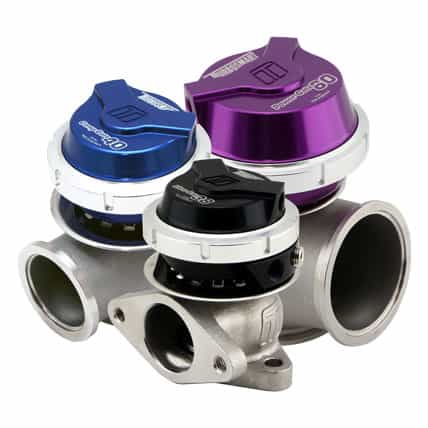 Innovative Way to Change A GenV Wastegate Spring
For years racers, tuners, and enthusiasts have wrestled with the complications of swapping springs on their external wastegates. Throughout the industry, old-school wastegate designs utilized a common multi-bolt cap design to gain access to the internal springs. Through years of research and development, Turbosmart has put its products through their paces and found an innovative way to simplify and improve this area of wastegate tuning; The threaded locking collar! 
With the introduction of the Comp-Gate 40 wastegate in 2010, Turbosmart introduced the first threaded locking collar design for the diaphragm housing. This new design simplified the process of opening up the wastegate and allowed users to quickly swap springs. Some additional benefits of the threaded locking collar are the reduction in overall wastegate size and substantially improved sealing of the diaphragm housing. 
If you are looking for the correct spring configuration for your particular GenV Wastegate, please refer to the spring chart below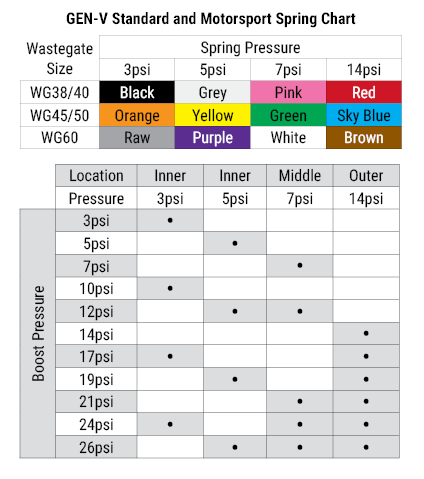 Here is a handy self-help guide to helping you with your Turbosmart install and answers to some of the most frequently asked questions we get here. Turbosmart recommends that you get your products fitted and tuned by a qualified technician. If you choose to install the product yourself, ensure you have all the necessary tools and technical knowledge required to perform this task.
Thank you for picking up the latest Turbosmart catalogue. As we look back on 25 fantastic years of innovation and growth, we continue to look towards the future as we release some revolutionary new products that will cement our reputation as innovators and market leaders.
Please contact us here and fill out a quick form so that our team can efficiently help you!
Custom setup and need advice?
Try our Product Advisor! This tool is designed to help you choose the right product for your project & help you choose the right Wastegate, Blow off Valve and fuel Pressure Regulator.
Find products to suit your car
Contact Turbosmart to see if we have products to suit your car on the way or other solutions to help! If you have a new car we don't cover, you can also request a new product.
The last few years have been a little wild for everyone, and we're not immune - but we have managed to expand our product range and manufacturing and distribution footprint. We've continued to innovate and keep our team and their families safe in uncertain times. Turbosmart products are all manufactured in-house in our Sydney, Australia, Head Office. We've been able to support our customers throughout these challenging times seamlessly. Despite the challenges of distance, we always continued to keep the demands and expectations of our customers our top priority, making sure our solutions are in stock and well supported where and when our customers need them!
How to Change a GenV Wastegate Spring?
Ever had questions about how to quickly and safely change out springs on your GenV wastegate? This video will walk you through some methods to get the job done! Thanks to the locking collar design of these wastegates, spring changes are faster and easier than ever!
5 'Facts' about External Wastegates that are wrong
External Wastegates are one of the most commonly misunderstood pieces of the turbocharging puzzle.