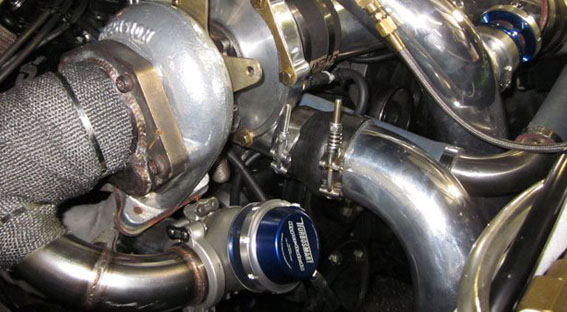 Turbosmart Reveals the 3 Common Misconceptions About External Wastegates
The three common misconceptions about external wastegates and what you need to know when choosing the right wastegate for your setup. With so many contradicting opinions and recommendations. It's a little wonder that choosing the right Wastegate for your application can be confusing.
At Turbosmart, we try to dispel some myths and shed light on the most common misconceptions regarding external wastegates.
1. The More Powerful The Engine, The Bigger The Wastegate You Will Need
False!
A popular misconception that a wastegate is the only component in your whole engine package that can be made smaller as you increase your boost/horsepower output is false. Below is a simple guide to help you:
A Big Turbo/Low Boost = Bigger Wastegate.
A Big Turbo/High Boost = Smaller Wastegate.
A Small Turbo/High Boost = Smaller Wastegate.
A Small Turbo/Low Boost = Bigger Wastegate.
2. Wastegates Don't Operate In High Temperatures
False!
Contrary to popular belief, external wastegates are usually mounted at the hottest part of the exhaust. This is the place where all the exhaust gases meet, creating extra heat. Moreover, when combined with the late combustion of unburnt fuel (due to rich mixtures, retarded timing and high octane fuels) significantly raises the exhaust temperature.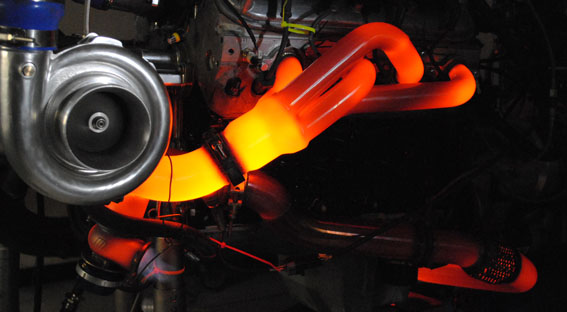 3. Larger Wastegate Valve Diameters Equal Better Flow
True!
However, while the valve diameter is undoubtedly an essential part of the flow rate, equally important but often misunderstood is the relevance of the flow path. Hence, when comparing wastegates with similar valve sizes. It is essential to have a balanced body/valve/spring combination designed to work together. Furthermore, this will allow for maximum boost control. To conclude, all Turbosmart wastegates are designed with this in mind.
Your turbo and manifold setup primarily determine the mounting position of your wastegate and may be constrained by space restrictions in your engine bay.
For this very reason, the Turbosmart Engineering Department spends countless hours on the overall designs to provide you with the absolute highest flowing wastegates in the minor possible configuration. No other wastegates in the world offer the same performance per square millimetre.
When mounting your wastegate you should consider:
1. The weld flanges should be welded to your exhaust system. The weld flanges should be compatible with Stainless Steel and Mild steel welding rod material.
2. Secure the wastegate to the weld flanges with the supplied V-Band clamps. Do not forget to put the valve seat into the body before mounting the unit on the exhaust manifold. Tighten the supplied M6 screws to a torque value of 14 Nm (10 ft/lbs)
3. For best results, an attempt should be made, if space allows, to mount your wastegate at an angle to the exhaust flow to allow for better flow than a 90-degree mounting. See the schematic diagrams below for examples of mounting positions.
Here is a handy self-help guide to helping you with your Turbosmart install and answers to some of the most frequently asked questions we get here. Turbosmart recommends that you get your products fitted and tuned by a qualified technician. If you choose to install the product yourself, ensure you have all the necessary tools and technical knowledge to perform this task.
Thank you for picking up the latest Turbosmart catalogue. As we look back on 25 fantastic years of innovation and growth, we continue to look towards the future as we release some revolutionary new products that will cement our reputation as innovators and market leaders.
Please contact us here and fill out a quick form so that our team can efficiently help you!
Nearly 30 years ago, I embarked on this incredible journey of founding Turbosmart, and as we step into 2024, I've never been more proud of the Turbosmart team. We are on the verge of our most exciting chapter yet, as we unveil a monumental achievement—our new line of cutting-edge Turbochargers. Turbosmart is more than just a business; it's a community of enthusiasts dedicated to constant innovation in our products, support, and service. Thank you for being so supportive, and here's to another year of innovation and achievement with Turbosmart! #Engineered to Win!
How to Choose the Right External Wastegate?
With all the different sizes & variants available, which external wastegate should you chose for your build? In this video we cover the basics to help you make your next wastegate purchase with confidence!
Turbosmart External Wastegate Range
The Turbosmart external wastegate range is a multi-award winning product used and trusted by enthusiasts, mechanics and top tier engineers worldwide. For the most part, it has undergone countless hours of R&D, testing and fine-tuning. 
Turbosmart has solutions for all your wastegate needs.