THIS IS MY STAGE WITH THE ALL NEW KOMPACT BOV TO SUIT THE HYUNDAI i20 N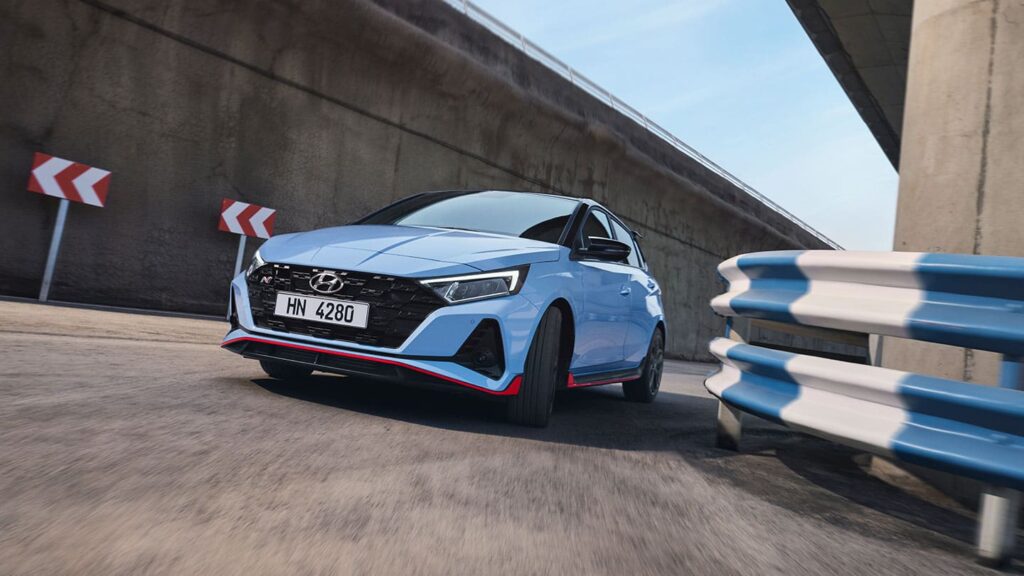 Turbosmart is proud to announce the release of the Kompact BOV to suit the Hyundai i20 N
Turbsomart expands the Kompact diverter and blow-off valves to include a bolt-on upgrade for the Hyundai i20 N. This bolt-on performance upgrade will replace the factory plastic bypass valve with a billet aluminium valve using Turbosmart's motorsport-proven piston technology to provide greater reliability, throttle response and boost holding capacity over the life of the car!
This is two valves in one and you can configure the TS-0203-1033 to be a completely recirculating valve and operate just like a factory item (Quietly) or as a Dual Port where excess air will be vent-to-atmosphere for a little more noise – The choice is yours!
The 2020 Hyundai i20 N joins the recent impressive hot hatch lineup designated N-Line from Hyundai while the i20 N badge has been around since 2008, it is the turbocharged 1.6 Liter i20 N that has been available since late 2020 that is getting all the attention. Powered by a 1.6 Litre GDI (Direct Injection Fuel System) and delivering 150KW (200HP) through a 6 speed manual transmission and mechanical LSD (Limited Slip Differential), the i20 N from Hyundai boasts 'racetrack capabilities in daily driving…'.
The Kompact Valve Range includes a Billet Aluminum constructed valve utilising a 28mm, positive sealing piston with Turbosmart's 'Boost-Balance' System resulting in virtually unlimited boost holding characteristics. Also, the Kompact Range is designed as a direct replacement for the factory item with huge improvements to performance in the short term & reliability in the long term, including allowing for performance upgrades down the road! Turbosmart's Kompact Valve for the Hyundai i20 N can be configured as a plumback for factory-like recirculation or a dual port, for vent-to-atmosphere fun. Both offer the same performance & reliability advantages, so the choice is yours!
The 
TS-0203-1033
 to suit the i20N joins the growing Hyundai line-up of bolt-on performance upgrades with the 
TS-0203-1032
 which is suitable for the 1.6L i30 N-Line and Veloster N-Line.
Available now through our worldwide dealer network or direct, via our online store
Here is a handy self-help guide to helping you with your Turbosmart install and answers to some of the most frequently asked questions we get here. Turbosmart recommends that you get your products fitted and tuned by a qualified technician. If you choose to install the product yourself, ensure you have all the necessary tools and technical knowledge required to perform this task.
Thank you for picking up the latest Turbosmart catalogue. As we look back on 25 fantastic years of innovation and growth, we continue to look towards the future as we release some revolutionary new products that will cement our reputation as innovators and market leaders.
Please contact us here and fill out a quick form so that our team can efficiently help you!
Find products to suit your car
Contact Turbosmart to see if we have products to suit your car on the way or other solutions to help! If you have a new car we don't cover, you can also request a new product.
Custom setup and need advice?
Try our Product Advisor! This tool is designed to help you choose the right product for your project & help you choose the right Wastegate, Blow off Valve and fuel Pressure Regulator.
Turbosmart is thrilled to announce the opening of our fourth global location in Poland, Europe. This new addition to our offices in Australia, the USA and the UK will enable us to improve service and value for customers, dealers and distributors throughout Europe. Our focus is ensuring the stock and support are where you need it & available to you in your timezone!
Kompact Award-Winning Technology
What's in the Box? – TS-0203-1033 BOV Kompact Dual Port Range | Hyundai i20 N
The All-New Hyundai i20 N
This is My Stage.
Who says stages are only for the selected few? Every driver deserves to feel life to the fullest.
Based on the class-leading i20, This machine is the kind that makes you rev up a stoplight just before it turns green and say, "This is my stage."
The Kompact Series is designed to focus on quality materials, design, and integration. The Kompact range by Turbosmart gives vehicles the high-performance edge in boost-handling capacity, reliability & response. With bullet-proof, billet construction, the Kompact series is a direct replacement & Upgrade for OEM parts.