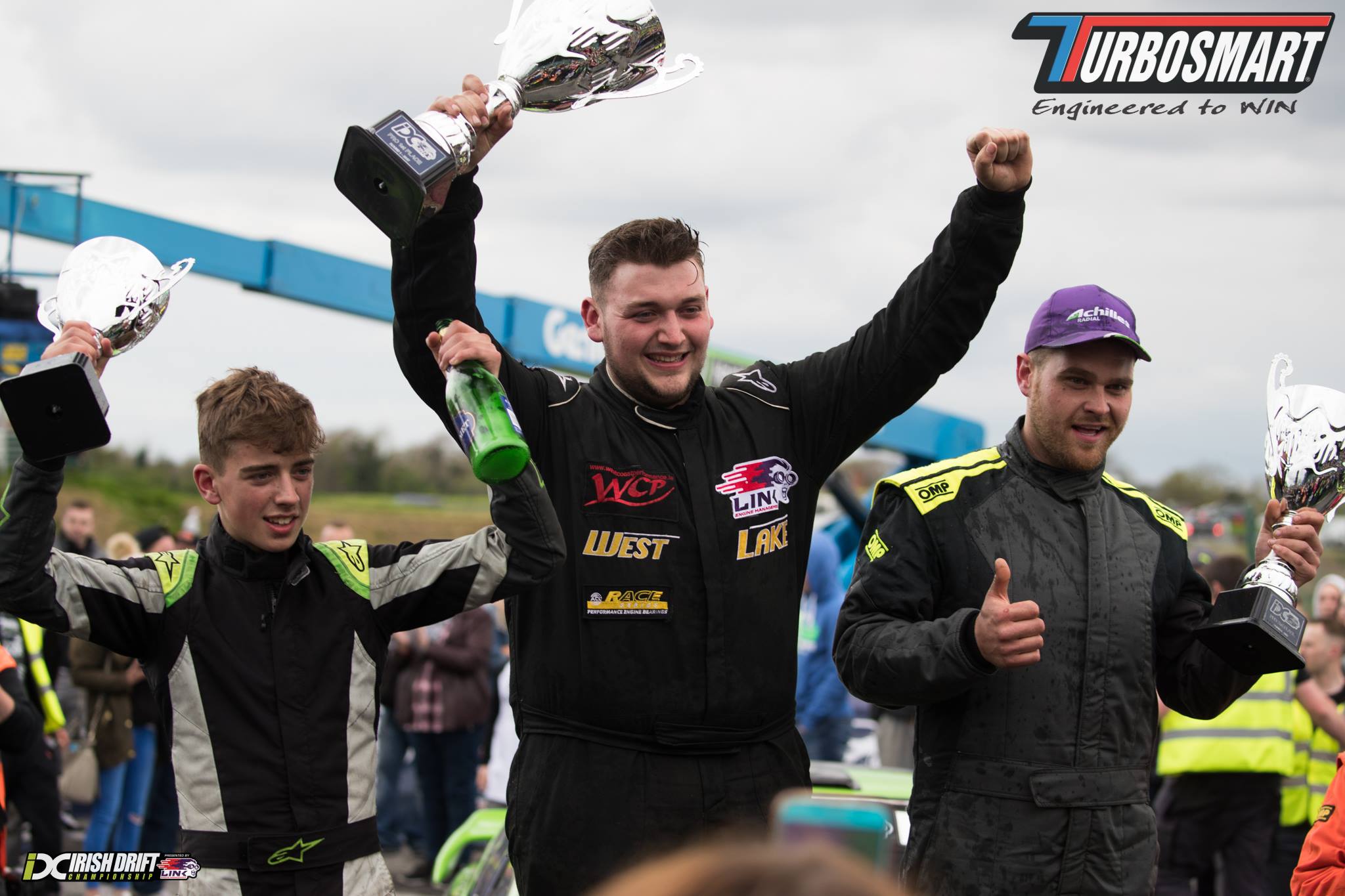 Round 1 of the 2017 Irish drift championship saw Team Turbosmart finish 1, 2 and 3. The season kicked off at Mondello Park, with Jack Shanahan taking home the Round 1 win and a first-place trophy back to Cork this weekend!
It was a hard-fought final, but Jack managed just about to overcome Anthony Galvin, who was on top form since Friday practice, as the CAC Motorsport driver took second place on the podium.
And rounding out our first Pro podium of the season, earning himself his second trophy of the weekend (he won Pro-Am class Saturday), and his Pro licence is younger brother Conor Shanahan, who overcame Boss Motorsport driver Gary Dunne.
What a day, a weekend, and the first round of action we got from the 2017 Link ECU Irish Drift Championship!
There was a huge build-up to the start of the BDC 2017 season, with Irish Drift Championship foreman David Egan taking the reigns of the Championship and making over 500 changes. Round 1 of the BDC 2017 was held at Rockingham Speedway.
On Saturday, after the briefing, the Pro-am drivers were given 3hours of practice; unfortunately, they were cut short due to an oil spillage on track. After the track was cleaned up, the drivers did 2 qualifying runs, leaving Mark 24th, Kirsty 20, and unfortunately, Ryan could not qualify. During Battles, Mark had to quit due to an issue, and Kirsty got knocked out in the top 32 by Nick Brady.
Onto Sunday, where the Irish Brothers, Conor and Jack Shanahan, had come to try again to dominate the field with their amazing built S13 and S14, respectively. Through practice, both brothers had issues with their cars, and Jack's S14 became unfixable on the track, so he went into his brother's S13, and Conor borrowed John O'Hare's S15.
Dean Barber from Team Redmist was also out with the pro, trying to follow on from the success in the final round 2016. All 3 team Turbosmart drivers qualified for the Top 24 and went on to battles. Dean was knocked out by Danny Grundy early on, but Jack & Conor both went onto top 8 and were knocked out by Oliver Evans and Simon Perry, respectively.
#TeamTurbosmart had an amazing weekend, and after the final results, the Shanahan's came away with the Team Event Trophy.
Sponsored Drivers Event Summary
Pro-Am
Ryan Cooper (q. n/a) – Due to practice being cut short, he was unable to get many practice laps couldn't get the car right for the track and didn't qualify in the top 32.
Kirsty Widdrington (q.20) – Had a good practice session and went into qualifying with confidence and managed to qualify 20th, she was knocked out in the top 32 by Nick Brady.
Mark Annette (q.24) – Only managed 3 practice runs and qualified 24th with his first qualifying run. His 2nd qualifying run had to be aborted due to an unknown issue. After attempts to fix it, he had to pull out of battles due to being unable to fix the car.
Pro
Conor Shanahan (q.9) – After an up and down practice session with little issues with the car he ended up lending his car to his older brother and borrowed John O'Hare's S15. After no practice in this car he managed to put in an amazing qualifying run and ended in 9th place. After going through sudden death (top 24) he ended up against Simon Perry in the top 8 and was knocked out.
Jack Shanahan (q.21) – Jack had issues all through practice and ended up in Conor's S13 where he managed to get a run together and got 21st place. He fought his way to top 8 where he faced Oliver Evans who was the driver of the weekend so far and Oliver ended up winning this battle as well leaving jack out in the Top 8.
Dean Barber (q.19) – After some ok practice Dean managed to get to grips with the new set-up of the car and put in a solid qualifying run getting him into the top 24 ending in 19th place. He went on to battle Danny Grundy who unfortunately knocked him out.
Round 2 of the British Drift championship saw #teamturbosmart head to Teesside Autodrome.
On the run up to Round 2, our drivers didn't know what to expect with the introduction of walls to Teesside for the 1st time. On top of this the weather didn't know what to do and in true fashion, the day before the event it was patchy so wasn't looking up. When Saturday came around the weather seemed improved, still overcast but dry; we were happy with that.
Pro-am drivers had 3 hours of practice before going straight into qualifying and unlike round 1 it ran a lot smoother with very little time loss.
Ryan Cooper was the only #teamturbosmart driver to qualify, with the others missing out by a couple of places and the scoring being extremely tight. Ryan went on to get knocked out in the top 32 battle, unfortunately.
Onto Sunday and the weather looked bad, with patchy rain, a wet track and dark clouds. When practice started the track was full wet but the clouds seemed to brighten up ¼ of the way through and the track then dried really fast bringing back some good fast conditions.
By the time Qualifying came around the weather had completely changed to blistering sunshine and perfect conditions.
There was some rivalry between the Shanahan Brothers with Jack getting top spot by 3 points over his younger brother Conor.
Anthony came 9th with some amazing runs but Dean Barber was, unfortunately, a few points outside the top 24 as there were only a few points separating the field. Anthony, unfortunately, didn't go on any further than the top 24 due to coming in too hot in his 2nd run and spinning out.
Jack and Conor both progressed to the top 4 with Matt Carter and Martin Richards. Both the battles were amazing with some incredibly close chase runs which left the final to be Conor vs Matt.
Jack was unable to make it to the podium this time due to Martin doing 2 perfect runs and just having the advantage.
Conor, unfortunately, had a little issue with an oil leak appear after his first run and subsequently had to retire giving Matt 1st and Conor 2nd.
Team Turbosmart Drivers Results
Pro
Conor Shanahan (Qualified 2nd, Finished 2nd)
Jack Shanahan (Qualified 1st, Finished 4th)
Anthony Galvin (Qualified 9th)
Dean Barber (Qualified 27th)
Pro-Am
Ryan Cooper (Qualified 27th)
Kirsty Widdrington (Did not qualify)
Mark Annette (Did not qualify)
Here is a handy self-help guide to helping you with your Turbosmart install and answers to some of the most frequently asked questions we get here. Turbosmart recommends that you get your products fitted and tuned by a qualified technician. If you choose to install the product yourself, ensure you have all the necessary tools and technical knowledge to perform this task.
Thank you for picking up the latest Turbosmart catalogue. As we look back on 25 fantastic years of innovation and growth, we continue to look towards the future as we release some revolutionary new products that will cement our reputation as innovators and market leaders.
Please contact us here and fill out a quick form so that our team can efficiently help you!
Turbosmart is thrilled to announce the opening of our fourth global location in Poland, Europe. This new addition to our offices in Australia, the USA and the UK will enable us to improve service and value for customers, dealers and distributors throughout Europe. Our focus is ensuring the stock and support are where you need it & available to you in your timezone!