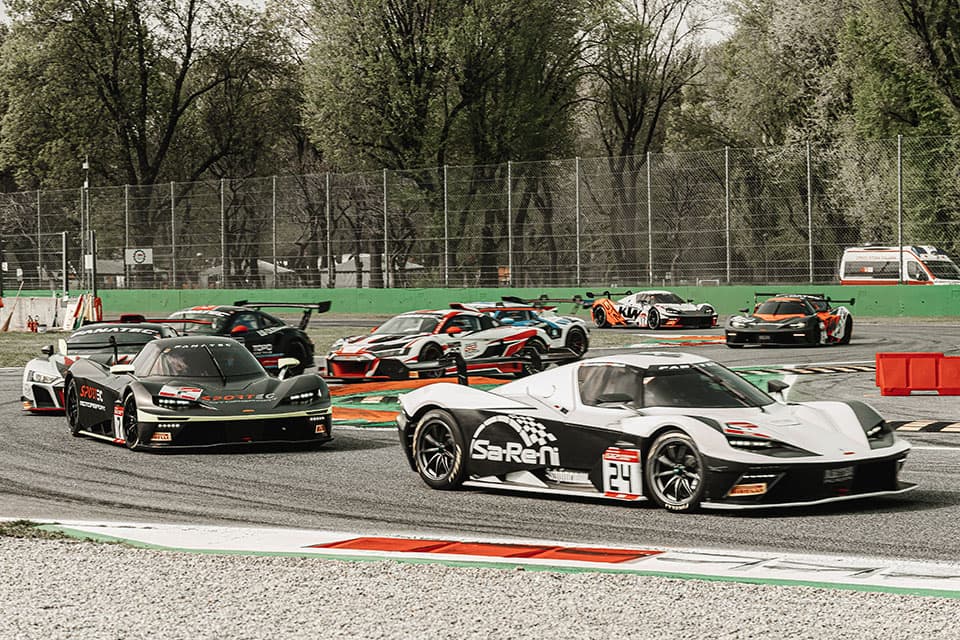 Turbosmart is proud to announce that the KTM X-BOW GT2 Series will now use the award-winning electronic wastegate
The full carbon fibre monocoque designed KTM X-BOW GT2 Series is a brand-new vehicle for KTM. Weighing 1,048kg, boasting a 600bhp Audi 5-cylinder turbo engine and an aerodynamically perfect design alongside an FIA approved GT roll cage.
The Award Winning Electronic Wastegate
Aimed at GT2 class cars, a contender to the Porsche GT2, Audi R8 GT2 and Lamborghini Huracan GT2. "The electronic wastegate will be used in the KTM X-BOW GT2 cars running in the new Fanatec GT2 European Series. Plans including an outing in the SPX-class in NLS and the 24 H race at the Nürburgring Nordschleifeamongst other events," said KTM product Manager Lukas Barth, adding "We are experiencing outstanding support from what looks to be an extremely motivated team that is working with a lot of love for detail. It's great to work with Turbosmart! "The award-winning eWG electronic wastegate debuted at SEMA 2019 is at the centre of great publicity, being the first electronic external wastegate in the market. It has received support from the biggest ECU names in the industry as a highly tunable and very capable motorsport upgrade.
Turbosmart UK General Manager Ben Lawson commented, "I have been a huge fan of the X-BOW and KTM brand for many years, so when approached to assist with the GT2-project, I was excited by the opportunity of working with such an innovative brand and knew that the eWG would provide the performance the team were looking for. The communication throughout has proven to be vital in the project-knowing that the project was a time-sensitive one. We were able to coordinate our engineering teams' technical support and feedback received from the developers fast and efficiently whilst also ensuring a smooth product supply process through our local distribution network. It has been a great project to work on, and I very much look forward to the future together."
Reviewing the Electronic Wastegate (eWG)
KTM X-BOW GT2 Developer Bernhard Ehrlich commented, "As we have been working with electronic wastegates for some years now, the Turbosmart eWG is easy to set up! From our point of view, the Turbosmart product has a good speed of position changes and control at the limits (max open, max closed). No other manufacturer has comparable electronic wastegates at more reasonable pricing."

As an approved series supplier to the KTM X-BOW GT2, the eWG will be put through its paces in some of the most competitive racing across the world. We can't wait to see the podiums rolling in!

On Track - KTM X-Bow GTX & GT2 | KTM
Here is a handy self-help guide to helping you with your Turbosmart install and answers to some of the most frequently asked questions we get here. Turbosmart recommends that you get your products fitted and tuned by a qualified technician. If you choose to install the product yourself, ensure you have all the necessary tools and technical knowledge to perform this task.
Thank you for picking up the latest Turbosmart catalogue. As we look back on 25 fantastic years of innovation and growth, we continue to look towards the future as we release some revolutionary new products that will cement our reputation as innovators and market leaders.
Please contact us here and fill out a quick form so that our team can efficiently help you!
Custom setup and need advice?
Try our Product Advisor! This tool is designed to help you choose the right product for your project & help you choose the right Wastegate, Blow off Valve and fuel Pressure Regulator.
Find products to suit your car
Contact Turbosmart to see if we have products to suit your car on the way or other solutions to help! If you have a new car we don't cover, you can also request a new product.
Nearly 30 years ago, I embarked on this incredible journey of founding Turbosmart, and as we step into 2024, I've never been more proud of the Turbosmart team. We are on the verge of our most exciting chapter yet, as we unveil a monumental achievement—our new line of cutting-edge Turbochargers. Turbosmart is more than just a business; it's a community of enthusiasts dedicated to constant innovation in our products, support, and service. Thank you for being so supportive, and here's to another year of innovation and achievement with Turbosmart! #Engineered to Win!
Award-Winning Electronic Wastegates
Surprisingly, there are no springs, no hoses, and no boost reference signal. Above all, there are no limitations associated with any of them. Gone are 'Minimum' boost levels associated with base spring pressure or the heat-related issues with hoses.
Award-Winning Electronic Wastegates