Turbosmart has continued the development and range expansion to include both upgraded diverter valves and wastegate actuators for the GM LTG driveline, which is the 2.0 Liter Turbo Motor fitted to a host of GM platforms including the Cadillac ATS, Chevrolet Malibu, Opel Insignia, Chevrolet Camaro and the Holden Commodore.
The Turbosmart Kompact EMs solution provides seamless integration into the factory electronics when upgrading your Diverter valve with either Dual Port, or Plumback valves for improved response, boost holding and reliability. The factory diverter valve of modern vehicles is limited by its plastic construction and solenoid operation. The Kompact EM technology combines the bullet-proof performance and reliability of a billet aluminium mechanical valve, with the integrated electronic control of a modern, electronically actuated valve for an effortless, high-performance plug & play Upgrade.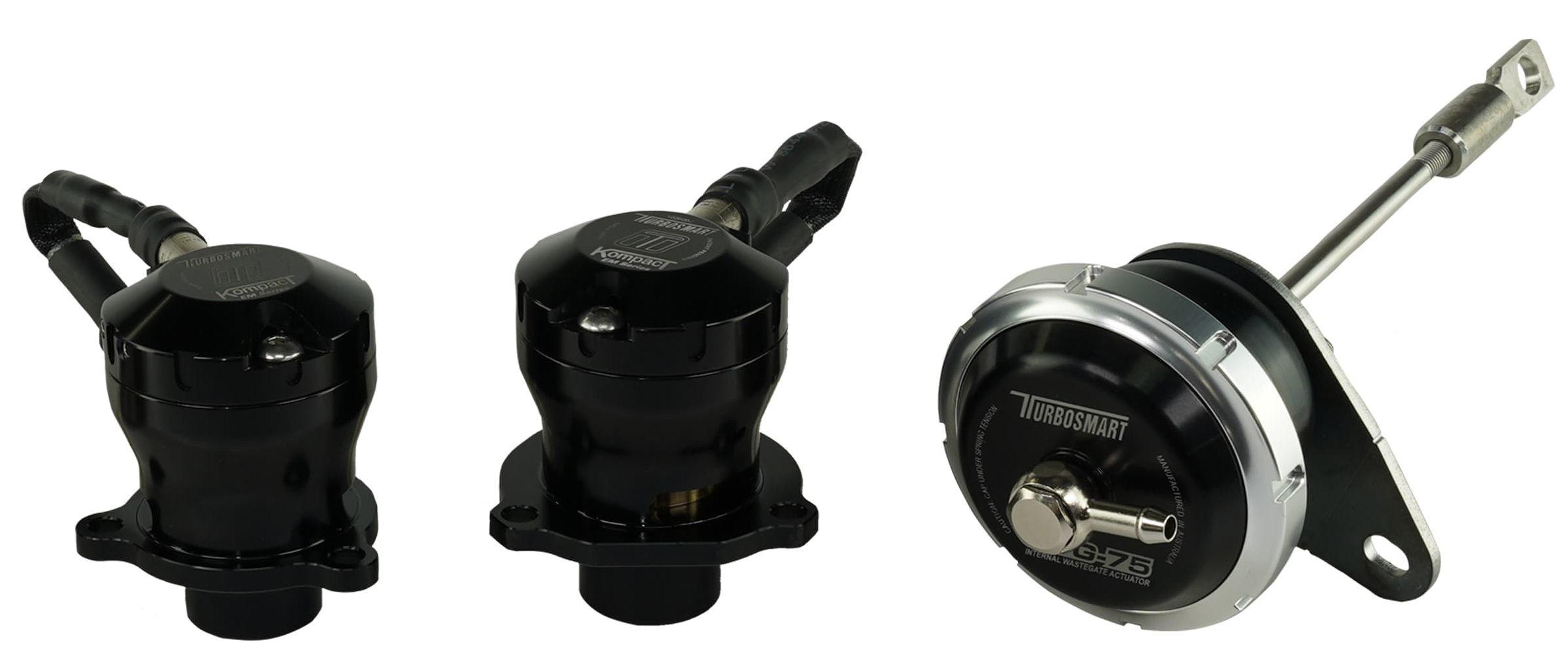 Turbosmart IWG75 Internal Wastegate Actuators have an increased working surface area which provides class-leading boost control & we've adapted our existing, proven range to bolt directly onto the LTG Turbocharger. Like all Turbosmart Actuators, there are spring options available from 3psi up to 26psi, however they are delivered with 7psi spring which is a bolt-on solution that provides increased performance, while still working within the factory torque management strategies.
Click HERE for full Image Pack
Suitable for all LTG 2.0 Turbocharged GM Drivelines; the Kompact EM Dual Port and Plumback as well as the Turbosmart IWG75 Upgrade Wastegate Actuator are available for the following vehicles.
| | |
| --- | --- |
| Chevrolet Camaro 2016 – 2020 | Cadillac ATS 2015 – 2019 |
| Chevrolet Malibu 2016 – 2020 | Cadillac CTS 2014 – 2020 |
| Holden Commodore 2018 – 2020 | Opel Insignia 2013 – 2020 |
| Buick Regal 2018 – 2020 | Buick GL8 2017 – 2020 |
Frequently Asked Questions
Do I need to disassemble the factory valve?
No, you just need to unbolt it & fit the Turbosmart Kompact EM Valve in its place. 2 or 3 bolts, plug in the connector and your done – No fiddly bits.
Will I need a Boost Reference Adaptor and fit an extra hose?
You won't need a separate boost reference for the Kompact EM Valve at all – Just bolt it on and plug it in. We do however have a range of boost reference adaptors available online if you want to run a boost gauge though, check out www.turbosmart.co​m ​ as we have those as well.
What springs do I need for the EM Valve?
None – The EM Kompact range is designed to work with a very light spring for super-fast response. No amount of boost or engine vacuum should upset the boost-balance system fitted from the factory.
Which Actuator Part Number Should I purchase to work with the Factory Tune?
7 psi is your best bet: Part Number: TS-0612-1072. These will bolt on & work straight away with your factory ECU & tune. Even though they are the same rated pressure as the OE gear, you will still see an improvement in low-end response & overall performance. We can achieve peak boost earlier & keep it high in the RPM.