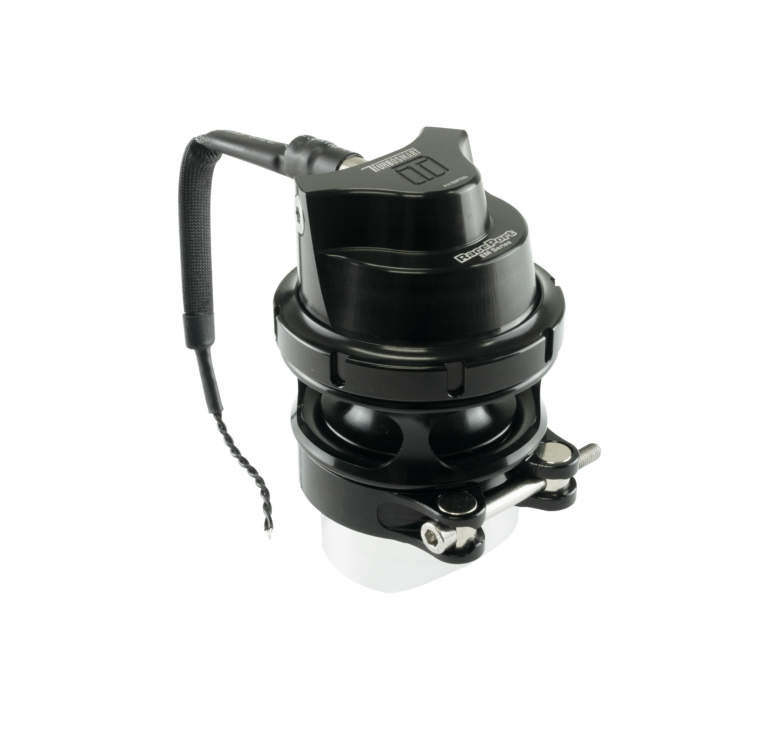 High Performance, Meets High Tech
The all-new RacePort EM is a High Flowing Valve capable of supporting over 2500HP with a built-in solenoid for advanced control strategies and OE-level vehicle integration.
RacePort EM Electro-Mechanical
The RacePort EM (electro-mechanical) is a motorsport quality, high-flowing diaphragm-operated valve with modern vehicle technology and motorsport smarts in mind. The RacePort EM combines decades of experience with the market-leading RacePort 50mm Valve with our Multiple Award Winning and Patented EM (Electro-Mechanical) technology.
The RacePort architecture provides market leading flow and reliability with a diaphragm operated valve which has proven to be the most responsive and capable valve of its kind on the market. Add to this the Multiple Award Winning and patent EM (electro-mechanical) technology which provides seamless electronic integration, you have a motorsport proven solution with genuinely hi end and hi-tech credentials.
Amazingly light and small valve designed for forced induction competition-level engines. The RacePort has race-proven credibility, proven in the extremes of motorsport and incorporates a diaphragm-operated valve for ultra-fast actuation and response. Add this response to the market-leading flow the RacePort 50mm valve is known for, and you have a proven performer that will never let you down!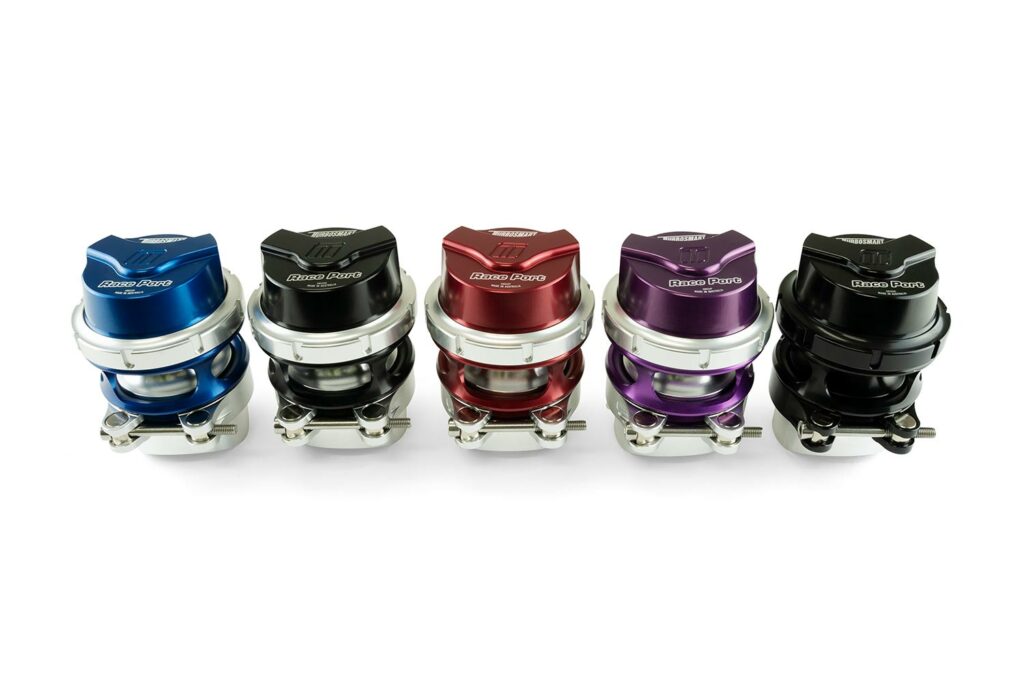 Diaphragm actuation means lower sprung mass and a lighter spring combination for unparalleled valve response. The positive sealing valve means the instant the valve has touched the seat; you're building boost and back in the game.
Part of what makes Turbosmart Valves the most reliable on the market today is our boost balance technology. What is it? Fairly simple, your engine's pressure is fed to both sides of the diaphragm. This means both sides of the valve are constantly exposed to the same pressures, and to this, the backside has a spring to ensure it is always closed when needed. The only way to open it? A pressure differential is created when the throttle starts to close. Put, the more boost you feed a Turbosmart valve, the more it wants to seal and keep closed!
Vent to Atmosphere, or Recirculate?
Up to you. Turbosmart now produces our traditional vent-to-atmosphere RacePort blow-off valves and a recirculating valve we call PlumBack. Both valves provide market-leading flow, are indestructible when it comes to feeding them boost and both now incorporate EM technology! No matter which way you go, you can be assured these valves will do exactly what you ask of them, no matter the conditions.
Want a valve that puts you on the cutting edge in the staging lanes? Or are you simply upgrading your late-model pride, enjoying being fitted with an electronic valve from the factory, and finding the limits? The RacePort EM range from Turbosmart has you covered!
Available online now or through your favorite Turbosmart reseller
GenV RacePort EM Sleeper (Peer Flange)
GenV RacePort EM PlumBack Sleeper
GenV RacePort EM PlumBack Sleeper (Peer Flange)
Frequently Asked Questions
Here is a handy self-help guide to helping you with your Turbosmart install and answers to some of the most frequently asked questions we get here. Turbosmart recommends that you get your products fitted and tuned by a qualified technician. If you choose to install the product yourself, ensure you have all the necessary tools and technical knowledge to perform this task.
Thank you for picking up the latest Turbosmart catalogue. As we look back on 25 fantastic years of innovation and growth, we continue to look towards the future as we release some revolutionary new products that will cement our reputation as innovators and market leaders.
Please contact us here and fill out a quick form so that our team can efficiently help you!
Find products to suit your car
Contact Turbosmart to see if we have products to suit your car on the way or other solutions to help! If you have a new car we don't cover, you can also request a new product.
Custom setup and need advice?
Try our Product Advisor! This tool is designed to help you choose the right product for your project & help you choose the right Wastegate, Blow off Valve and fuel Pressure Regulator.
Turbosmart is thrilled to announce the opening of our fourth global location in Poland, Europe. This new addition to our offices in Australia, the USA and the UK will enable us to improve service and value for customers, dealers and distributors throughout Europe. Our focus is ensuring the stock and support are where you need it & available to you in your timezone!
Subscribe to Our Newsletter