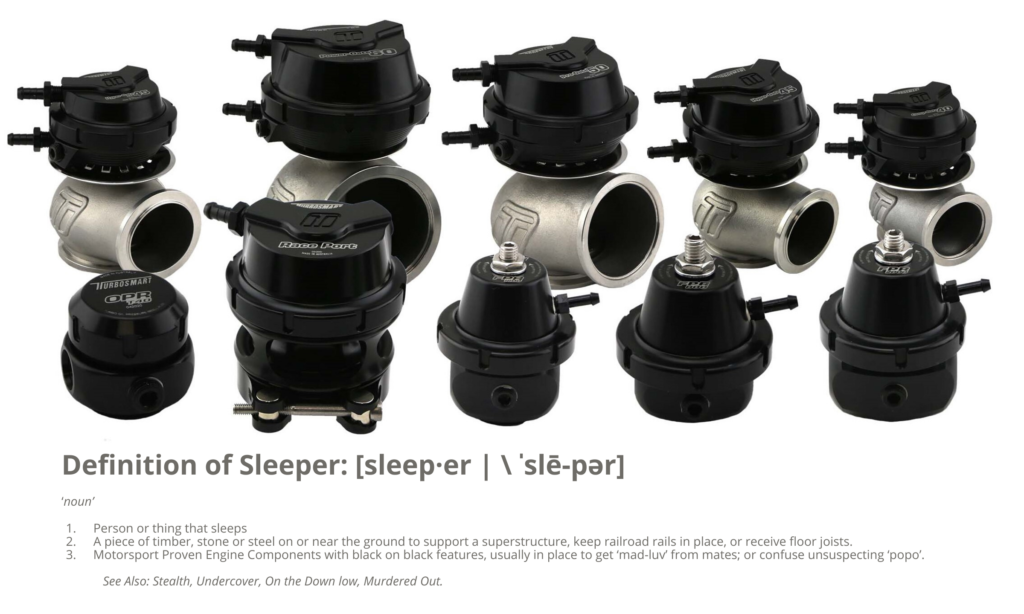 Sleeper Series by Turbosmart
Turbosmart's Sleeper Series takes the tried and tested Turbosmart Motorsport & Performance Range of products and goes black on black! If you want something unique under your hood, wish to keep a low profile for whatever reason, or need some limited-edition cred, the Sleeper Series from Turbosmart is now available.
Award Winning GenV External Wastegate Range
Turbosmart has taken the Award Winning GenV External Wastegate Range and turned #StealthModeON with the Limited-Edition Sleeper Series. Available in all sizes from 38mm up to 60mm, there is a Sleeper Wastegate for your project! All the features and benefits of Turbosmart's class-leading GenV External Wastegates, including the most flow, most options, and the most thermally advanced External Wastegate on the market, now with 'Added black' including actuator housing, collar, and reference fittings.
GenV RacePort 50mm Blow-off Valve
Sleeper Series by Turbosmart also includes the GenV RacePort 50mm Blow-off Valve. The world's highest flowing 50mm valve (Yes, the Winner and still undefeated World Champion!!) is now available for a limited time with black on black collar, body, and reference fittings to match your Sleeper Series External Wastegate, Fuel & Fuel Pressure Regulators.
Fuel Pressure Regulator Range - Discontinued!
Fuel Pressure Regulator range by Turbosmart, including 1200HP and 2000HP variants, are both available in the Sleeper Series as well to complete your 'Murdered-Out' Engine bay. Also, the Fuel Pressure Regular Range, including the 1200 and 2000 for -6AN and -8AN Port Size Fuel systems, features class-leading 1:1 Fuel Pressure control & Fully Adjustable base pressure. Let's not forget they happen to match Turbosmart's Range of Motorsport Fuel Filters perfectly!
Oil Pressure Regulator (OPR)
Sleeper Series - Products Available
Here is a handy self-help guide to helping you with your Turbosmart install and answers to some of the most frequently asked questions we get here. Turbosmart recommends that you get your products fitted and tuned by a qualified technician. If you choose to install the product yourself, ensure you have all the necessary tools and technical knowledge to perform this task.
Thank you for picking up the latest Turbosmart catalogue. As we look back on 25 fantastic years of innovation and growth, we continue to look towards the future as we release some revolutionary new products that will cement our reputation as innovators and market leaders.
Please contact us here and fill out a quick form so that our team can efficiently help you!
Award-Winning
Turbo Technology
View the entire Turbosmart External Wastegate Range!
Turbosmart Anti-lag Valve Explained
Learn more about the Turbosmart fresh air anti-lag valve.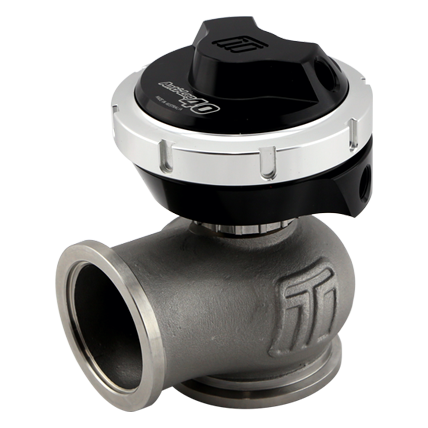 GenV Electronic CompGate40 Anti-Lag Valve