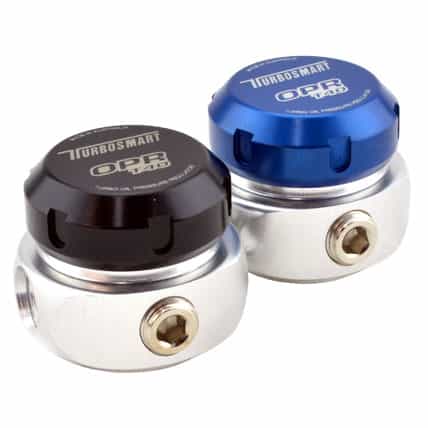 Turbosmart's new patent-pending OPR T40 is a genuine oil pressure regulator for turbochargers. It solves a problem that is usually misunderstood. However, to see the true magic in this solution, you must first understand the problem.
Turbochargers require a good source of oil, and more specifically, turbochargers are built around a preference for a specific 'window' of oil pressure and flow. Generally, a ball-bearing turbocharger assembly requires less oil to be reliable than a journal-bearing system. This is one of the key benefits of its use on modern engines.
A turbocharger assembly has oil, hot exhaust gas, and compressed air within its core's tight confines, which is where some compromises need to be addressed. The relationship between oil, exhaust & squeezed air needs to be relative because seals are in place to stop mixing with the other. A common misconception is that a 'seal' prevents oil from getting into the inlet air or the exhaust gas, and that is not the case.
The seal is, in fact, a gas ring and more resembles that of a standard piston ring than any rubber seal. Its function is to hold the exhaust gas or compressed air out of the oil system, not the other way around, as is often assumed.
With the reduction in oil needs of a ball bearing turbocharger, there was a corresponding change in gas ring profile so that the balance of pressures fighting each other (exhaust gas, compressed air and oil) were maintained. This overall creates a beneficial system where less energy is consumed by seals and bearing assembly, resulting in a more responsive turbocharger.
However, engine oil pressure requirements within a modern engine are often higher than that of the turbochargers assembly, which is where a problem arises. Most of the machine requires an excellent steady feed of oil flow at high pressure for good efficiency and reliability, while the turbocharger's needs have been reduced. Even at an OEM level, the typical solution has been to fit a restrictor in the oil feed line to the turbocharger assembly.
However, the problem with this method is that there is a significant difference between controlling flow and controlling pressure. The restrictor method that is most often used is an oil flow reduction method. What occurs is a compromise, reducing flow to achieve a more suitable pressure, rather than directly reducing stress to where it is needed. This method's impact on oil pressure is also subject to oil grade, viscosity and supply pressure. A change in any of these variables has a significant effect on the resulting pressure, and this is why this method can be tricky and cumbersome.
This is where Turbosmart's OPR T40 shines. It's designed to regulate oil pressure without any impact on flow – simple as that. It can achieve the desired oil pressure in the face of high supply pressure at any temperature and resulting viscosity and does so without impacting flow. It is a genuine regulator and takes the guesswork out of orifice sizing for oil supply and removes the need of the black art in the tuning of carefully balancing oil supply line size versus oil drain sizing for custom turbocharger fitment.
Turbosmart's Turbo Oil Pressure Regulator ensures the oil pressure going to the turbocharger never exceeds the maximum pressure the turbocharger manufacturers specify for oil supply, regardless of engine oil pressure. The result is an oil delivery system that is more reliable and easier to set up than a standard restrictor system.
Turbocharger Oil Pressure Regulator (Blue): TS-0801-1001
Turbocharger Oil Pressure Regulator (Black): TS-0801-1002
Here is a handy self-help guide to helping you with your Turbosmart install and answers to some of the most frequently asked questions we get here. Turbosmart recommends that you get your products fitted and tuned by a qualified technician. If you choose to install the product yourself, ensure you have all the necessary tools and technical knowledge to perform this task.
Thank you for picking up the latest Turbosmart catalogue. As we look back on 25 fantastic years of innovation and growth, we continue to look towards the future as we release some revolutionary new products that will cement our reputation as innovators and market leaders.
Please contact us here and fill out a quick form so that our team can efficiently help you!
Turbosmart is thrilled to announce the opening of our fourth global location in Poland, Europe. This new addition to our offices in Australia, the USA and the UK will enable us to improve service and value for customers, dealers and distributors throughout Europe. Our focus is ensuring the stock and support are where you need it & available to you in your timezone!
Revealed at SEMA 2016 in Las Vegas, Turbosmart's new OPRt-40 is an oil pressure regulation system for your turbocharger.
Turbosmart's turbo oil feed filters make sure your turbo is continually fed with clean oil. With small oil galleries, the turbocharger needs to avoid debris that may become dislodged from the engine. A 44-micron filter element ensures that even the smallest particles are kept away from the turbo.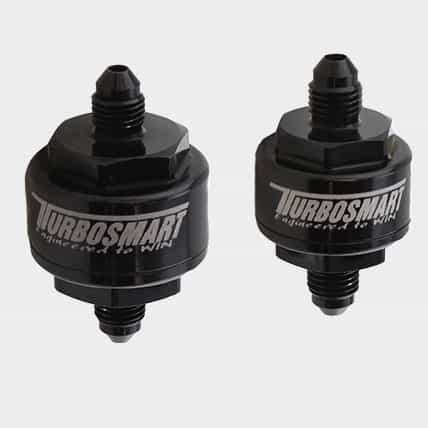 Limited Edition OPR T40 Oil Pressure Regulator
Turbosmart's Patent Pending OPRt40 is an Oil Pressure Regulator designed for your Turbocharger.