Building Boost Since 1997
Turbosmart is a company of enthusiasts, for enthusiasts! This passion for our industry, motorsport and winning can be seen in the industry-leading and groundbreaking products we release yearly! Turbosmart now boasts the world's most extensive range of blow off valves, external wastegates, wastegate actuators, and boost controllers – All Australian Made and Globally Supported via offices in Australia, the USA, and the UK.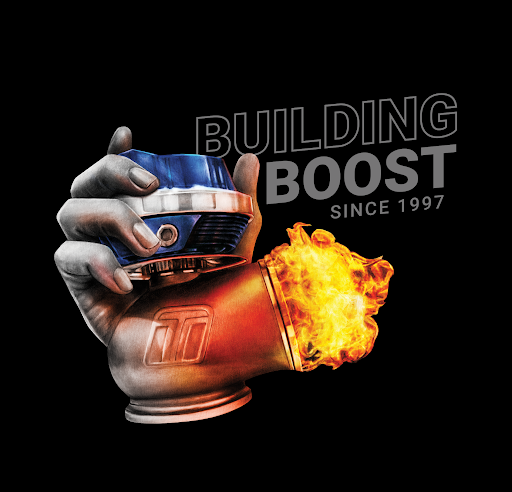 Turbosmart was established in 1997 with just two products!
Turbosmart is an Australian manufacturer of high-performance engine components specialising in boost control accessories. From humble beginnings, CEO & Founder Nic Cooper hand-made the first products on a lathe in his parent's garage. His passion for racing, high-performance engines, and engineering would lead him to design his blow-off valve and boost controller, the first two products Turbosmart would produce!
Exporting Boost Control to the World!
It was 1999, and the phone rang. Turbosmart had New Zealand on the phone and took the first international order. It wasn't long after another call came in from the USA, and Turbosmart was officially exporting. It was an exciting novelty at the time, but little did the Turbosmart team truly realize what this would mean for the future of the business. Turbosmart went on to Export to over 50 countries within the first ten years of operation.
Turbosmart's commitment to Exporting as an Australian Manufacturer has been rewarded and celebrated, having won many NSW state level, National Australian level government-backed awards and industry-specific awards over the years, including Excellence in Export from the Australian Auto Aftermarket Association. While other manufacturers looked to manufacture overseas, Turbosmart has committed to Australian manufacturing and global expansion through its offices in the USA, UK, and Europe! The First Wastegate & CNC Machines
CNC Machines Introduced!
In June 2002, Turbosmart delivered its first CNC (Computerized Numerical Control) Machine, which would provide some much-needed additional resources to meet the growing quality, volume, and prototyping demands. This machine meant higher output with accuracy could be achieved while increasing the ability to produce more complex components. This machine would serve Turbosmart well past the 20th Anniversary of the business. It was relied on to operate up to 24 hours a day before it was retired, having been a critical aspect in developing most of Turbosmart's Award-Winning Wastegates, Blow Off Valves and Boost Controllers.
Turbosmart Releases an External Wastegate: ProGate45
ProGate is known to be a 50mm External Wastegate, but in 2002, it was Turbosmart's very first wastegate, and it was sold as a 45mm valve. Little did Turbosmart understand at the time, but our competition labelled their gates based on valve diameter, not inlet opening, so this 45 quickly became a ProGate48 & the rest is history! Turbosmart would add to this single size over the years and, by 2017, release the 5th generation wastegate architecture, aptly named the GenV Range! It would be known for its reliability, performance and unique appearance. Turbosmart Releases eBoost and Heads to SEMA
Electronic Boost Control is HERE!
Turbosmart developed a new electronic boost controller and called it eBoost! The eBoost was capable of controlling up to 40psi with a closed-loop control, a live boost readout, and multiple boost settings, all from inside the cockpit of your vehicle. It could handle 120psi, including boost by RPM, live boost readout, offer 'push to pass' like boost scramble function, and lead the market in features and performance! Turbosmart would eventually evolve the eBoost into the eBoost2, eBoost Street, and eBoost120.
Vegas Baby! Turbosmart Heads to SEMA
In November 2003, the Turbosmart team packed their wares and headed for Las Vegas for the first time. The effort would be rewarded with a SEMA 'New Performance Product Runner Up Award' for the new eBoost Electronic Boost Controller! That Runner-Up Accolade would be an appetizer for things to come as Turbosmart joined the SEMA organization and would now attend the show regularly! The SEMA show is a huge industry trade show held in Las Vegas and is widely accepted as the most critical global show in the performance aftermarket industry. North American Office
2007 Turbsomart started a new remote office in North America to handle the US market expansion. This location was established to serve the US market and as an importer of Turbosmart products onto US soil. While Turbosmart remains a proud Australian manufacturing business, setting up subsidiary offices like this ensures that the importing, representation, and support align with our core values. Turbosmart is a business of enthusiasts, for enthusiasts, and we're committed to helping! Turbosmart USA is a shining example of this, and this first step back in 2007 was an investment in our commitment to our dealer network and end-users!
Oh, and a few New Products.
Turbosmart introduced an all-new Fuel Pressure Regulator Range to the growing boost control catalogue – A range that would become known as the most responsive and well-regarded fuel pressure regulator in the world! Something was in the water in 2007, though, as not only did Turbosmart launch the FPR series, but the RacePort 50mm Blow Off Valve was also introduced as both the Bov5 Blow Off. Valve and the Boost Tee Boost Controller! This would be a pivotal year for Turbosmart, raising so many 'soon to be' industry-leading products & as a matter of hindsight, it was also Turbosmart's 10th anniversary! Dual Stage Boost Controller
While 2007 saw Turbosmart release a considerable number of products, ears were already to the ground on what our customers wanted next & the Dual Stage Boost Controller was born. The Dual Stage retained the Boost Tee's unique gate feature for unmatched boost response and came with an in-cabin switch for ease of use! Taking all the benefits of the Boost Tee, including simplicity, stability, and ease of use, and adding a second stage of boost control meant you could switch between 2 different boost settings any time you liked and quickly from the driver's seat.
Progate50 and PowerGate60
This was the 3rd generation external wastegate from Turbosmart and included a 50mm and 60mm variant. Turbosmart wastegates now flowed more than any other equivalent at the time and benefitted from a new lower profile to suit tighter engine bays. Turbosmart's Rapid Expansion
Turbosmart USA grabs another Gear(Head)!
With Turbosmart USA starting to take shape, Turbosmart CEO Nic Cooper calls a long-time friend and (at the time) customer Marty Staggs and suggests… Marty Staggs is appointed Turbosmart USA General Manager and vice president a few weeks later. Turbosmart USA would soon move to Rancho Cucamonga in California (Marty's hometown), and the rest is, as they say… history! Turbosmart USA employs a local sales, support, marketing, and logistic team led by Marty. They together aim to service and develop their market while helping translate the needs of the North and South American markets into viable products for Turbosmart to produce.
CompGate40 and the locking Ring
Turbosmart releases the first 40mm external wastegate named the CompGate40! The CompGate would be the 4th Generation external wastegate from Turbosmart and heralds the introduction of Turbosmart's unique locking ring, which allows for fast, easy change of wastegates springs and other internals such as diaphragms etc. The Locking Ring is a unique and identifying feature that would eventually be released across all wastegate sizes with the release of the GenV range and the RacePort, ProPort and PowerPort Blow Off Valves IWG75 Internal Wastegate Actuator range, as well as the FPR Fuel Pressure Regulator Series. World Time Attack Challenge & the Kompact Range
World Time Attack Challenge
The first World Time Attack Challenge was announced for 2010, and Turbosmart had a high-powered Mazda RX7 that needed a new purchase. Turbsomart CEO Nic Cooper had developed the Rx7 from a road car into a Tarmac Rally car. With Time Attack racing starting to take off worldwide, Turbosmart was keen on participating. With some spec changes to align with the new WTAC rules and some new signage, Production Manager Stewart Mahony would take the wheel and compete in Open Class, with the remainder of the (then) engineering team supporting the car from the pits.
More Products: The Kompact Range is born
Sonic Versions! 2010 was another year of listening to our customers, and there were two significant outcomes from that.1—the Kompact Range of Blow-Off Valves. Turbosmart was built on the success of the 38mm piston series of blow-off valves, most notably the BOV5 range, which included SmartPort, Dual Port, Plumback, Super and MEGA. The Kompact was initially in response to vehicles with a lower power output in mind via basic bolt-on moderations and suited tighter and more compact engine bays. The first Kompact valve produced was a Dual Port to work the Mazda 3 MPS 2.3 Liter factory turbocharger engine. The Kompact range is built on a 28mm piston & uses Turbosmart's unique Boost-Balance system for fast valve response and boost handling. World Time Attack Challenge & the Kompact Range
IWG75 Internal Wastegate Actuator
2011 saw the release of the IWG75 Internal Wastegate Actuator Range. Along with the CompGate40 released a few years back, the IWG75 benefitted from the Gen4 Wastegate architecture and used the same locking collar, diaphragm, and springs as the small frame (UltraGate38, CompGate40, and HyperGate45) External Wastegates and adapted this to both bolt-on and universal fitment actuator upgrades. This approach leveraged the motorsport proven technology of the External Wastegates and provided customers with internally wastegate turbos, more spring options, and excellent boost control through an increased tuning window. The large surface area of the IWG75 series meant more mechanical leverage and greater control over the wastegate flap and gave the tuners and modifiers of road cars more tuning options.
RacePort benefits from the Locking Ring
The RacePort was a 50mm External Venting Blow Off Valve re-released in 2011, now featuring the Turbosmart unique locking collar. The RacePort was redesigned to take advantage of the Gen4 wastegate architecture and now had the same locking collar on diaphragm housing as the wastegate and actuator range. The Locking Collar is not only a unique identifying feature of the Turbosmart range. It also allows for fast and easy spring changes and valve servicing.
The RX7 Goes Full WTAC Spec!
The Turbosmart FD RX7 was converted from a Tarmac Rally Car and campaigned in 2010. Team Turbosmart, however, realized that to be in the mix, they would need to turn up the volume. The RX7 was again run in 2011 and piloted by Production Manager Stewart Mahony. However, for this year, a custom aero package was developed, including side skirts, front splitter & Air Damn and Rear Wing, and a considerable number of changes, including lowering weight & improving power. Now Ethanol Fueled, the turbocharger 13B produced north of 600HP and looked the part with a new paint & graphics scheme. Turbosmart gets a GM...and Turbosmart UK is Go
Stewart Mahony was appointed Group General Manager
Stewart Mahony has been part of the Turbosmart family since joining in 2001 and is promoted from Production Manager at Head Office to Group General Manager. Stewart works closely with CEO Nic Cooper and the Turbosmart Leadership Team to drive the forward business day to day and year in, year out! Stewart had been hands-on with developing several critical successful product launches and driving Turbosmart's RX7 in 2 x WTAC events.
UK Set for a Boost! Turbosmart UK
In July 2014, then Turbosmart Export Manager Chris Milne arrived in Birmingham in the United Kingdom to take the keys for the first UK Office – Turbosmart UK was going! Chris had been with Turbosmart for two years and transitioned to the role of Turbosmart UK, General Manager building the UK business for Turbosmart. Servicing the UK, Europe, Middle East and South Africa, Turbosmart UK was the 3rd global location for Turbosmart now, meaning Turbosmart had people and stock equally spread out across the globe & was committed to international reach and support.
52nd Australian Export Awards
Turbosmart was recognized for International success by the Australian government, winning the 52nd Australian Export Awards. As an Australian Manufacture committed to not only maintaining our manufacturing in Sydney, Australia but also to exporting to the world, Turbsomart CEO Nic Cooper and General Manager Stewart Mahony were on hand to be handed the excellence in export and international success award in recognition of sales growth and support of global markets such as the USA and UK where Turbosmart has subsidiary officers responsible for importing products, supporting our customers and developing the Turbosmart brand. Turbosmart moves to a new Head Office
Wetherill Park is now home
While Turbsomart was effectively started in Nic Cooper's garage, the business had been operating for most of its years in a facility in Ashfield, an Inner West Suburb of Sydney. The time had come to move as it was hard to ignore. Turbosmart had outgrown the existing building, which was just 555 Square Meters (6000 ft2) and quickly found more elbow room in the industrial estate in Sydney's Western Suburbs known as Wetherill Park. The new facility would serve as corporate headquarters and the sole facility for manufacturing, assembly, and dispatch of all Turbosmart products globally. The new facility is 2500 Square Meters (27,000 ft2), and the opening was celebrated with the help of 1320 Video Productions with a Live Car Meet & Greet!
Export Winner! AAAA
The AAAA (Australian Automotive Aftermarket Association) holds annual awards to recognize the outstanding work of the best in the Australian Aftermarket. Turbosmart was the Winner of the 2015 AAAA Excellence in Export Awards in recognition of Turbosmart's commitment and resulted in Exporting High Quality, Australian Made Performance Products! An Anniversary, a Game Changer and a Great Idea
Turbosmart's 20th Anniversary
In 2017, Turbosmart celebrated its 20th Anniversary of producing the Worlds Largest Range of Wastegates, Boost controllers, and Blow-Off Valves. In that time, Turbosmart had grown to be a name known for high-quality boost control products, over 900 SKUs across several core products lines, all Australian Made and now globally supported via offices in Australia, the USA, and UK. a Temporary and commemorative logo was released which was shown across the globe online, on socials and in person at trade shows, on apparel, and merchandise.
OPR40 – A Great Idea
The Turbsomart OPR40 is an oil pressure regulator designed to fit inline with the turbocharger oil supply line & provide a steady and reliable 40psi oil pressure. The OPR40 resulted from a problem we found when turbocharging a development car early in 2017. Our engineers had noted the oil pressure of the Turbosmart development Toyota 86 was too high for the turbocharger we were fitting and testing & resulting in oil overcoming the oil rings of the turbocharger and causing smoking through the exhaust. We had heard of this being an issue for plenty of enthusiasts and tuners in the past but had a novel idea – How about we solve that. The OPR40 was released at SEMA 2017 and was applauded by all major turbocharger manufacturers, claiming oil supply issues were their number one warranty claim/support query – Globally!
The GenV Range – A Game Changer!
At this stage, Turbosmart had 15 years of experience with External wastegate design & development and had collected more feedback and data than could be catalogued. The two years leading up to SEMA 2017 saw our engineering team focused on developing the GenV Wastegate Range, Turbosmart's 5th generation of external wastegates. The GenV was rolled across all sizes, including UltraGate38, CompGate40, HyperGate45, ProGate50 and the PowerGate60 – and included a rotating actuator for limitless hose routing a new CFD driven design that allowed the highest flowing and most thermally stable external wastegate series in the world. Every single size was optimized and done so with a modular actuator mounting which would provide for other projects, soon to be announced! Watch this space! SEMA Award Winning Kompact EM, Anti-lag & More
SEMA Award-Winning Kompact EM Divert Valves
The Kompact EM (Electro-Mechanical) Valve Range was released at SEMA 2018 and immediately awarded SEMA Best New Performance Street Product. The Kompact EM is a patented diverter/blow-off valve that fully integrates the factory electronics of new vehicles. The new EM technology meant no extra external components. Customers could now fit a fully compatible valve with the factory configuration. They provided the bulletproof and motorsport-proven performance of a mechanical valve using our unique boost-balance system. The Kompact EM Range also went on to win the AAAA Innovation Award for a Performance Product.
GenV ALV40 – An Anti-Lag Valve
The ALV40 Anti-Lag Valve by Turbosmart is a fresh air bypass valve built off the back of the modular GenV External Wastegate architecture. Designed to bring a typical high-end motorsport application to a broader market for the racing & enthusiast market, the ALV40 was available with a range of inlet & out adaptors to make anti-lag more convenient for more people! The ALV40 was released at SEMA 2018 and won several Global Media Awards. SEMA Award Winning eWG Electronic Wastegate
World First – An Electronic External Wastegate
2019 saw the release of the Turbosmart eWG Electronic External Wastegate – Immediately awarded the SEMA Best New Performance-Racing Product, the eWG was initially made available in the 45mm and 60mm variants. The eWG range was built on the modular GenV architecture released in 2017, allowing for a single actuator to be used across all gate sizes. The eWG, unlike traditional external wastegate, no longer needed springs, hoses, or a diaphragm & provided a virtually unlimited tuning window.
This was Turbosmart's second SEMA New Product Award in a row & set the scene for one of the most successful trade show seasons in the company's history. Turbosmart was inundated with supportive queries from ECU & software developers across the industry, wanting to know what was needed to make it work, how they could help & when it would be ready!
Turbosmart Team after winning back-to-back SEMA New Product Awards: Wow! How do we beat that?
Turbosmart: Hold my beer. BREAKING NEWS Turbosmart Wins Double SEMA New Product Awards
SEMA BEST Engineered New Product 2021

SEMA Best Performance-Racing Product 2021

eSG50 – Boost Control Re-imagined!
The StraightGate50 was a 10-year passion for Turbosmart. The recognition from the SEMA judges for the product was true validation of the extensive R&D process that made this solution a reality. The eSG50 is an electronically controlled, butterfly-style wastegate which, at 50mm, has the control of a much smaller valve and is without peer the highest flowing wastegate in the world. Traditional poppet-style wastegates suffer the inefficiencies of turning the exhaust gas 90 degrees, which the self-balancing butterfly of the eSG50 does not.
NSW Premiers Export Awards Winner
Turbosmart was a finalist and the ultimate winner of the Premier's NSW Export Awards for Manufacturing and Advanced Materials in September 2021. This was a virtual event; however, Stewart Mahony (GM) and Nic Cooper (CEO) were online to receive the award, noting how honoured they were and proud of Turbosmart's achievements amongst stiff competition.