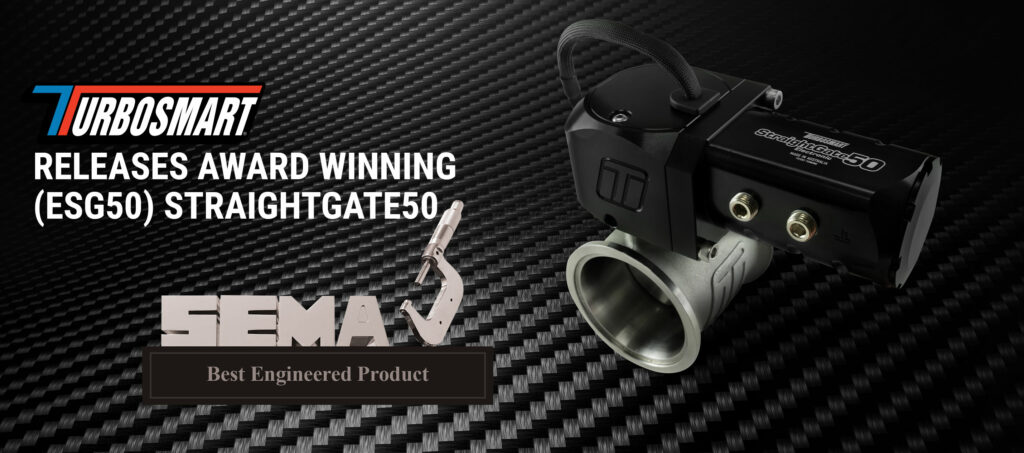 Turbosmart is proud to announce the StriaghtGate50 was offered a warm welcome to SEMA 2021 Winning 2 New Product Awards on Day 1!
SEMA Best Engineered New Product 2021!
SEMA Best Performance-Racing New Product 2021!
The 2x Award Winning Sema StraightGate50 (eSG50) from Turbosmart is a 50mm (1.97in) butterfly valve style external wastegate for turbocharged engines. The StraightGate50  provides more flow than any conventional 60mm poppet style valve while also providing more control and almost linear response for unparalleled boost control throughout the entire operating range. Boost Control re-imagined!
It was developed off the back of Turbosmart's SEMA 2019 New Product Award Winning eWG range with full electronic actuation and control. The StraightGate50 features an in-house designed, CFD driven, and real-world validated butterfly valve style external wastegate. It provides the benefits of over two decades of boost control experience with the latest technology for truly advanced boost control strategies with virtually no limits.
You can find more info HERE on the Turbosmart Website StraightGate50 Release.
The StraightGate is a 10 year passion for us...
Turbosmart Group General Manager Commented: 'We really couldn't be prouder to be recognised for this! The StraightGate is a 10-year passion for us and has taken over three years of intense development to make it a reality. It's been a product we wanted to use for our builds, and we knew it would be a game-changer! I want to thank SEMA for their support and recognition and, of course, the judges for their vote. When the most respected group in our industry gives you the thumbs up, it justifies why we do this. Thanks to our entire staff and trusted partners, this was a truly Team Turbosmart effort'.
INTRODUCING the Sema StraightGate50!
Here is a handy self-help guide to helping you with your Turbosmart install and answers to some of the most frequently asked questions we get here. Turbosmart recommends that you get your products fitted and tuned by a qualified technician. If you choose to install the product yourself, ensure you have all the necessary tools and technical knowledge to perform this task.
Thank you for picking up the latest Turbosmart catalogue. As we look back on 25 fantastic years of innovation and growth, we continue to look towards the future as we release some revolutionary new products that will cement our reputation as innovators and market leaders.
Please contact us here and fill out a quick form so that our team can efficiently help you!
Turbosmart is thrilled to announce the opening of our fourth global location in Poland, Europe. This new addition to our offices in Australia, the USA and the UK will enable us to improve service and value for customers, dealers and distributors throughout Europe. Our focus is ensuring the stock and support are where you need it & available to you in your timezone!
Award-Winning Electronic Wastegates
Surprisingly, there are no springs, no hoses, and no boost reference signal. Above all, there are no limitations associated with any of them. Gone are 'Minimum' boost levels associated with base spring pressure or the heat-related issues with hoses.
How do you control an Electronic Wastegate? 
With the Turbsomart BlackBox Dual Channel Electronic Wastegate Controller!