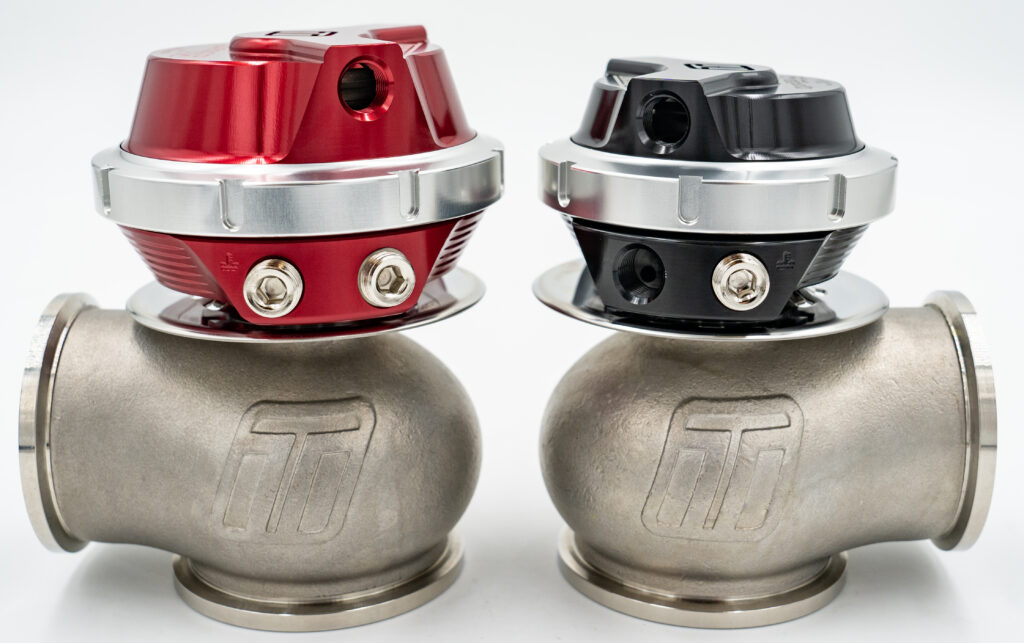 GenV External Wastegate Range
The GenV External Wastegate Range from Turbosmart has been around since its release at SEMA 2017. When the ground up range re-design hit the market, each gate was optimized for industry-leading flow, fatigue & heat resistance, ensuring if you had yourself a GenV External Wastegate, you had the smallest, lightest, most reliable and resilient external wastegate for your application.
Industry-leading Flow & Performance
In 2020 Turbosmart will continue to expand on the GenV range introducing the HyperGate45 Lite. The HyperGate45 Lite retains the HyperGate45's industry-leading flow and thermal performance while using a smaller actuator housing for increased fitment opportunities in modern, cramped engine bays. This reduced overall size & weight does incur a penalty in terms of control. However, it is a small price to pay if real estate in your engine bay is limited. Refer Image above, where the HyperGate45 (in Red) sits next to the Hyerpgate45 Lite (in Black).
Why is Actuator Size Important?
Think about it in terms of leverage: A large spanner or wrench versus a short one. The larger one gives you leverage and means you can do more work with more control, and the shorter one requires more effort and provides less control. The same goes for the actuator size relative to the size of your wastegate valve. The GenV range of actuators is carefully matched to valve size to meet an extremely capable ratio for unbeatable wastegate control.
The HyperGate45 Lite features the small frame actuator housing of our motorsport proven 45mm CompGate 45 range, with the CFD driven and marketing leading flow of the HyperGate45 body that takes advantage of the modular nature of the Turbosmart GenV Wastegate range. Refer to Technical Drawings below. You can easily see the height difference (109mm vs 116mm) and the actuator width (75mm vs 84mm).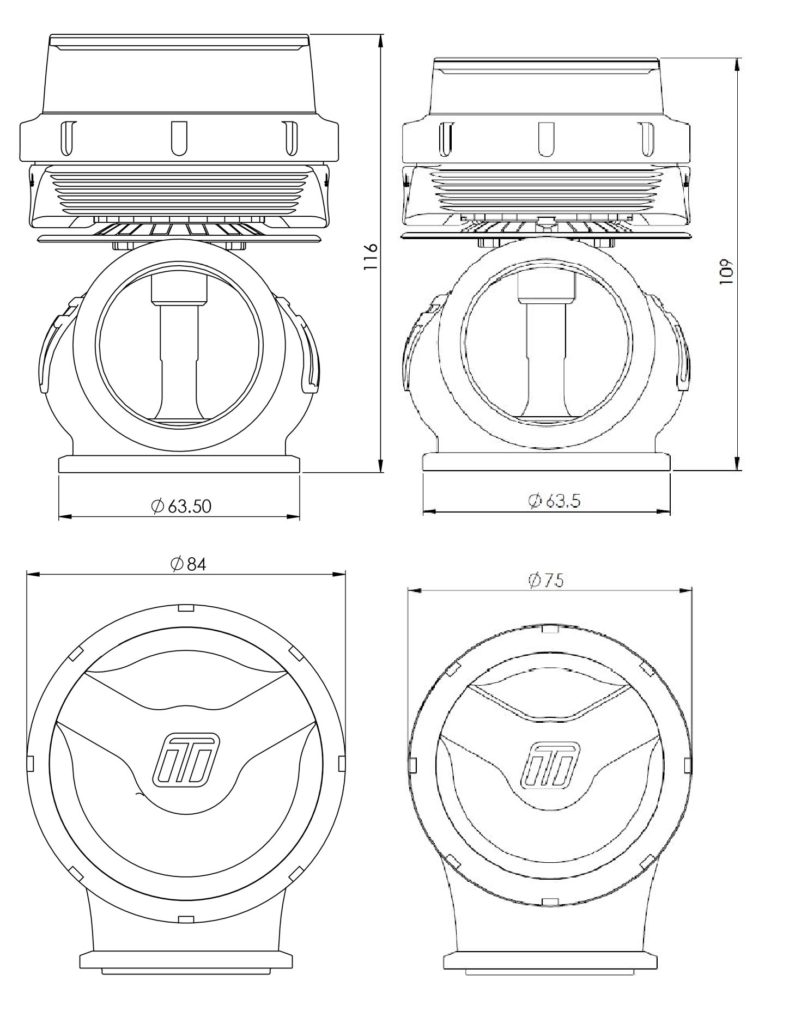 Frequently Asked Questions
Here is a handy self-help guide to helping you with your Turbosmart install and answers to some of the most frequently asked questions we get here. Turbosmart recommends that you get your products fitted and tuned by a qualified technician. If you choose to install the product yourself, ensure you have all the necessary tools and technical knowledge to perform this task.
Thank you for picking up the latest Turbosmart catalogue. As we look back on 25 fantastic years of innovation and growth, we continue to look towards the future as we release some revolutionary new products that will cement our reputation as innovators and market leaders.
Please contact us here and fill out a quick form so that our team can efficiently help you!
Award-Winning
Turbo Technology
Turbosmart External Wastegate Range
Our new GenV wastegates are a direct fit upgrade to all 4th-generation Turbosmart wastegates. All GenV wastegates are provided with a range of springs (3-26psi). In addition, they feature our unique collar-locking system, rotatable actuator, strap-type V-band clamps, 1/8″ NPT ports, and "optional" liquid-cooling. They are also available in Motorsport and Compressed Gas versions.
Turbosmart's Latest GenV Wastegates; Motorsport Edition
This latest iteration of the GenV range marks the important beginning of introducing Turbosmart's history of reliability, performance and strength to a new audience that seeks these qualities in products that can handle the specific requirements of endurance-based racing.