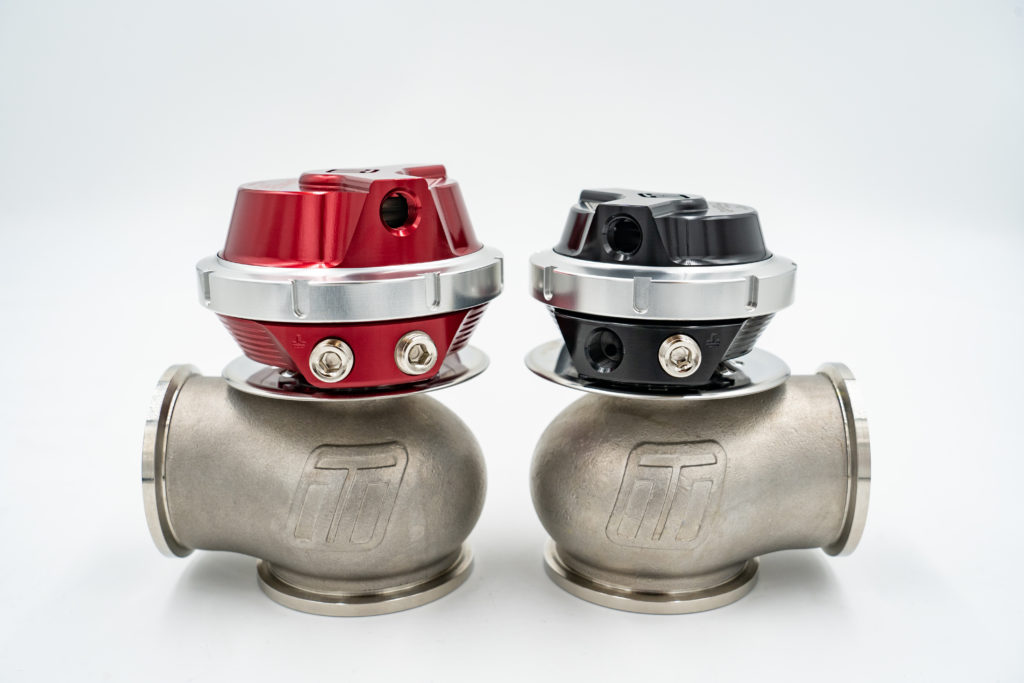 Turbosmart HyperGate45 Lite Now Available
The GenV External Wastegate Range from Turbosmart has been around since its release at SEMA 2017. When the ground up range re-design hit the market, each gate was optimized for industry leading flow, fatigue & heat resistance ensuring if you had yourself a GenV External Wastegate, you had the smallest, lightest, most reliable and resilient external wastegate for the your application.
In 2020 Turbosmart continue to expand on the GenV range introducing the HyperGate45 Lite. The HyperGate45 Lite retains the HyperGate45's industry leading flow and thermal performance, while using a smaller actuator housing for increased fitment opportunities in modern, cramped engine bays. This reduced overall size & weight does incur a penalty in terms of control, however it is a small price to pay if real estate in your engine bay is limited. Refer Image above where the HyperGate45 (in Red), sits next to the Hyerpgate45 Lite (in Black).
Why is actuator size important? Think about it in terms of leverage: A large spanner or wrench versus a short one. The larger one gives you leverage and means you can do more work, with more control. The shorter requires more effort and provides less control. Same goes for the actuator size, relative to the size of your wastegate valve. The GenV range of actuators is carefully matched to valve size to meet an extremely capable ratio for unbeatable wastegate control.
TS-0553-1602 HyperGate45 Lite 7psi Black
TS-0553-1612 HyperGate45 Lite 14psi Black
The HyperGate45 Lite features the small frame actuator housing of our motorsport proven 45mm CompGate 45 range, with the CFD driven and marketing leading flow of the HyperGate45 body that takes advantage of the modular nature of the Turbosmart GenV Wastegate range. Refer Technical Drawings below, you can easily see the height difference (109mm vs 116mm) and the actuator width (75mm vs 84mm).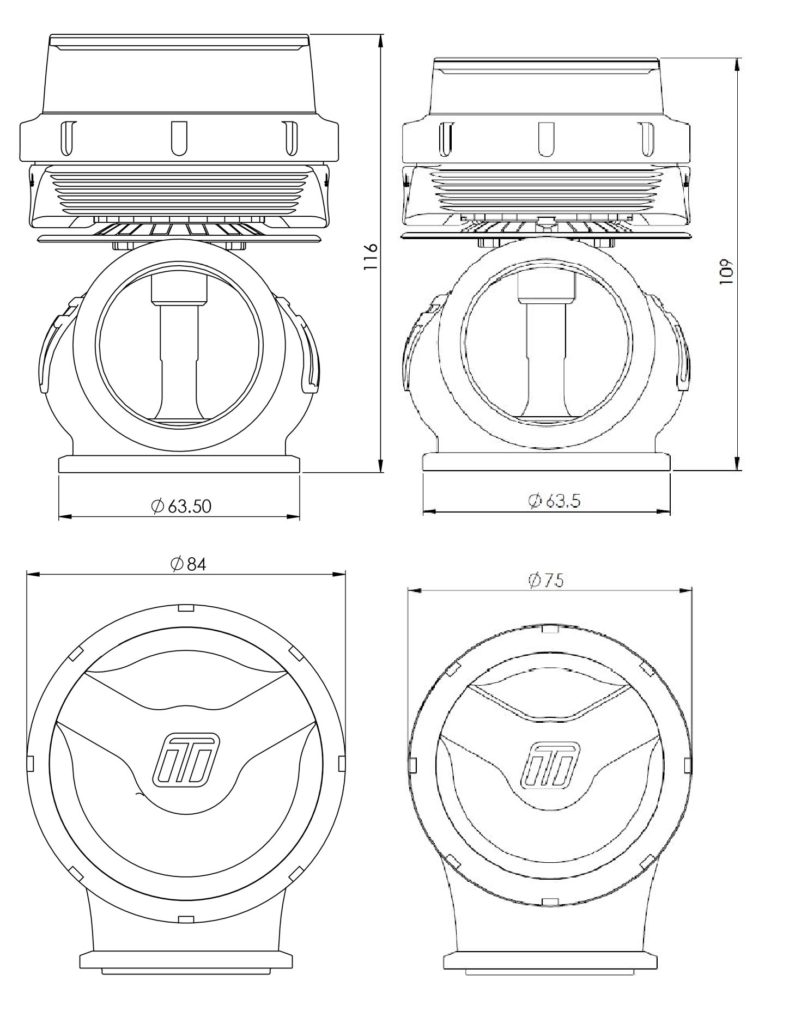 The GenV HyperGate45 Range is available in a host of actuator specification, including Standard, Motorsport, Compressed Gas, High Pressure, Positions Sensor Options and Electronic. Check out the full range on our website to ensure you've the right valve for the job and don't hesitate to reach out if you require any other information.
Find your nearest dealer or contact Turbosmart direct for further information: www.turbosmart.com
HyperGate45 Lite FAQ's
Are these Wastegates interchangeable with my existing flange?
The Turbosmart GenV range is designed around industry and peer flange orientation. If you have a valve of similar size, it's likely we have a valve that swap right in. If in any doubt, please contact us and ask, we're only too happy to help.
Are these External Wastegate's water cooled?
All GenV External Wastegates from Turbosmart are liquid cooled. That doesn't have to mean water or coolant by the way, there are other liquids in your driveline you can use – That's up to you. But yes, like the normal HyperGate45's, the HyperGate45's still incorporates optional liquid cooling.
How much will control be impacted?
In 'normal' applications, your wastegate can run 2-3 times base mechanical spring pressure with boost control and manipulation of the reference signal if asked to. With the reduced actuator housing size of the HyperGate45 Lite, this will be reduced. Your application will depend by how much but expect approximately 2 times base pressure instead of 3.
Does this still have all the other GenV features?
Yes, absolutely. Rotating housing, liquid cooling provision, industry leading flow and fatigue resistance and composite thermal insulation, Stainless Strap Band clamps are all featured across the range, including the HyperGate45 Lite.